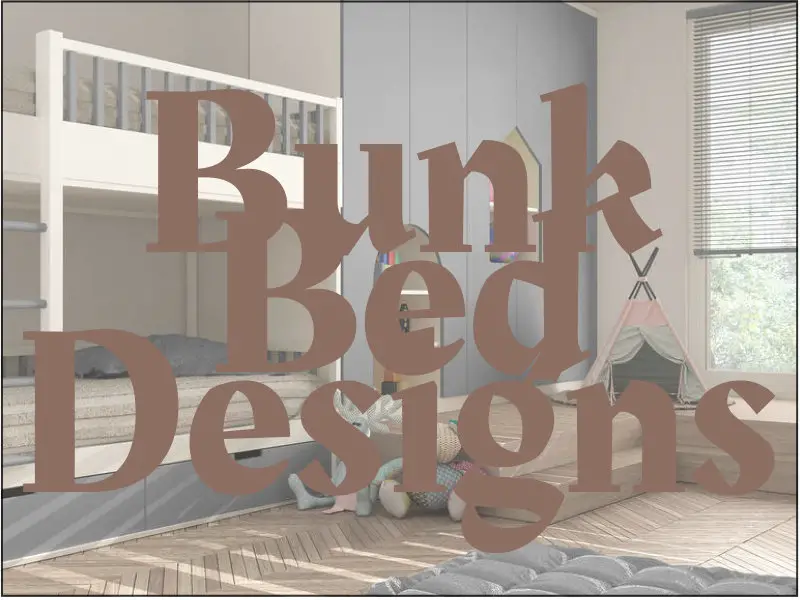 Bunk Beds with Stairs Designs
Are you looking for bunk beds with stairs?
Make the children time easier at night time by getting your little ones in a set of bunk beds with stairs! From traditional ladder-types to super artistic and beautiful designs, you'd be surprised how many ways they can look, function and be styled.
But not all of these double spots are meant for children, sometimes a nook or cranny can be filled with with a set made for guests to enjoy or relax with a good book during summer afternoons. Let's have a look at a variety of bunk beds with stairs and see if one strikes your fancy!
Bunk Beds For Kids
We are loving the modern lines of this design. It definitely strays away from tradition in terms of a child's room, but it still fits and works within the confines of youthful style.
This is a high quality wooden bed made of solid pine and provides a strong durable frame for your children to sleep in and play on without cause for concern.
Solid Wood Twin Bunk Beds
A very nice looking set of twin bunk beds with a single top bed, and a double bunk bed underneath. A ladder helps to gain access to the top bunk. These can be stacked as in twin beds, or later when the kids are older, can be separated into two beds.
✖

September 15, 2023 17:13
White Bunks With Ladder
Sometimes the space doesn't have to be used for two, instead it can be used for one. One side whether top or bottom can be used for playtime or storage. Plus with this set you have an extra matress on the base that pulls out when ever you need that extra bed for overnight stays.
What little children wouldn't love to have this in their room. Perfect for small homes and for those who have guests staying every so often.
Full Over Metal Bunk Beds
When you think of furnishings for your boys, this is the set you're probably thinking of in your mind. It's a great choice because you can use this design in almost in theme or vision. Metal bunk beds are normally built to last and in a simple yet sturdy design.
It blends well and doesn't become the focal point of the room, instead it compliment's the decor.
✖

September 15, 2023 17:13
Twin Over King
Here's a great example of a more "grown up" version. It's perfect for a shared studio apartment or a teen's space she can use for sleepovers. We love this piece especially because more open feel and modern foundation.
This set of bunk beds is perfect for when another family is staying over as it has plenty of options to support five or six people. Great storage space and a good solid ladder for getting in and out of the top bunk.
Triple Kids Bunk Beds
Kids bunk beds. Kid's rooms don't have to be just two. Just take a look at this fun and playful threesome. Your kids and their friends will have such a great time playing and resting in these cubby like spaces.
And we love how the stairs or short ladder blends right into the design adding more interest and artistic appeal. On top of that is the small slide for the middle bunk to add that little touch for the kids.
Featuring a full-over-full-over-full structure, this triple bed provides a convenient and flexible arrangement option for large families and sleepovers by taking advantage of vertical space.
A gray finish enhances the smooth lines and add a contemporary feel to any room set aside for multiples to sleep. Crafted with pine wood and plywood, this triple bed is sturdy and durable to withstand the test of time.
Little ones can easily access the upper and middle bunks with two built-in ladders. Sturdy guardrails protect children as they sleep through the night. The specially designed slide can meet the play needs of kids and develop their balance ability.
Plus the beds can be separated so the top bunk can be removed and used as a seperate bed if the need be.
Triple Loft Bunk Beds
Beautiful metal bunk beds with stairs. How incredible in this space. Between the beautiful window and natural lighting, this space was meant for relaxing, vacationing and simply enjoying. The stairs in the center add easy access to the top tier, but the overall design of this nook makes for a great spot in a bonus room or holiday house. Again, it's perfect for guests as well!
Quad Bunk Beds in Loft With Stairs
Have you ever seen anything quite like this wooden bunk bed set up. What size of house you would need to build this?
Just like its predecessor, this space is perfect for a vacation home or bonus room turned guest area. The beds are plush and adult sized, and the large ladder in the middle make for a simple way to get atop – with a rail for extra safety which we love.
This area has a very nautical, summer feel, and the built-ins fit right into the vision with ease. Beautiful kids bunk beds.
Bunk Bed With Stairs
Welcome to the rustic, cozy cabin! You can even get custom examples fit for your mountain inspired home. The absence of color and emphasis on the wood makes for an easy upkeep and welcoming flair.
Although, the chandelier adds a personal touch that would be missing without. And, of course, a organically styled ladder finishes off the playful and natural inspired decorative theme.
Stylish Bunk Beds with Storage
This definitely is not your average idea. Not only does this provide more space and function throughout a smaller room but it's just a cool way of creating a unique look.
You'll need to make sure these are installed correctly and in the most safe way possible, but you can have a whole lot of fun accessorizing and accenting!
✖

September 15, 2023 17:13
Wooden King Size Bunk Beds with Storage
A great set of white bunk beds in king size with full storage facilities including drawers inside the stairway to make full use of the beds. Ideal for those with limited space.
We also love how this room has taken the trendy charcoal and mustard color pairing and used it to their advantage.  If a home is tight for space this would be a great idea for visiting teenagers or other family that comes to visit periodically.
Loft Bed Desk Combo Bunk Beds
This is certainly a great idea for those who are limited with space and need a desk for children to play and complete their homework after school.
Whether you've decided to spoil your little girl with this princess styled set or you'll be enjoying it yourself in one nook or cranny of your home, it's quite a good selection.
✖

September 15, 2023 17:13
Unusual Bunk Bed Pictures
Here's a great choice for your smaller ones of the house. Resembling a play area at a playground or fast food joint, your children will love to have this piece hidden inside their rooms for fun and rest.
Make sure they're big enough to use the stairs to the top with ease and safety, but other than that there's no doubt your son or daughter won't enjoy this fun set.
Very Tall Bunk Beds
Add a bit of comfort to your bonus room or home office with a set such as the one pictured. This is a great option for when you need the extra guest space and don't have the extra room to do it.
But it's also fun for you and the family to have a special area for hanging out with friends and catching up on your favorite books! We love the traditional flavors of this room as well, including that of the bunks!
Bunk Beds above Double Kingsize Bed
Here's another great example of a unique, outside the box version. You've got a normal sized mattress below and two guests bunks on top. Whether you're sharing a studio apartment and decide this works for your trio or you just want the extra sleeping spots for when family and friends stop by, this is such a modern and inventive way to utilize your home.