Mosaic Wall Decor Ideas and Designs
After a long tiring day at work, you may find peace in the relaxing atmosphere of a well-decorated bedroom with stunning mosaic wall decor. This decorative mosaic art of tranquility can remove your day-long stress and is conducive to a peaceful sleep. This is why you should never underestimate the power of mosaics.
Though bedroom decorations involve everything from bedroom furniture to modern wall decor, this article will only focus on creatively decorating your empty bedroom walls with stunning mosaic wall pictures and turning them into art.
1. A Large Mosaic Wall Art is Immortal
If you admire art pieces, then decorating the main wall adjacent to your bed with an oversized statement mosaic wall decor should suit you well. This is also the classic approach to fill in the blank walls of any room. It never fails.
However, before you hang your mosaic wall pictures on the wall, check if it complements the wall color and the room decor. Remember, the color and ceiling lights are critical to giving your statement mosaic its effect.
It'll be great if your chosen mosaic reflects your personality and lifestyle. Go for soothing colors for both the mosaic and the background. White, light blue, peach, or teal are safer options for bedroom walls.
A vibrant mosaic artwork on a warm-toned wall will enhance the beauty of your bedroom. Hanging multi-panel wall art are also trending. No matter which one you pick, use nails or clamps to fasten your artwork properly on the wall.
Moroccan Mozaic Floor Lamp
✖

September 15, 2023 20:11
2. Mirror, Mirror on The Wall
Mirrors are amazing light reflectors as they bounce natural light. A bathroom mirror can make your bedroom or bathroom look bigger and brighter. So, hanging a large wall mirror with a mosaic border can give your room a rustic charm with a natural glow.
There are a variety of designs from which you can pick your favorite mosaic border. We suggest floral mosaic borders to achieve a natural and refreshing look that never fails to impress.

You can manipulate your wall decor with the trendy geometric mosaic around the mirror too.
Mosaic Wallpaper
3. Upgrade with Modern Mosaic Art
Adorn your prime bedroom wall with handcrafted mosaic art to draw the eye to the heart of the bedroom. This is a great way to showcase your aesthetic taste through your wall decor.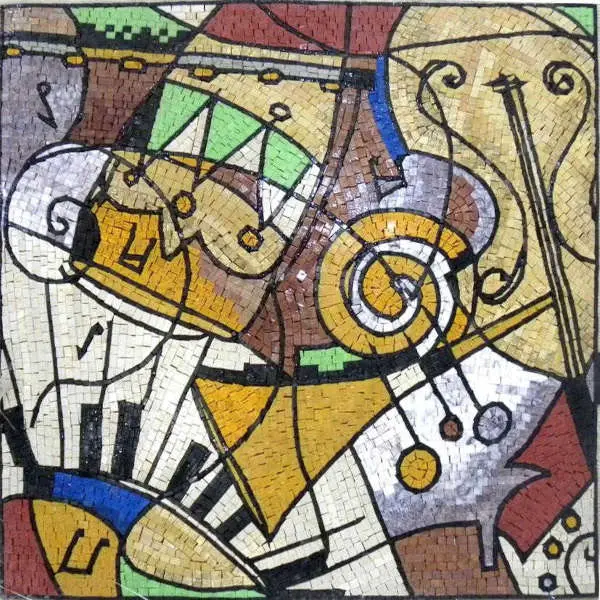 The best thing is that you can customize the mosaic patterns and materials of the art piece according to your taste. Both hand-cut marble and glass tesserae are used to create these magnificent wall decors.
Mosaic art can be a clever addition since it's contemporary, neat, and, most importantly, durable. Mosaic art can sustain a lifetime with proper care. Be sure to hire professionals for crafting quality mosaic art who can offer lifetime warranties and meet your standards.
Wall Art Poster Boho Style
✖

September 15, 2023 20:11
4. Use Floating Shelves with a Mosaic Accent
If you are obsessed with organizing stuff, it's better to go with floating shelves that will line your bedroom walls. Shelves are good storage options, and if you can place them well, they can easily manage to stand in for a large piece of art. But how about making those shelves your statement piece instead?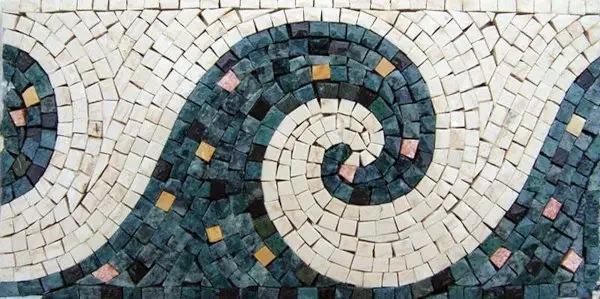 This is easy and possible through accent mosaic art to embellish the visible side of the shelf. Now you have floating art and shelves to organize your books and decorations.
You can organize your favorite books or display the statement pieces, houseplants, etc., by hanging a rustic, reclaimed wood shelf. Make the best use of these floating shelves by customizing the space between each shelf to modernize the look. Hanging framed artwork or family photos are also great ways to utilize these shelves.
Stereoscopic Geometric Mosaic Modern Living Room
✖

September 15, 2023 20:11
5. Decorate the Wall With Mosaic Graffiti Art
Mosaic art can be anything you want; this is a fact now. Show off your artistic skills by covering your blank bedroom wall with contemporary graffiti mosaic art.
Its vibrant and dramatic effects can make a bedroom wall stand out from the rest. If you're an elegant graffiti lover, go for a minimalistic design and neutral tones.
Otherwise, free your imagination and use different shades with crazy illustrations to achieve a bold look. , you can design your graffiti and have professional mosaic artists replicate the design and immortalize it with natural or glass mosaic stones.
Mosaic Wall Art Picture on Glass
✖

September 6, 2023 02:48
6. Mosaic Ideas For Walls
A retro art gallery wall gives your bedroom a focal point. If you are not into big mosaic art murals, several small framed mosaics are your way to go. Choose different mosaics that appeal to your artistic sense.
Then, the alignment of the frames is very important for a neat look. Pick frames of different sizes but maintain symmetry from one side to another of your bed's border.
Choose the color scheme of the frames wisely. Be it wooden or antique, match it with the color of your bed and the mosaic to give it a classy finish. Another tip is to pair the frames with other wall art or souvenirs. This is how you can easily turn your boring blank wall into a dreamy mosaic gallery.
European Style Photo Wallpaper
Final Thoughts On Mosaic Wall Decor
We shared a host of creative ideas for transforming your blank wall into the focal point of your room. A blank wall is like a canvas and an intimidating decorating dilemma simultaneously.
Your effort to fill it up can make a huge difference. Many other options include murals, hanging fabrics, hats, China plates, etc. Just be creative, take inspiration from the tips we shared above, and go for it.
Mozaic wall decor can go in almost any room in your home, not just your bedroom or living room, and look stunning. Stand out from the crowd by being different. I hope you can spruce up the empty spots of your bedroom wall and add visual interest to it.