Which Reclining Sofa Do You Choose
We're an affiliate
We hope you like our recommendations! Just so you know, we may collect a share of sales or other compensation from the links on this page. Thank you for using our links, it is much appreciated.
With an ever-growing assortment of recliner styles available in the market, it's overwhelming to choose one. Choosing any piece of furniture requires a sense of aesthetics. Apart from that, also consider the size, shape, and fit of the recliner, so it conveniently syncs in with the rest of your home décor.
At present they are available in a plethora of designs, and choosing one can be quite the task. Excellent for relaxing and lounging, recliner sofas are supremely comfortable and provide excellent neck support when you are watching television.
You must always consider a Leather Recliner Sofa. This is the ultimate in recliners. There is no greater feeling than reclining with your feet up after a long day at work. A leather settee, sofa or reclining chair is an excellent way of chilling out after a hard day at work. A power leather recliner is the ultimate way to relax, especially if it comes with a few tools to boot.
Always select a recliner that will match with your existing décor. If you are still scratching your head and are confused about which recliner to buy, then these tips will be precious to you.
Things you must consider while buying a recliner sofa
Types of Recliners Consider a Leather Option
As mentioned before, there are many recliners available in the market. You can choose from single-seaters, double and triple seaters, depending on the space you have. Some popular recliner styles are:
Rocker recliners: which as the name says, rocks and reclines.
The wall hugger recliners: they take up less space, so they will be ideal to place in a smaller room.
Massage recliners: Then there are the fancy massage recliners, which are very popular because they massage your back and neck; these are mostly available as single-seaters. The massage recliner, hands down, is the most popular one available in the market!
The glider: A very cool type of recliner is "The Glider," it has several reclining angles and can be very close to the walls. This aspect makes it perfect for smaller living rooms. The gliding facility allows you to lie down on your recliner and watch TV.
Power Reclining Sofa – Adjustable Headrest
Power Recliner Chair With Heat and Massage
If you are confused about the style of the recliner that you must opt for, then you need to look around. See if the rest of your furniture is classic or contemporary and then decide.
This way, the addition of the recliner will not look odd, but rather will be in sync with the rest of the surroundings. While most of these are available in contemporary designs, you can also find aesthetically designed classic recliners in an impressive array of designs.
Contemporary sofas are slightly bigger. They have clean lines, they have a very strong frame made from hardwood. These mostly have smaller cushions. However, they are made from memory foam to make sure that you are comfortable each time you sit on it. These have serpentine, or no-sag springs to provide with utmost comfort. The upholstery is made from premium materials including leather, to give the sofa an edgy look.
Classic sofas: These have a more rounded look about them. The cushion sizes are slightly bigger to provide more comfort. The frame is sturdy, made of hardwood and the joints have screwed corners for better longevity. The coiled spring offers the right resistance while sitting.
The Quality Of The Upholstery Matters
One of the most important factors to consider while buying a recliner is the fabric or the material. The choice of fabric will rely on how your sofa will be used.
Leather sofas are very classy and durable, plus they will prove to be ideal if you happen to have furry pets at home.
Leatherette sofas will be perfect for those who want a more budget-friendly option. If you happen to be someone who is very stringent about the environment and avoids all animal-derived products including leather, leatherette will be a good option for you.
Other than that, fabrics such as velvet look aristocratic but gets dirty easily. High maintenance fabric should be avoided if you want a fuss-free piece of furniture.
Feel The Padding
The entire frame of the recliner should be completely padded. Sit on the sofa, get the feel of it, see if you are comfortable with it and then decide if you want to get it or not.
The upholstery is very important because it is what makes the sofa durable as well as comfortable.
The material should be well-tailored and seams should be in place. A badly tailored recliner looks shabby and is not worth the money you spend on it.
Firm and resilient seat cushions last a very long time. They should fit snugly within the recliner. Always, push the cushions to check if they regain their shape because the one which remains pushed down will flatten in a few months.
The cushion construction happens to be one of the most important factors to determine here, so it is best if you can sit on the sofa, get a feel of it, and then make your purchase.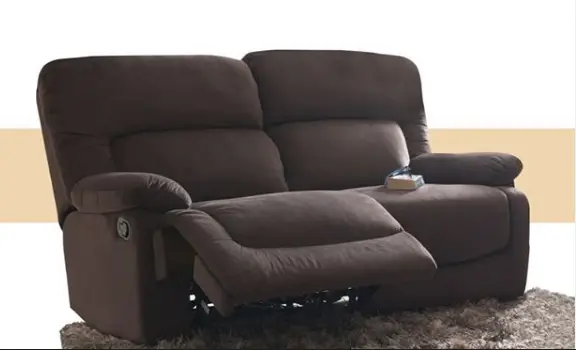 Always Measure The Soft
Irrespective of whether you are buying a single-seater or a triple-seater, keeping the measurement of the sofa in mind is imperative.
While some sofas can be dismantled while carrying from one place to another, others cannot; so make sure that you are easily able to carry the sofa to your house.
Make sure that the size of the sofa is perfect for the vacant space in your house because wrong measurements will make you regret your purchase.
Test the operating mechanism
The whole idea of purchasing a recliner means that you can comfortably lie on it and relax. So you must use the operating mechanism repeatedly to see if the sofa is working smoothly or if it is defective. Recliners are priced higher because they have this quality to it, so if you are paying the money, then you might as well look for technical glitches if any.
Pay close attention to the frame
Always check on the kind of hardware used on the sofa. Heavy-duty screws will hold the frame together for years and make your recliner durable. Ask the retailer about the kind of wood that has been used to build the frame so that you have an idea about its maintenance.
The durability of your sofa depends on its frame. This is the skeleton of the sofa, and thereby it must be well-crafted. The hardwood provides solidity to the frame, and maintains the shape of the sofa, over the years.
The Frame Joints
While the quality of the wood being used in the frame is important, what is even more crucial is how it is being put together. How each wood is connected can make a world of a difference.
The connection must be made by joining the timber with wooden dowels and wood glue. This adds strength to the frame. It gives the sofa the robustness which will ensure that it lasts for decades to come,
The Reclining Settee Suspension
Many people overlook this factor, but a good sofa relies on its suspension. It is the inner parts of the seating area and the cushions.
It must be able to withstand the impact of people constantly sitting on it.
There are different kinds of resistant filing available, which provides an advanced suspension system to the sofa.
If you are confused as to which recliner you should buy, then getting the classic model will always be a safe bet. The classic model pretty much syncs with most types of home décor. And they still happen to be a very popular piece of furniture, for good reason.
With so many functions and usability options, recliners are an upgrade from your regular sofas. It is a task to narrow down your choices to find the best recliner for your home, but you need to keep things such as your budget in mind.
Available in an array of sizes, styles, and materials, you can get a little overwhelmed when it comes to purchasing a good recliner, but if you keep the aforementioned points in mind, then you'll be good!
Image
Title
Price
Prime
Buy

Top

Flash Furniture Harmony Series Black Leather Loveseat with Two Built-In Recliners

Prime

Eligible

Take a Look
Christopher Knight Home Callade Reclining Loveseat Tweed, Light Grey

Prime

Eligible

Take a Look
Oliver Pierce Hudson Reclining Leather Loveseat Blue

Prime

Eligible

Take a Look
Container Furniture Direct Royal Albert Classic Faux Leather Upholstered Gliding Reclining Loveseat, Grey

Prime

Eligible

Take a Look
Product prices and availability are accurate as of the date/time indicated and are subject to change. Any price and availability information displayed on [relevant Amazon Site(s), as applicable] at the time of purchase will apply to the purchase of this product.
Prices pulled from the Amazon Product Advertising API on: