Which Is The Best Reclining Sofa For You
With an ever-growing assortment of recliner styles available in the market, it's overwhelming to choose one. Choosing any piece of furniture requires a sense of aesthetics. Apart from that, also consider the size, shape, and fit of the best recliner sofas, so it conveniently syncs in with the rest of your home décor.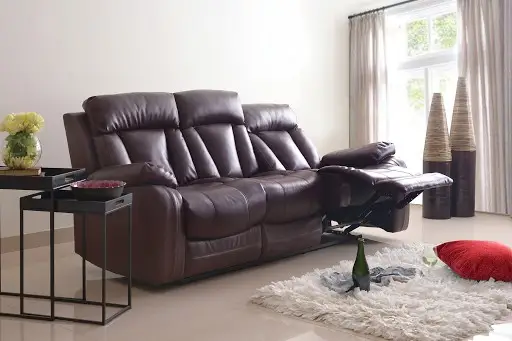 At present reclining sofas are available in a plethora of designs, and choosing one can be quite the task. Excellent for relaxing and lounging, reclining sofas are supremely comfortable and provide excellent neck support when you are watching television.
The Advantages and Disadvantages of a Reclining Sofa
One disadvantage is that they take up a lot of space and they do not allow you to move them around easily due to their weight and size.
The advantages of recliners include their ability to relax you after a long day at work. It allows you to rest comfortably without having to worry about falling asleep. If you are tired, you can just lie back and enjoy watching television. This way, you will feel refreshed and relaxed.
Another advantage of reclining sofas is that they make it easy to sleep. A reclining sofa makes it easier to maintain good posture.
1. Consider Your Options Carefully
Always select a recliner that will match with your existing décor. If you are still scratching your head and are confused about which to buy, then these tips will be precious to you.
You must always consider a Leather Reclining Sofa. This is the ultimate in recliners. There is no greater feeling than reclining with your feet up after a long day at work.
A leather settee, sofa or reclining chair is an excellent way of chilling out after a hard day at work. A power leather sofa is the ultimate way to relax, especially if it comes with a few tools to boot.
2. Types of Recliners Consider
Things you must consider while buying a reclining sofa
As mentioned before, there are many recliners available in the market. You can choose from single-seaters, double and triple seaters, depending on the space you have.
The Leather Option
Leather recliners are still the favorite for many for obvious reasons. They not only look good, they are comfortable as well, and can hide a number of different options including heated seats. They also come in a variety of colors to match your living room, making them an excellent choice.
Size and Width of The Seating
The most important thing you should consider when buying a reclining couch is comfort. You want a reclining sofa that makes you feel comfortable when you sit inside the full length of the seating. The size of the sofa will matter and the width especially so if you are a large framed person.
Fixed Recliner or Adjustable Recliner
Fixed are those where the backrest remains stationary while the seat moves up and down. These are more like a wall hugger.
Adjustable recliners allow the backrest to move up and down along with the seat. The amount of movement depends on how much pressure you apply to the lever.
Some people prefer adjustable reclining sofas because they feel like they offer greater flexibility than fixed ones. However, some people find them uncomfortable because the backrest doesn't always stay perfectly horizontal.
Traditional or Modern Styling
Traditional styles tend to be more expensive than modern designs.
Modern designs usually feature clean lines and sleek curves. They're often made from leather or fabric, and come in neutral colors such as black, white, gray, tan, and brown.
You'll probably find these models in higher-end furniture stores.
If you want something more unique, check out mid-century modern designs. Mid-century designs were popular during the 1950's and 1960's. They combine classic styling with modern materials. Many companies now make mid-century modern designs, and they're very affordable.
Finally, if you're looking for a new piece of furniture, you might want to consider purchasing a sectional. A sectional is a type of sofa that comes in several pieces. It allows you to rearrange the seating area whenever you want. This makes it easier to accommodate guests who visit frequently.
Some popular reclining styles are:
Rocker Recliners
Rockers are furniture pieces that feature a seat that rocks back and forth when pushed forward. They're great for relaxing after a long day at work. They're also great for entertaining guests because they allow everyone to sit comfortably together.
Rockers come in many different styles, including traditional, modern, and transitional. Traditional rockers are usually made of wood and feature two arms that extend outwards from the backrest. Modern rockers often feature metal frames and curved arm rests. Transitional rockers combine elements of both traditional and modern designs.
There are several types of rockers, including:
Corner rockers – These rockers are designed to fit in corners and are typically used in living rooms. Corner rockers are a type of reclining sofa that features a curved backrest. They're perfect for small spaces because they take up less space than traditional sofas. Corner rockers are great for families who live in apartments or condos where there isn't enough room for a full-sized couch.
Lazy susans – Lazy Susans Rockers are great for relaxing at home. They're comfortable, durable, and stylish. And they're perfect for kids' rooms because they're safe and won't tip over.
Rocking gliders – A very cool type of recliner is "The Glider," it has several reclining angles and can be very close to the walls. This aspect makes it perfect for smaller living rooms. The gliding facility allows you to lie down and watch TV. They're great for relaxing after a long day at work.
Wall huggers: Wall huggers are reclining that sit against a wall instead of sitting on a chair. They're great for small spaces because they take up less space than traditional recliners.
Massage Recliners
Then there are the fancy massage chairs, which are very popular because they massage your back and neck; these are mostly available as single-seaters. The massage chair hands down, is the most popular one available in the market! Massage chairss are designed to relax muscles and relieve stress. They're perfect for those who suffer from chronic pain, arthritis, back problems, neck injuries, muscle spasms, etc.
They're also great for relaxation therapy. The most popular types include massage chairs, ergonomic chairs, and adjustable massage chairs.
There are many different features available on these chairs, including heat settings, vibration options, and motorized controls. Some models even come equipped with built-in speakers, lights, and aromatherapy oils.
If you're looking for a massage chair, consider buying online because there are plenty of brands out there to choose from. However, be careful when shopping because some companies sell cheap knockoffs instead of real massage chairs.
Be careful buying one that is on one of the cheap discount sites like Groupon or Woucher. They offer what look like real bargains, and in some cases they are. But when you are looking to pay five or six hundred for a power chair you need to do your homework. Go and check for reviews of products and see if there is any info on their website. Find out who is selling the items and look for reviews about them.
Personally, I have done this type of homework already on both a king-size bed and a settee which were on offer at Woucher. Both looked to be a real bargain as they were on offer for a couple of hundred rather than their original price of around £900.
After doing some research though I found on Trustpilot that the reviews were absolutely awful. Most were one star, and some stated they would have marked as zero stars of they could have.
However, it does not end there as Trustpilot has negative reviews as well. Take a look at Reviews.io for more info. You basically have to do lots of homework for expensive products before you shell out that hard-earned cash.
Since then I would never buy any expensive products over around £50 from these companies unless they have a website and a review site on Trustpilot and other respectable review companies. They are just not worth it.
Amazon is a decent place to look as they have plenty of geniune reviews of their products. You can also browse your localstores and find the product you want to buy and then find it available online at a discounted price if possible. Not ideal for local businesses, but in the current climate we need to save money when possible.
Power Reclining Sofa with Adjustable Headrest
If you are confused about the style of the recliner that you must opt for, then you need to look around. See if the rest of your furniture is classic or contemporary and then decide.
Contemporary sofas are slightly bigger. They have clean lines, they have a very strong frame made from hardwood. These mostly have smaller cushions. However, they are made from memory foam to make sure that you are comfortable each time you sit on it. These have serpentine, or no-sag springs to provide with utmost comfort.
The upholstery is made from premium materials including leather, to give the sofa an edgy look. Classic sofas have a more rounded look about them. The cushion sizes are slightly bigger to provide more comfort. The frame is sturdy, made of hardwood and the joints have screwed corners for better longevity. The coiled spring offers the right resistance while sitting.
3. Check the Quality Of The Upholstery
One of the most important factors to consider while buying a recliner is the fabric or the material. A good level of comfort is essential. A decent soft fabric is a good choice for comfort.
Leather sofas are very classy and durable, plus they will prove to be ideal if you happen to have furry pets at home. Leatherette sofas will be perfect for those who want a more budget-friendly option. If you happen to be someone who is very stringent about the environment and avoids all animal-derived products including leather, leatherette will be a good option for you.
Other than that, fabrics such as velvet look aristocratic but gets dirty easily. High-maintenance fabric should be avoided if you want a fuss-free piece of furniture.
4. Check the Padding
The entire frame of the recliner should be completely padded. Sit on the sofa, get the feel of it, see if you are comfortable with it and then decide if you want to get it or not. The upholstery is very important because it is what makes the sofa durable as well as comfortable.
The material should be well-tailored and seams should be in place. A badly tailored recliner looks shabby and is not worth the money you spend on it. Firm and resilient seat cushions last a very long time. They should fit snugly within the recliner. Always, push the cushions to check if they regain their shape because the one which remains pushed down will flatten in a few months.
The cushion construction happens to be one of the most important factors to determine here, so it is best if you can sit on the sofa, get a feel of it, and then make your purchase.
5. Always Measure the Softness
Irrespective of whether you are buying a single-seater or a triple-seater, keeping the measurement of the sofa in mind is imperative. While some sofas can be dismantled while carrying from one place to another, others cannot; so make sure that you are easily able to carry the sofa to your house. Make sure that the size of the sofa is perfect for the vacant space in your house because wrong measurements will make you regret your purchase.
6. Test the Operating Mechanism
The whole idea of purchasing a recliner means that you can comfortably lie on it and relax. So you must use the operating mechanism repeatedly to see if the sofa is working smoothly or if it is defective. Recliners are priced higher because they have this quality to it, so if you are paying the money, then you might as well look for technical glitches if any.
7. Pay Close Attention to the Frame
Reclining sofas can have some disadvantages. Always check on the kind of hardware used on the sofa. Heavy-duty screws will hold the frame together for years and make your recliner durable. Ask the retailer about the kind of wood that has been used to build the frame so that you have an idea about its maintenance.
Make sure there are no parts sticking out just around the bottom of the sofa frame. A poorly built reclining sofa with metal parts just off the floor of the frame could be a nightmare for your feet, especially if you are prone to walking around bare feet or not wearing shoes. These pieces could easily rip off toenails and give all sorts of problems.
8. Check the Frame Joints
While the quality of the wood being used in the frame is important, what is even more crucial is how it is being put together. How each wood is connected can make a world of difference. The connection must be made by joining the timber with wooden dowels and wood glue. This adds strength to the frame. It gives the sofa the robustness which will ensure that it lasts for decades to come,
9. Check The Reclining Settee Suspension
Many people overlook this factor, but a good sofa relies on its suspension. It is the inner parts of the seating area and the cushions.
It must be able to withstand the impact of people constantly sitting on it. There are different kinds of resistant filing available, which provides an advanced suspension system to the sofa.
If you are confused as to which recliner you should buy, then getting the classic model will always be a safe bet. The classic model pretty much syncs with most types of home décor. And they still happen to be a very popular piece of furniture, for good reason.
With so many functions and usability options, recliners are an upgrade from your regular sofas. It is a task to narrow down your choices to find the best recliner for your home, but you need to keep things such as your budget in mind.
Available in an array of sizes, styles, and materials, you can get a little overwhelmed when it comes to purchasing a good recliner, but if you keep the aforementioned points in mind, then you'll be good!
Warranty and Returns
Finally, make sure you have sorted out the delivery. Ensure you know whether it is FREE delivery or if there is a charge. What length days of delivery will be. Also, make sure they will deliver it to your front door or inside your apartment. There is nothing worse than having a delivery turn up and they will only drop at the front of your building. Some firms refuse to deliver to a front door, especially if there are ni lifts and it means climbing stairs.
Make sure you look at the WARRANTY. This is VERY important as if you want to send the settee back there may be high charges for postage as you would expect, or in some cases, they may waive the charges. Ensure you are fully aware of the costs of a failed settee return under warranty, AND what your CONSUMER rights are with this expensive piece of furniture.
How To Check a Recliner
Q & As Advantages and Disadvantages
Are Recliners Good For You?
If you're looking for a comfortable way to sit, then a recliner chair is the perfect choice for you. It offers a great amount of support for your back and allows you to relax while watching TV or reading a book.

If you have a back problem, it is important that you get the right kind of chair. Although there are different types of chairs, the most popular ones are the reclining ones. They are great because they offer great back and lumbar support.
Do recliner sofas last long?
Yes, recliner sofas do last longer than many other types of furniture. They are made to withstand the rigors of daily use, but they are also designed to be comfortable for you to sit in and relax while watching TV. Good for 7 to 12 years.
What Should I Look For In a Reclining Sofa
The most important thing you should consider when buying a reclining couch is comfort. You should really test one out before you buy it. It is vital that you have real comfort when you are lying in your recliner.
Conclusion
Recling sofas are the heart and sole of many living rooms. A good quality recliner can be a godsend after a hard days work and can help to take away the stresses of life once you settle into it and relax. They should be considered as one of your priorities for a new home decor or home refir.