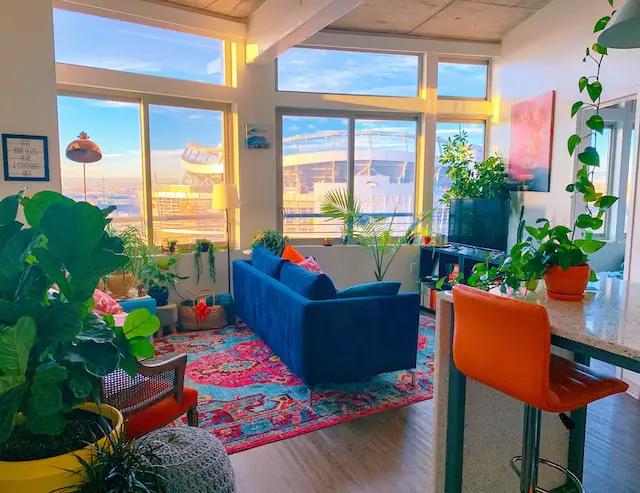 From Bohemian Design With Moroccan Floor Pillows to Industrial Styles With Steel Surfaces
If you've been considering redecorating or designing your home, you've come to the right place! Here are some of the top interior design styles of today, from bohemian and minimalist to industrial style and art deco. Read on to discover your favorite and find inspiration!
Designing your home is an exciting process, especially with organic materials and vibrant colors, but it can also be quite overwhelming. If you've been researching interior design styles, you may have realized that there are countless different styles to choose from. Each interior design style has its own unique characteristics, flavor, finish, and experience.
How do you know which is the right design that matches your personal style and aesthetic? Are you able to get straight lines that enhance the look? Getting to know the top interior design styles can help you better understand which specific design styles match your aesthetic and meet the needs of your home. Whether you're looking for design inspiration or looking to redecorate with natural elements and bright colors, explore the top 8 interior design styles to discover the favorites that will help you create the home of your dreams.
Bohemian Style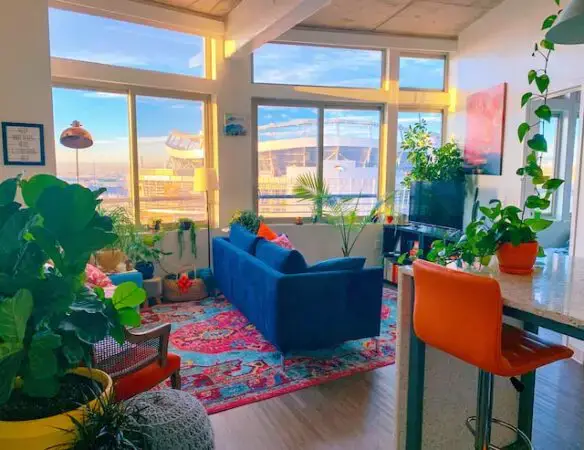 Photo by Steph Wilson on Unsplash
The bohemian (or Boho) interior design style is a free-spirited aesthetic popular style. It embraces a mixture of different artistic expressions, cultures, and styles to form a cohesive, eclectic interior space. It is a style that does not stick strictly to a specific set of rules or order. Instead, the style fully embraces using your own creativity and authenticity.
With bohemian style, bold colors, prints, and patterns are commonly used to create a free-spirited ambiance. Expect to see additions like handwoven rugs, Moroccan floor pillows, Japanese prints, and intricate tapestries within a bohemian interior design style home.
Boho style leans into the blending of patterns, textures, colors, furniture, and accessories. It incorporates a globally-inspired mixture of vintage, antique, and eclectic finds. The bohemian style is marked by the use of distinct furnishings that create visually unique juxtapositions. For a modern take, style with colorful throw pillows or add metallic or rich wood accents within your home. Feel free to express your personal tastes and experiment to find what works for you!
Minimalist Style
A design style inspired by minimalist art movements of the 1960s and 1970s and by traditional Japanese design, a minimalist style is one that embraces a "less is more" philosophy. In addition to keeping distractions and clutter in the home to a minimum, this style is known for its clean lines and simple finishes.
A home with a minimalist design style is one that will often stick to a neutral color palette, use functional furniture, and will focus on the limited use of textures. Minimalist design is all about embracing simplicity in the home.
Minimalist interior design is a style that works well in any space, from a small apartment in the city to a larger home in the suburbs. No matter the size of your home or preferences, you can embrace minimalism in your home.
While some may shy away from minimalism due to a perceived coldness, the style can be personalized to one's own preferences. Make minimalism your own by adding a pop of color to your neutral color palette, using a warm minimalist color palette (think browns and taupes), or using simple organic shapes.
Contemporary Design Style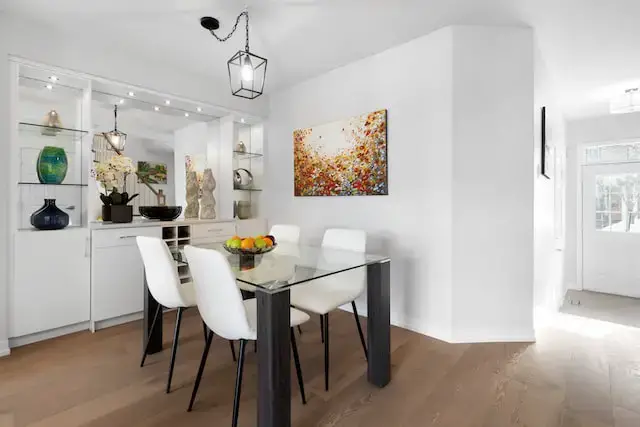 Photo by Point3D Commercial Imaging Ltd.
Contemporary style is an interior design style that is complete for the moment. It refers to any prevalent, current styles or trends, making it a fluid design style. Contemporary style is not to be confused with modern style. Whereas modern contemporary style is ever-evolving, meaning it can ultimately change every few years as trends change.
Key traits of the style include clean lines, simplicity, and the use of modern pieces. Similar to minimalist style, contemporary style is not weighed down by overly busy additions or dated pieces. It blends classic with the current. For example, a contemporary home may have a neutral color palette in a room, along with an accent wall, or use geometric patterns to create texture in a room.
Scandinavian Designs Style
As its name reflects, the Scandinavian style is a combination of the distinct design styles of Norway, Denmark, Iceland, Finland, and Sweden developed around the 20th century. Like the minimalist and contemporary styles, it is an interior design style that embodies simplicity.
It favors clean lines, natural materials, and a minimal color palette with an occasional pop of color such as with the easy addition of throw pillows or with pieces of art.
When you think of Scandinavian style, think light, comforting, and inviting. Elements of a home designed with the Scandinavian style typically may have white walls, a black and white color palette, and organic textiles to create a more cozy atmosphere. The scandinavian decor brings efficiency and functionality to the home, such as including a coffee table that doubles as room storage. It's a style that seamlessly blends elements of minimalism and modernism.
Rustic Style
A traditional style favored by many, rustic interior design style lets natural beauty shine through thanks to its earthy and rugged elements. It brings the charm of the country right into your home. Whether you live in the country or a home in the heart of a city, the rustic style can work in any space.
The main objective of the rustic style is to remain as natural as possible, using simple colors typically found in the environment, along with natural materials. The style heavily favors simplicity, functionality, comfort, and practicality.
Furnishings include many repurposed or salvaged pieces made of wood, leather, or natural materials. For example, a rustic home may have soft throws, braided rugs, or woven baskets. You can also expect to see more neutral colors in rustic-style homes. Color palettes lean into varying shades of brown and more muted colors thanks to the significant use of wood elements and fixture finishes in iron and pewter.
Modern Farmhouse Style
The modern farmhouse is currently one of the favorite contemporary interior design styles. The style merges the warmth and rustic charm of farmhouses with more modern elements. The core idea of the modern farmhouse interior design style is to use the key elements of the countryside with the modern to create a balanced, inviting space.
Like a home with a rustic interior design style, it focuses on comfort and simplicity using warm pieces. However, the modern farmhouse will rely more on refined elements with hints of rugged pieces.
In a home with a modern farmhouse style, you may see traditional farmhouse design such as shiplap and barn doors with touches of modernity. The use of traditional decor repurposed furniture, and natural materials make the style feel like a mixture of contemporary and rustic charm.
Art Deco Style
An iconic style, art deco design is an interior design style that carefully blends glamor, elegance, and chicness. If you favor bold and eclectic style, this just may be the interior design choice for your home.
Popularized in the 1920s, the art deco interior design style explores symmetry and geometry within the space of a home. Geometric shapes, angular patterns, abstract forms, lush fabrics, and jewel tones are a few characteristics of the art deco interior design style.
In addition to the significance of geometry in the style, art deco interior design incorporates elements of chrome and brass finishings, lacquered wood, and glass or mirrored items for a touch of elegance to the space. Examples of art deco within the home could include bold art or sculptures, fabrics with geometric patterns, and mirrors.
Traditional Style Furniture
Traditional style furniture is characterized by its simplicity and functionality. It is made from wood, metal, plastic, glass, leather, etc., and usually comprises one piece. The most common types of traditional furniture include tables, chairs, beds, cabinets, stools, shelves, mirrors, lamps, clocks, vases, and so forth.
The basic design elements used in traditional style furniture are straight lines, simple shapes, and clean surfaces. This type of furniture is often associated with classic styles such as Art Deco, Chippendale, Empire, Georgian, Mission, Modernist, Neoclassical, Scandinavian, Shaker, Spanish Colonial, Transitional, Victorian, and others.
Industrial Style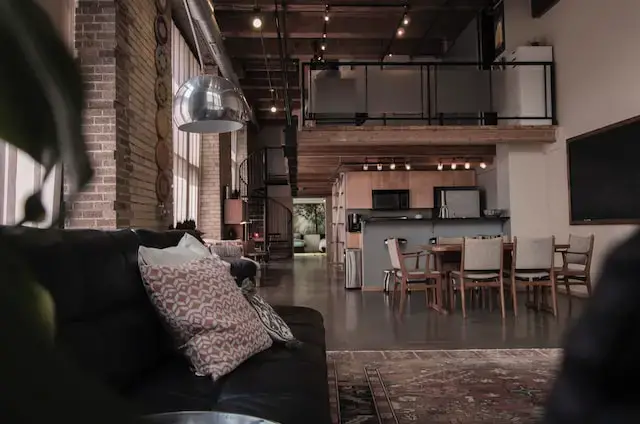 Photo by Aaron Huber
A style centered on functionality, industrial style is a contemporary urban interior design style. It takes a minimalist approach to design, celebrating the simplicity of design. Using elements you may find in an urban warehouse or factory of the late 19th and 20th centuries, this interior design style is marked as having elements associated with industrial design.
These inspired elements of the Industrial Revolution factories include polished concrete, exposed pipes and metal, exposed beams, raw woods, and reclaimed machinery.
Within this style, building materials that normally get concealed are instead put on display. It embraces the utilitarian warehouse look. Interiors typically stick to a neutral color palette such as grays, browns, black, and white and have stainless steel surfaces, metal light fixtures, and metal surfaces.
Architecturally, industrial design styles often have high ceilings, exposed brick, open floor plans, and immense windows. However, any home can use industrial design elements, such as using raw metal decorative pieces.
One could also incorporate stainless steel surfaces, metal light fixtures, and wood paneling or tables. To create a cozy vibe, add warmth to your industrial design with art and other personal details.
Choosing Your Design
There are countless interior design styles that you can choose for your home. Each design presents its own characteristics and functionality that will give your space the experience that you've been searching for. Whether you choose a contemporary style or something more eclectic, your home will reflect you. By working with your space and identifying your personal preferences and the features you like, you can create the home of your dreams.
Related Posts