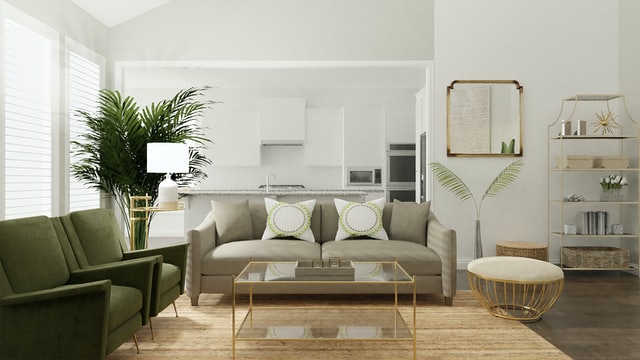 Use Textures For Interior Design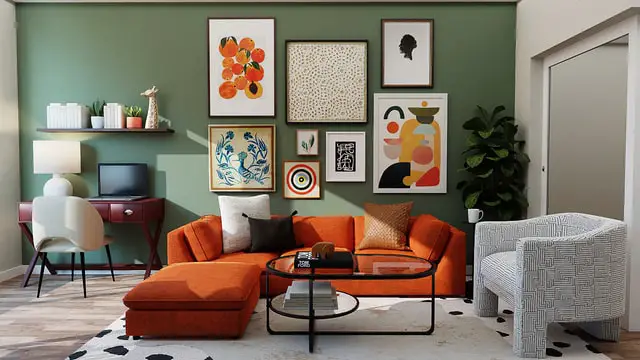 Texture plays a critical role in interior design and is woven into every designer's lexicon and practice. It's often an afterthought, yet it's the one item that can elevate a well-designed space by adding a sense of depth, weight, and tone. The texture is essential for a room to be complete.
So, in case some rooms in your home feel a little flat or even unfinished, chances are they're missing a bit of texture. To help you fix this, we've prepared everything you need to know about texture in interior design and how to use it.
Texture in Interior Design
Texture comes into play if you want to make your space look lovely, visually appealing, and even intriguing. It is considered a supplementary basis of interior design that helps create a seamless area that ignites beautiful compositions and designs in your space.
So, let's look at what texture means and how it's used in interior design. It refers to a material's surface quality. Take your winter shawl, for example, and make sure it's silky, weaved, and ornamented. That's what texture is all about. Texture in interior design, on the other hand, assists in determining how a room feels at first look. It will significantly impact the room's tone and visual weight.
Therefore, texture is a critical aspect of interior design. It is sometimes disregarded and forgotten about, but it has the fantastic ability to lend depth and beauty to a room. When planning a new interior scheme, you must include texture if you want your room to stand out and be the center of attention for all of your visitors.
Two types of textures
As said, the texture of an object describes how it feels when you touch it. However, glancing at the space too can give you a sense of its texture. So as you can see, interior design has two contrasting textures:
A texture that is tactile is created by the space's physical surface, which might be smooth, firm, or rough to the touch. It's essentially the 3D qualities that you can sense. Because it possesses height, width, and depth, the tactile texture is three-dimensional. A fuzzy chair cover is an excellent example of a tactile texture.
Textile in visual form is a synthetic or illusionary texture that appears completely different from how it feels to the touch. Because it lacks depth, the visual texture is two-dimensional. For instance, fur, canvas, wood grain, sand, leather, satin, eggshell, matte, or smooth surfaces like metal or glass fall within this category.
Why is texture important in interior design?
Texture has such a large impact on a room, and it's one of the crucial elements in interior design. Why? Here are two main reasons:
Texture gives visual weight (the ability to draw attention) to different elements in your interior design. Textures can affect the feel of a particular space in the same way cool and warm colors do. For example, rough textures, such as reclaimed wood or terracotta tiles can make a room feel intimate, rustic, and grounded.
As contrast is essential in every room, you can use textures to provide balance. At the same time, it will keep your interior design visually interesting. However, if you don't want your space to look chaotic, avoid combining more than three different textures in a room.
Photo by R ARCHITECTURE on Unsplash
As you can see, the texture is crucial to make any space feel complete and perfectly balanced. If you use textures properly, you can fully transform how any room in your home looks and feels. You can even transform your backyard into a more enjoyable space if you use textures correctly. But we'll talk about that in detail further in this article. 
How to Properly use Texture in Interior Design?
Mixing texture in interior design isn't as easy as simply combining different finishes and materials. In fact, if you don't use textures properly, you can end up with a space that looks and feels chaotic. Thus, it's imperative to find ways to use texture to compliment your space and give it the feel you're looking for.
Generally, you can use texture in interior design in the following three ways:
Combine light and texture — You probably know about the benefits of natural lighting in interior design. However, if you combine it with textures, you can do so much more. Rough textures give off a warm feeling since they reflect less light, making the piece appear more rustic and adding weight. On the other hand, smooth and shiny textures have a pristine and modern appearance since they reflect more light and give the living room a relaxed vibe.
Combine texture and scale – You may combine texture and scale as well. It will brighten the space and add the proper amount of texture.
Use texture with color — When used correctly, color and texture complement each other perfectly. Intensely polished goods bounce less light and, as a result, cast a dimmer shade on the room's color scheme.
Tips for Using Texture in Interior Design
Lastly, to help you get your creative juices flowing, here are our simple tips for bringing texture into your home's design.
Combine different textures
In interior design, layering is essential for creating a scheme that is rich and full of depth. To avoid relying just on fabric or furniture finishes, try combining different texture sources. Every square inch of your space can ignite a textural conversation, and as the layers build up, the outcome is immersive and compelling.
Texture can manifest itself in a variety of ways. For example, make sure not to overlook the impact of matte versus glazed ornaments on a bookcase or a polished granite fireplace hearth with a tasseled rug in front of it. You can even add wall treatments and artwork that can make the walls feel multi-dimensional. 
Choose textured furniture
As you are most likely to come into physical contact with your furniture, consider choosing textured pieces. Why? Well, just imagine running your hand over a smooth and cool marble table or kicking back and relaxing on your beautiful velvet sofa. 
The best part is that you don't necessarily need to invest in new furniture. There are plenty of creative DYI furniture ideas to help you transform some pieces and make them look brand new. And always remember, the texture doesn't always have to be obvious. It's all about these subtle differences that grab your attention as your eye moves around the room.
Combine contrasting fabrics
Textures that are interesting to look at aren't good just for that reason. When you contrast them, they can also help you keep things in balance. For example, if your color palette is made up of many of the same colors, you can simply change any piece of fabric in the room and break up its uniformity. 
Don't forget to look at fabrics that aren't obvious, like lampshades, curtains, or table mats. Sofas and armchairs aren't the only places where fabrics are used. You can even make changes to these textural contrasts as the seasons change. For example, a linen sofa might have cushions made of cotton and silk in the summer and velvet and faux fur in the winter.
Don't forget textured home accessories
Vases, ornaments, sculptures, and mirrors are all objects whose textures are great to experiment with. If you really want to make a statement, we suggest purposely arranging objects with contrasting textures. However, it would be best not to overdo it as it might create an opposite effect to the one you're trying to achieve.
If there are too many competing finishes in the room, the lack of connectivity may result in a lack of direction. The goal isn't to load your room with every imaginable texture but to welcome a variety of characters that are sympathetic to one another and work together to add variety and excitement to your space.
Add texture with plants and flowers
Lastly, a great way to add visual texture to your space is to incorporate plants and flowers into your home design. The difference in form, petal and leaf shape, height, color, and vessel produces a textural effect on a room's decoration. But make sure to choose plants and flowers that link to other textures in the space.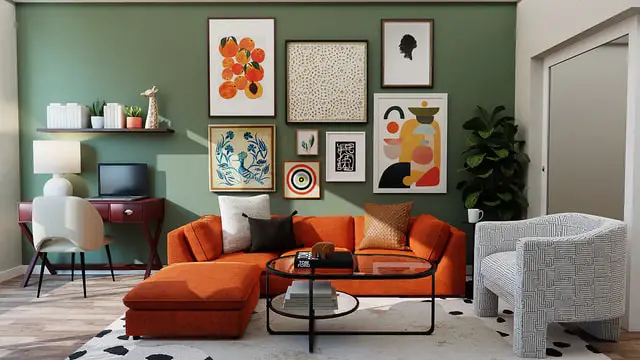 Final thoughts
As you can see, texture is one of the most crucial interior design elements. Without different textures, your space can feel incomplete and flat. We hope our ideas of using texture in interior design helped you understand what textures are and how to implement them into your home interior design best. And in case you need any more interior design ideas and hacks to help you enrich your space, make sure to visit furniturefashion.com. We're sure you'll find anything you need!