Choosing The Right Self Adhesive Wallpaper for Your Home Project
The self-adhesive wallpapers are printed on a special paper which allows them to stick to any surface without leaving a residue. This makes them perfect for walls where you want to decorate a room without having to worry about damaging the paintwork.
They also come in a variety of colours and patterns, making them ideal for adding a splash of colour to any room.
Many people think that wallpaper is outdated and out-of-style, but you would be completely wrong and completely out of the loop in doing so. Just like the new and growing trend of wall decals, self adhesive designs accomplish the same thing.
Black Wood Self-Adhesive & Removable Wallpaper
Vinyl / PVC black wood peel and stick wallpaper
Realistic wood sensation, waterproof and oil proof, easy to clean, thick wear resistance, strong covering power
Kitchen counter, backsplash, furniture, notebook, drawer, crafts, bookcase, door, wall. perfect for creating new looks and repairing existing surfaces, durable and non-fading
Choose the size you want, just cut along the grid of the back, then peel and stick. If there are bubbles, you may choose to puncture them with a needle to remove the air inside
Clean the surface and make sure it is dry before use. While peel off the paper on the back, while sticking to the smooth surface, to prevent the wallpaper from sticking together
PVC material is thickened, wear-resistant, waterproof, which protects the furniture from erosion.
The black peel and stick wallpaper is equipped with adhesive, which is easy to operate and can be moved and reset without leaving residual adhesive
USE SKILL
Clean the surface and make sure it is dry before use.
Please measure the dimensions of object you want to decorate. Then cut it according to the back grid.
While peel off the paper on the back, while sticking to the smooth surface, to prevent the wallpaper from sticking together.
TIPS
Due to the different angles of the camera and light, there may be a little chromatic aberration
Please buy enough wallpaper at one time, because the color will be slightly different for different batches
The most common type of self-adhesive wallpaper is vinyl, which features a matte finish. This makes it suitable for both indoor and outdoor applications.
Vinyl wallpaper is also highly durable, meaning it won't peel or flake after years of wear. Vinyl wallpaper is available in a wide range of colours and patterns, including floral designs, geometric shapes, and more.
It's essentially a sticker for the wall and you can nix the nasty, mess of the old fashion way of papering your home. And, fortunately, these pieces come in an array of super chic, stylish and fashion forward prints, patterns, colors and pictures.
Let's have a look at 12 fantastic must see self adhesive wallpaper designs and create our own decorating inspiration that transforms a room in your living space.
1. Abstract Wallpaper
Abstract wallpaper is an art form where the artist creates a design that is based on the concept of abstraction. This means that the image is created without any reference to real life objects or places.
The designer draws inspiration from nature, science, mathematics, philosophy, religion, mythology, history, politics, economics, psychology, sociology, anthropology, geography, linguistics, music, literature, and more.
Abstract wallpaper designs are often used for interior decoration, wall murals, and even as a backdrop for photography.
A classic black and white combination with a feminine and artistic touch, this idea is perfect as an accent wall in the dining room, living room or even as a way to liven up the foyer.
Pair it with bright colors as a gorgeous way to contrast and create interest, or blend with more neutral tones for a sophisticated, yet beautiful scene.
2. Egyptian Wallpaper
Egyptian wallpapers are an ancient art form that dates back to the time of the pharaohs. These beautiful patterns were used for decorative purposes and also served as protection against evil spirits.
The Egyptians believed that these designs would ward off evil spirits and protect them from harm.
Today Egyptian wallpapers are considered to be very popular among interior designers because of their beauty and uniqueness.
They are also known to be quite expensive due to the fact that they require a lot of effort and time to create.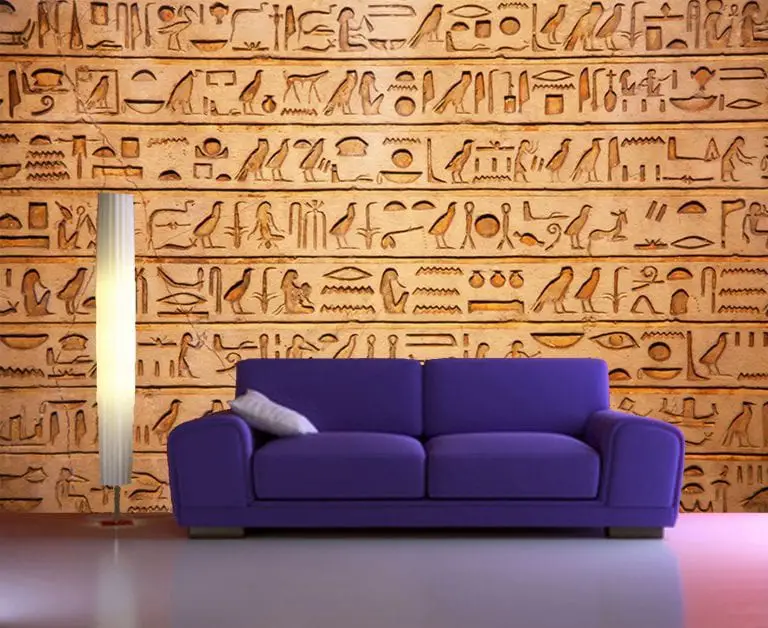 Are you looking for something super unique to place inside your home office or even in the bonus room? Well, look no further than a spread of Egyptian hieroglyphics! This is such a fun and playful way to jazz up your home.
Add color to bring in the family's personality and to lighten up the rugged touch of the pattern. We have no doubt that this choice will definitely add a certain "wow" factor to any space!
3. Herring Bone Wallpaper
Herringbone wallpaper is an interesting pattern which has been used for centuries. In fact, it was originally made out of fish bones. It is also known as "fish scale" because of its resemblance to scales.
It is a very popular choice among interior designers today. This is because it gives a modern feel to any room. It is also easy to clean and maintain.
The pattern consists of diagonal lines which create a checkerboard effect. These lines are usually black and white. However, there are also patterns where the lines are colored.
This type of wallpaper is often used in bathrooms and kitchens. It is also a great option for kids rooms.
If you're in love with textured walls but without the means to make one happen in your home, look at some self-adhesive products. You can find and create that same look without the mess or without breaking the bank. Just take a look at this interesting, "wooden" textured look for a piece of this house's dining room, it's easy, breezy and very memorable and tone-setting.
4. New York City Wallpaper
New York City wallpaper is a great way to add character to any room in your home. This type of wall covering is also known as "cityscape" because of its resemblance to cityscapes.
It is made up of multiple layers of paper which are glued together, giving it a very interesting texture.
The most popular designs include skyscrapers, bridges, and even famous landmarks such as Times Square.
This is an inexpensive option for decorating your walls and will last for years.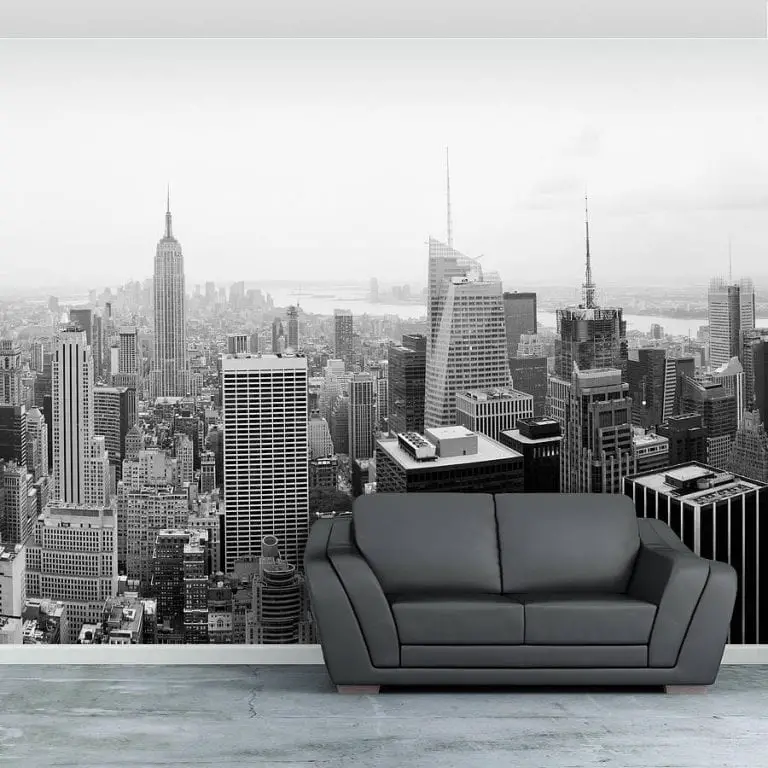 Bring the city right into your home with a this scenic view. Again, black and white is a classic and will work in any setting, especially in a chic, modern space with a very "bachelor pad" feel about it.
This too would work well with colorful pieces of furniture or accents to contrast and make everything pop! Of course, giving it a neutral foundation will enhance the contemporary charm and timeless essence.
5. Pink Self Adhesive Wallpaper
Pink Self Adhesive wallpaper is a great way to add colour and texture to any room. It is a great color for almost all girls rooms when they are at a very young age.
Add a bit of retro flair to your contemporary space with the help of some color such as in this example. With some 60's inspiration, this pink and purple pattern gives a funky feel and a feminine quality with ease and simplicity. We love how its use to simply accent and not take over the room or overwhelm.
6. Rustic Wood Wallpaper
Rustic Wood wallpaper is an old fashioned way of decorating walls. It is made from natural materials such as cork, bamboo, straw, grasses, etc. These materials are used to make the wallpapers which are then applied onto the walls.
Rustic wood wallpaper is usually created using traditional techniques. This means that the designs are hand drawn and painted. The patterns are also done manually.
The most common types of rustic wood wallpaper include:
• Bamboo
• Cork
• Grass
• Stained paper
• Straw
• Wicker
• Wood
• Wooden
• Wood grain
Here is another great example that gives a textural, interesting look. Large wood paneling will create a rustic, homey charm in the bedroom without the actual rugged feel of wooden pieces.
This is great if you're inspired by the great outdoors or a more natural and countryside interior design decor theme. It's also great if you've always dreamed of living in a cabin and never had the chance to do so!
7. Self Adhesive Wallpaper
Self Adhesive wallpaper is a type of wall covering which sticks directly to the surface of walls without the use of any glue. It is usually made of vinyl and is used for interior decoration purposes.
Self-adhesive wallpaper is an alternative to traditional wallpapers. It is often more economical and easier to install. It is also more durable and easy to clean.
The most common types of self-adhesive wallpaper include Vinyl, Polyurethane (PU), Acrylic, and Waterproof.
A wall covering that sticks to walls without any glue or tape.
It's a product that is so simple, so easy to apply and so versatile that anyone can do it.
The best part is that it doesn't require any tools or special skills to install. All you need is an ordinary paintbrush and a roll of wallpaper.
You can even remove it yourself when you've finished decorating.
This means that it's perfect for DIY enthusiasts and professionals alike.
It's also very cost effective because there's no need to buy expensive adhesives or hire professional installers.
In fact, you could even hang it yourself.
Like we promised, here's another gorgeous, yet different, example of how a space can be made to look as thought it has a textured accent wall. These thing, wooden palletes help to create a chic, zen and natural-inspired room, which is perfect for those inspired by a more Asian setting.
We love the soft gray wall and how the grassy greens pop right off of it, don't you?
8. Sound Room Wallpaper
Sound Room wallpaper is a wall covering designed to create an acoustic environment for listening to music. It consists of a series of speakers placed behind the wall which emit sound waves that bounce back towards the listener. This creates a reverberant effect similar to that found in concert halls.
Sound Room wallpaper is a wall hanging that allows you to listen to music while relaxing in your home. It consists of a number of speakers placed behind the walls which emit sound waves that reflect back towards the listener.
The result is a reverberant effect similar that found in concert halls, creating a rich, three-dimensional ambience.
Sound Room wallpaper works by reflecting sound waves back towards the listener. The result is a rich, three-dimensionally immersive experience.
It's a great way to enjoy music without disturbing anyone else in the house.
If you're looking for something to jazz up your teen's bedroom or create a major different in a dorm room, then this is the pick for you. An example that resembles an array of speaker systems, it's perfect for a youthful charm or music lovers all around.
You get the look without the bulk and the fun without the mess (and wires). It's such a unique and personal way to decorate!
9. Abstract Work Wallpaper
Abstract work is an art form that uses shapes, colors, textures, lines and patterns to create a feeling of movement, energy, and harmony.
Abstract work is often used for interior design, graphic design, and architecture.
It is also used in advertising, fashion, film, music, painting, sculpture, typography, and video games.
The term "abstract" means "without reference to any particular object".
Some geometric, contemporary patterns work great as accent walls, especially in lighter, brighter and bigger spaces. This choice acts not only as a beautiful accent but as art for the room. Coming in a variety of colors, go within this route if your vision is on the chicer, more adult and more contemporary side of interior design.
10. Brick Wallpaper
Brickwork wallpaper is an art form that is made of bricks. This type of wall covering is often used for interior design purposes. Brickwork wallpaper is also known as brick pattern wallpaper.
The most common types of brickwork patterns include the checkerboard, checkered, and herringbone designs. These are very popular among homeowners because of their aesthetic appeal.
Brickwork wallpaper can be found in various colors such as red, green, blue, yellow, black, white, grey, brown, and pink. If you are interested in purchasing brickwork wallpaper, make sure that you choose the right color scheme.
Create a bit of magic inside the house. A secret door could really make a different in your space. This is the perfect idea for a more imaginative bonus room or give the kids something to get creative with inside their own bedroom or play area! You can create so many stories and give the room an extra punch of uniqueness to boot!
11. Forest Wallpaper
The Forest wallpaper is an image that is made out of trees. It is a very popular wallpaper for its natural look. This wallpaper is also known as nature wallpaper.
It is a great way to add a natural feel to your room. If you are planning to decorate your home with this wallpaper, make sure that you choose a design that suits your taste.
You can find various designs of this wallpaper online. You can even customize your own design. So, why wait? Go ahead and buy this beautiful wallpaper now.
Bring the great outdoors inside with a design that resembles some of the best outdoor scenery. This may be a bit ironic for a city apartment, but we love the contrast of a sleek penthouse apartment in a metro area covered in wallpaper that sets the tone for some beautiful pieces of nature. We envision this scene inside a cozy breakfast nook, what about you?
12. Nautical Theme Wallpaper
A nautical themed wallpaper is an excellent choice for those who love the sea. This type of wallpaper is perfect for those who enjoy sailing, fishing, boating and water sports.
It is also ideal for those who live near the ocean or even those who simply love the feeling of the sea breeze blowing across their face.
This type of wallpaper is very popular among homeowners who wish to add a little extra charm to their home decor.
The nautical theme wallpaper is a great way to bring a little more life to your walls without having to spend a lot of money.
You can find a wide variety of designs online which means you can choose the exact design that you would like.
And last but not least, this treasure mapped design could really transform your husband's home office into something so much more unique, special and personable. It's masculine, yet interesting with an old-age, classic appeal.
But it's also fun for the family – who wouldn't want a treasure map written on the walls of their own home?
Great Removable Wallpaper Ideas
Image
Title
Price
Prime
Buy

Top

Wood Peel and Stick Wallpaper Shiplap Brown Self Adhesive Removable Wallpaper Waterproof Shelf Liner Home Decorative 17.7"x 118"

Prime

Eligible

Check Me Out On Amazon
Removable Wallpaper | Peel and Stick Geometric Wallpaper | Self Adhesive Art Deco Wallpaper | Vintage Wallpaper (24"W x 120"H Inches)

Prime

Check Me Out On Amazon
Spoonflower Peel and Stick Removable Wallpaper, Brick Wall Old Modern Construction Kids Print, Self-Adhesive Wallpaper 12in x 24in Test Swatch

Prime

Check Me Out On Amazon
Peel-and-Stick Removable Wallpaper - Boho Watercolor Floral Woodland Floral Woodland Floral Flowers by Shopcabin - 24in x 144in Woven Textured Peel-and-Stick Removable Wallpaper Roll

Prime

Check Me Out On Amazon
WallsByMe Peel and Stick White Botanical Floral Removable Wallpaper 1864-2ft x 4ft (61x122cm)

Prime

Check Me Out On Amazon
Self Adhesive Wallpaper Roll Paper abstract background blue marble agate granite mosaic with golden veins Removable Peel and Stick Wallpaper Decorative Wall Mural Posters Home Covering Interior Film

Prime

Check Me Out On Amazon
Spoonflower Peel and Stick Removable Wallpaper, Geometric Hexagon Colorful Cubes Diamond Cube Print, Self-Adhesive Wallpaper 12in x 24in Test Swatch

Prime

Check Me Out On Amazon
Spoonflower Peel and Stick Removable Wallpaper, Pink Peach Mod Blush Boho Chevron Print, Self-Adhesive Wallpaper 12in x 24in Test Swatch

Prime

Check Me Out On Amazon
Product prices and availability are accurate as of the date/time indicated and are subject to change. Any price and availability information displayed on [relevant Amazon Site(s), as applicable] at the time of purchase will apply to the purchase of this product.
Prices pulled from the Amazon Product Advertising API on: