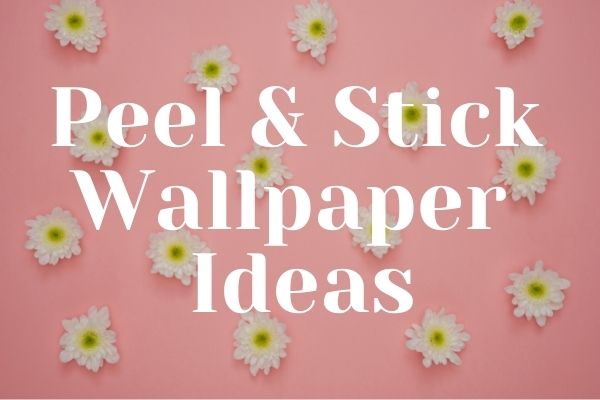 Benefits of Removable Wallpapers
1) Bring On the Boldness
Whether you want a little boldness or a lot, removable wallpaper makes it possible for just about anyone and any room. You can use colour and pattern to create an amazing design that's perfectly suited to your taste.
Since the paper is removable, you never have to commit. If it doesn't look right on day one, take it down and try something new. It gives you the freedom to change up your space whenever you like without spending money on new paint each time (not that there's anything wrong with doing so).
So be bold—try out some of these ideas:
2) Its Versatile
Removable wallpaper is perfect for renters. If you're not allowed to paint, or if you're just looking for a temporary change, removable wallpaper or peel and stick wallpaper is the way to go.
You can also use it in rooms where you might want to switch things up down the road, like a nursery that might become a toddler's room down the line. And because it comes off so easily, there's no need for damage control when it's time for a change.
3) Its Affordable
Wallpaper can be expensive, but tropical leaves wallpaper is relatively affordable, especially compared to traditional wallpaper. This means you can add some personality to your walls without breaking the bank.
4) It's Easy To Install
Removable wallpaper is probably one of the easiest types of wallpaper to install. There's no need for special tools or skills, and you can do it yourself in just a few minutes. All you need is a little patience and a level surface.
How to Create a Bold Design with Removable Wallpapers
Designing with removable wallpaper is easy. Here's how you can incorporate it into your space:
1) Make a Plan
Before you start, plan out what kind of design you want to create. If this is your first time using removable wallpaper, you might want to start with a simple geometric pattern, like diamonds or squares. Once you've got the hang of it, you can move on to more intricate designs.
2) Prep the Wall
Clean the wall surface and make sure it's smooth and free of bumps or dirt. If you're using traditional wallpaper paste, mix it according to the instructions on the package. If you're using a spray adhesive, follow the manufacturer's instructions.
3) Apply the Paper
Starting in one corner, slowly peel back the paper and apply it to the wall. Use a level to make sure it's straight, then use a squeegee or your hand to smooth out any bubbles or wrinkles. Once it's in place, let it dry for a few minutes.
4) Trim and Hang Pictures
Once the wallpaper is fully dry, use a sharp craft knife and a metal straight edge to trim out any excess paper around the edges of the design. Then, hang your pictures and decor!
5 Removable Wallpaper Designs to Make Any Space Look Stylish
If you're looking to add a little bit of style to any space in your home, removable wallpaper is the way to go.
Here are five designs that will make any room look amazing:
Geometric Patterns
Geometric patterns are always a popular choice for wallpapers, and for good reason – they can add a lot of personality to any room. If you want to go for this style, there are some suggestions on how to incorporate it in your home you can find online.
✖

September 17, 2023 23:00
Chevron Patterned Wallpaper
This trend has been around since about 2013, but it's still going strong! A chevron pattern is a great way to add interest to any room without being too loud or busy. What this looks like in a space: Chevron wallpaper can be used in so many different ways!
Striped Wallpaper
Stripes are another classic pattern that never goes out of style. They can be used in so many different ways, depending on your personal style. What this looks like in a space: Striped wallpaper can be used in both a subtle and a bold way.
✖

September 15, 2023 13:51
Polka Dot Wallpaper
Picking polka dot wallpaper can be a tricky decision because there are so many different patterns that fall into this category. You'll just have to take your personal style into account when you're choosing one! What this looks like in a space: Polka dots don't always come in just black and white – they can also come in a variety of colors!
✖

September 17, 2023 23:00
Stripes & Dots
Stripes and dots go together so nicely because they complement each other well – almost like peanut butter and jelly! You can use them separately or combine them into one seamless design that goes from top to bottom across a whole wall! Either way, these two patterns are a great way to add personality to any room.
What this looks like in a space: Stripes and dots can come in a variety of different colours and sizes, so you can really play around with the look until you find one that you love. So if you're looking for a way to add some personality to your walls, removable wallpaper is the way to go.
Conclusion
With so many designs and patterns to choose from, you're sure to find the perfect one for your space. Plus, it's easy to install and affordable, making it a great option for renters or anyone on a budget. So bring on the boldness—try out some of these ideas today!