Natural Home Materials For Eco Friendly Interiors
Using natural materials in interior design has always been popular. And this shouldn't come as a surprise since natural materials are durable, environmentally friendly, and go well with any interior design style you choose for your natural home decorating ideas.
Besides many benefits for the environment, natural materials are suitable for our health and overall well-being. If you still haven't incorporated natural materials into your home's design, or if you're unsure how to do it, you're in luck.
We're here to give you all the answers you need. In this guide to natural materials in interior design, you can find out why these elements should be a part of every home and the best ways to use their potential. 
Reasons for using natural materials in interior design
Biophilic design is one of the top interior design trends for 2021. It gained most of its popularity when the COVID-19 pandemic showed us how important staying in touch with nature is.
That's when many people started inviting nature into their homes as natural materials, decorative elements, and furnishings. However, this is not the only reason using natural materials in interior design is a good idea.
For instance, many people want to change their life for the better and live more sustainably. By incorporating natural elements into your home design, you are essentially helping the environment.
How? Natural materials come from natural sources. They are biodegradable and renewable. Recycled or reclaimed materials are often much cheaper, so besides being eco-friendly, you will be budget-friendly, too.
The most significant benefit of using natural materials is that they are good for our overall well-being. Most people are focused on diets and exercise without being aware of how things surrounding us affect our health and mood.
Even though days when using harmful substances such as asbestos or lead in construction are behind us, there are still artificial materials that might harm our health.
Natural materials are the safest option for our physical health, but they can also have a positive impact on our mental well-being.
For example, the sound of water triggers a response in our brains that induces a flood of neurochemicals that, in return, make us feel calm. Therefore, adding an indoor water feature could be an excellent way to make your home feel more serene. 
Incorporating natural materials into different styles
One of the best things about using natural materials is that they vibe well with any style. However, there are still some styles where natural materials are more common:
Eclectic and Boho style – These two interior design styles are known for either bending or completely throwing away design principles in favor of personal taste and preferences. They usually involve using many natural materials such as rattan and raw wood and have bright patterns and different vibrant accents.
Farmhouse style – Classic and modern farmhouse styles prioritize simplicity and practicality and combine them with rustic charm. The point is to capture the old-time barn vibe. Therefore, it comes as no surprise that natural and unfinished wood is almost a signature element of farmhouse style. 
Coastal style – Even though it is often mistaken for nautical and called tacky, coastal style is all but. It draws its inspiration from beaches and the ocean, so blue is its most prevalent color. It's usually combined with a backdrop of whites and neutrals. Coastal style has plenty of original wood and woven elements. 
How to incorporate natural materials in interior design?
There are many ways to incorporate biophilic design into your home, and using natural materials is only one of them.
For example, an excellent way to invite nature inside is by maximizing natural light, adding plants, or even art inspired by nature.
But, for the time being, we'll focus on the most popular natural materials in interior design and how you can incorporate them into your home.  
Wood is a prevalent choice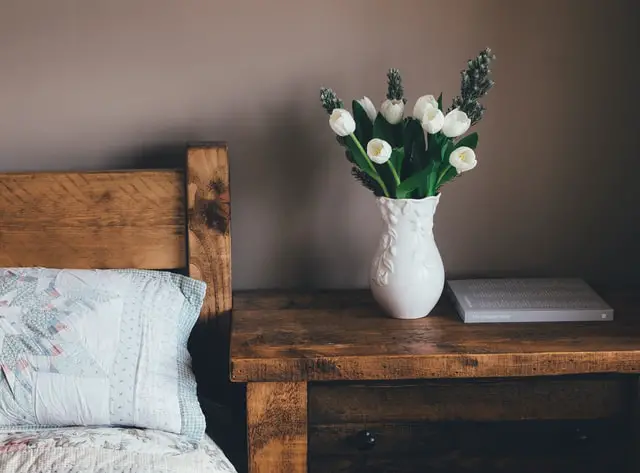 Wood is definitely the most common, and the most popular natural material used in interior design. Because of a rise in ecological awareness, it's becoming even more wanted.
People use reclaimed wood, for example, to create different parts of both indoor and outdoor furniture.
Wood has many advantages. It's cozy, universal, easy to work with and incorporate with any design style.
Wood is also very durable. If it's seasoned and dried properly, it can be virtually indestructible. It can take on various textures and colors, and it gives any space a sense of warmth and coziness. Also, it's an excellent electrical and thermal insulator.
The best part about wooden furniture or details is that they work well with any design, and you can find a place for them in any room of your home.
For example, add a wooden bed to your bedroom, or even consider installing hardwood floors or sanded parquet. It's always best to think green and use recycled wood to create interesting and unique pieces for your home. 
Brick is always in style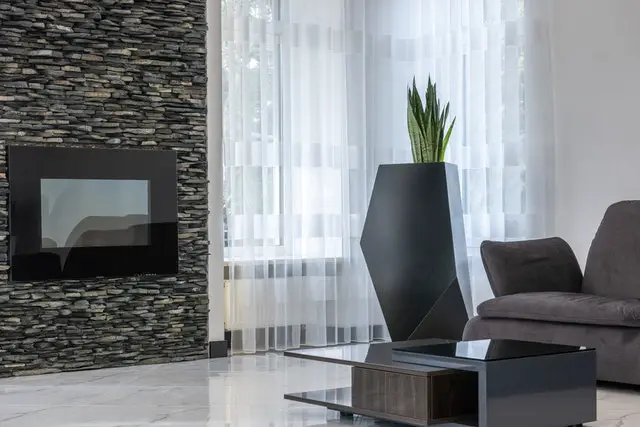 Brick is one of the natural materials that never goes out of style. Exposed brick walls are especially popular nowadays.
The best thing about them is that you don't need to live in a house made of bricks to have them. There are many solutions available to create this gorgeous accent feature, even if you live in a small apartment.
This material always looks stylish, and it's timeless. Still, it doesn't just look pretty – it's also humid, cold, and fire-resistant. Besides having an exposed brick wall as a centerpiece in your home, you can also use brick to create a backsplash in your kitchen.
Or, you can put it on the side of your kitchen island or fireplace. If you use your imagination and get creative, the possibilities are virtually endless.
Stone can be a brilliant choice
Even though stone is the oldest construction material, it's still very popular. It's basically a synonym for austerity, and there is almost no limit for its usage in interior design.
Whether you are looking for something more traditional such as marble, or if you want to make your place look grand with granite or basalt, you won't regret it. 
The best part about stone is its durability. On top of it, it also has high heat, water, and damage resistance. But, the exciting part about stone is its diversity; you can find stones that differ in color, texture and finish, which is what makes this material so unique.
You can use stone in any part of your home. It can even be used as a windowsill if you can't think of another way to incorporate it into your living space. 
If you are creating a minimalist interior, replacing tile floors with stone is a good idea. However, you need to thoroughly consider this idea and plan, as this is an extensive renovation project.
If you decide to install stone flooring, you need to ensure the safety of your belongings first, as they could get damaged beyond repair. The best idea is to put your things away for the duration of remodeling.
Consider renting a storage unit as it's an affordable way to keep your mind at ease and your items safe from potential damage. 
Make your home chic with leather details
Nothing says luxurious, inviting, and durable like leather. It's a natural material that stands the test of time while looking stunning simultaneously. Over time, leather gets a worn-out look, but it also gets softer and remains stain-resistant. Of course, only if you take proper care of it.
There are three types of leather you can include in your interior design:
Genuine leather – There isn't a more luxe natural material than real leather. It's a durable upholstery material that can be used for practically anything. For example, invest in a gorgeous sofa, order a bespoke headboard, or choose a lovely and comfy reading chair.
Suede – Suede is made from the underside of animal skin and has a very fuzzy and soft texture. Even though it's an excellent material for upholstered furniture, you need to treat it properly to protect it from moisture and spills. If you have small kids, avoid suede. 
Cowhide – The best part about cowhide is that every single piece of it is unique. Basically, its unbleached skin and hair of a cow, so every hide has a distinct pattern. It's considered a very luxurious material, and it can be a lovely accent in any home. Another good thing about cowhide is that it's very easy to maintain.
The bottom line
Using natural materials in interior design is becoming more and more popular, and for a good reason. It shows how we can be more responsible towards ourselves as well as our planet. It is also a great way to build on natural home decorating ideas for each room for sustainability.
We sincerely hope we could make an impact and inspire you to update your home by switching to natural materials and different products made from them.