Fantastic Leather Sectional Couches Worth looking for in 2021
Leather sectional couches may not be the most popular or what you think of first for comfort, but you'd be surprised after a bit of breaking in how cozy and welcoming these pieces can become.
And that comfort will never take away from the slick and versatile styles that these designs always exude. From traditional to funky, leather sectional couches can fill up space and provide the right amount of seating and relaxation for you, your family and your guests!
Enjoy these 12 designs and ideas that we have put together.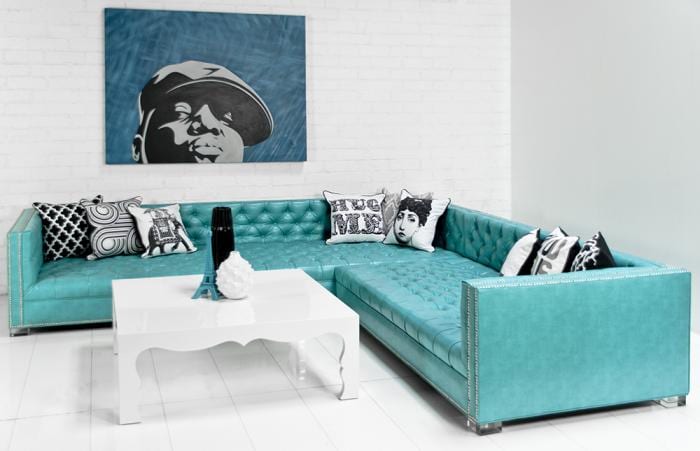 Turquoise, studded and modern enough to keep up with the clean palette and sleek finish of the space, this couch screams style and versatile blends.
Easily made to be more feminine or delicate, it also fits well within the stark contrast of black and white, contemporary living room accessories. And this living room has an easy urban vibe that the sofa meshes right into.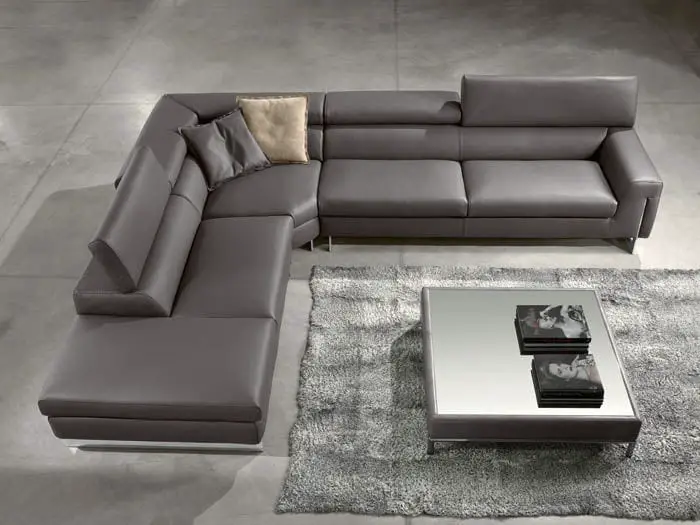 For something a bit more traditional but still very contemporary and stylish, take a peek at this clean, charcoal design. There's room enough for the entire family to take a load off and the simple design makes it easy to build any type of theme around from minimalist to futuristic.
We love how easy this shade of charcoal is to mix, match, and compliment.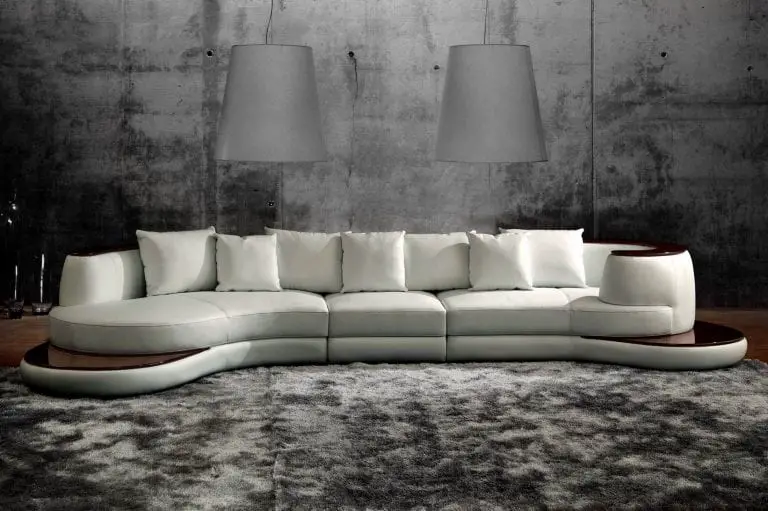 White and creamy with built-in side tables and a ledge that not only rounds out the design but makes for a functional step stool addition.
This contemporary leather sofa sure makes a warm and welcoming statement in a more posh and impressionable space. Although it still works in the more functional of ways, we adore the unique design of this piece.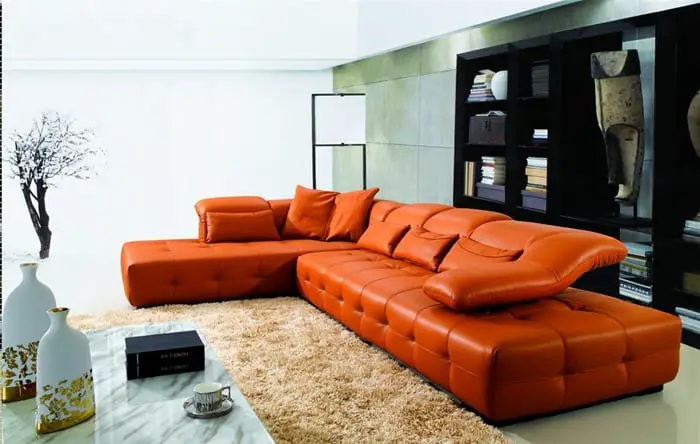 Burning orange and full of life, this fantastic tufted sofa has a personality and pizzazz all its own, no matter what room and what kind of style it surrounds.
Again, there's enough space to get cozy with the family, but the actual design of the piece adds a contemporary fashion-forward flair along with its unique and vibrant tone.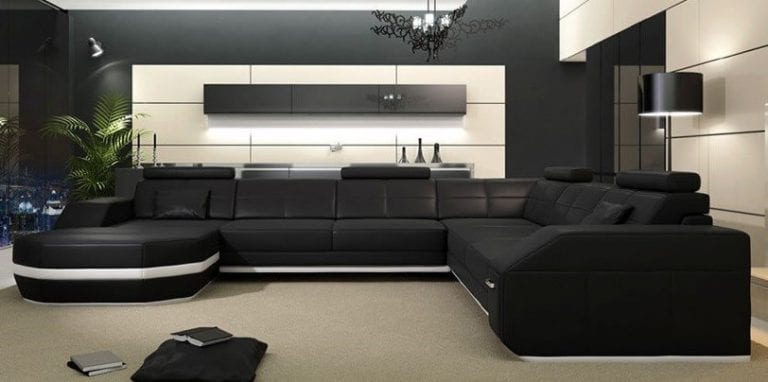 It doesn't get any sleeker than this black beauty. It's quite large so it would need to be placed in a room with a soft, light foundation (because the black can be quite overwhelming and make a room feel smaller) and a room with enough actual space to fit the piece!
Again, this clean palette is great for styling and accessorizing with your own personality, but it fits easily into more modern visions.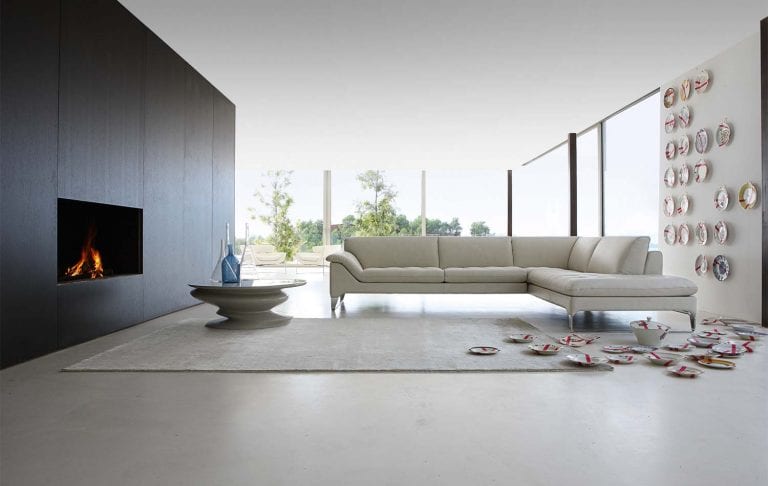 This sectional sofa is a bit smaller than others on the list, but it's no less stylish. We love the delicate legs on this gorgeous, cream-colored piece.
It fits well within this large and bright, neutral room but would also go well in smaller spaces that still have room enough for the right seating for the family. All you need to do to make it cozier by adding colorful throw pillows and blankets!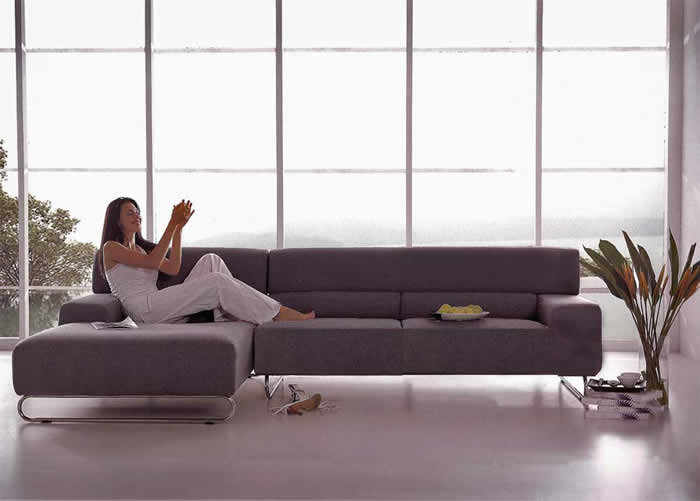 A light camel colored piece that mixes well with the design, industrial style within your home or studio apartment. The legs add to the more raw and organic air of this living room and the neutral tone makes for an easy and clean finish.
Although there isn't a vast amount of color in this space, we love the light and youthful, yet sophisticated vibes it gives off.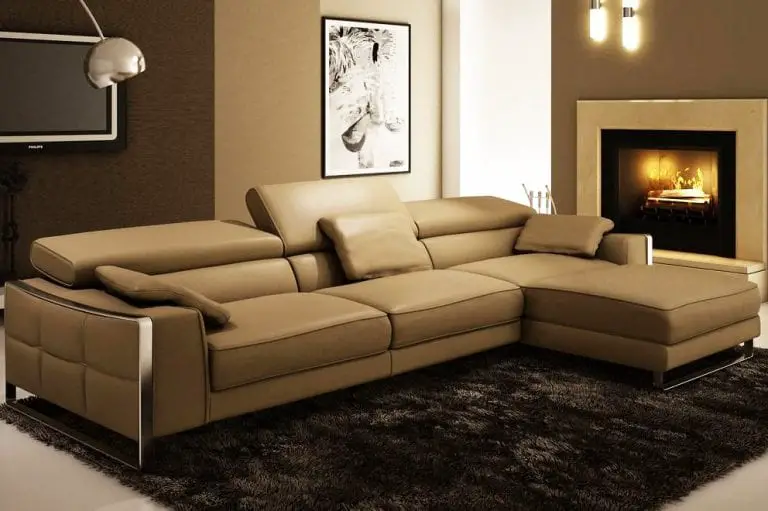 A caramel couch that's plush enough to nap on and stylish enough to show off. We love this design! The textured, metal-detailed sides add to a contemporary and fashion-forward vision, but the midsection where all the relaxing will happen, it kept soft and welcoming.
The backrests have an option to move back and forth for the ultimate comfort option as well!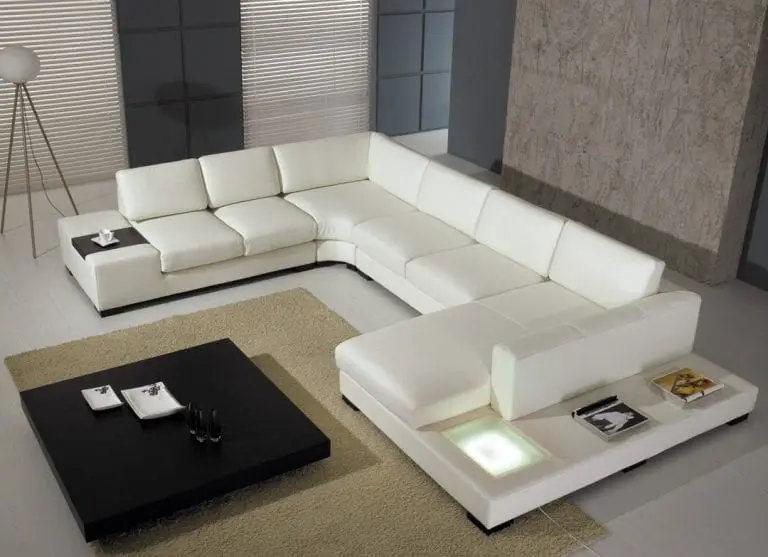 A favorite of the entire list. This dreamy, white sofa has everything you could ask for. From slick surfaces to enough seating to host you and all of your guests, this modern piece will fit into any room with the space to guide it.
We love the built-in side table and ledges for accessorizing, stylish and displaying whatever you need!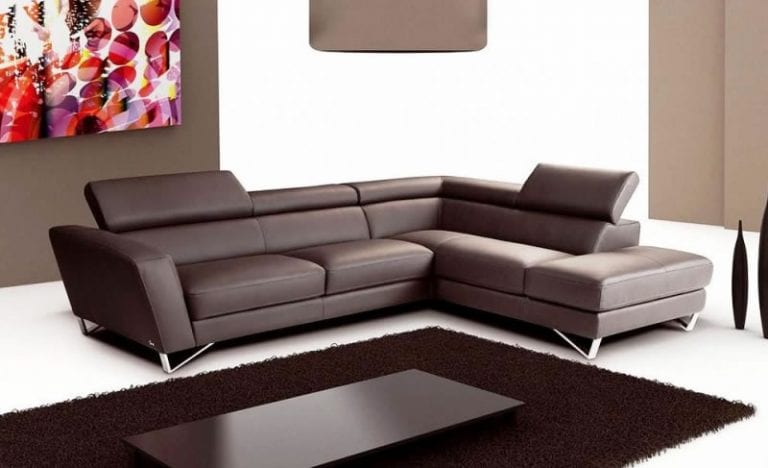 If you're looking for something simple, this chocolate sofa may be exactly what you're looking for. It's not as harsh as going with a stark black look, but it's still fashion forward with a posh finish without being too overwhelming or unwelcoming.
We also love the mixed material look between the leather seating and metal leg detailing.
Black, bold and tufted all over, this a beautiful, artistic piece full of power and vibrant style. You can truly do anything you like when starting with such a gorgeous style.
From building a feminine escape around it or building a fearless and artistically styled room around it. Although it may not look like the most comfortable of seats, a couple of throw blankets will lighten the mood in an instant.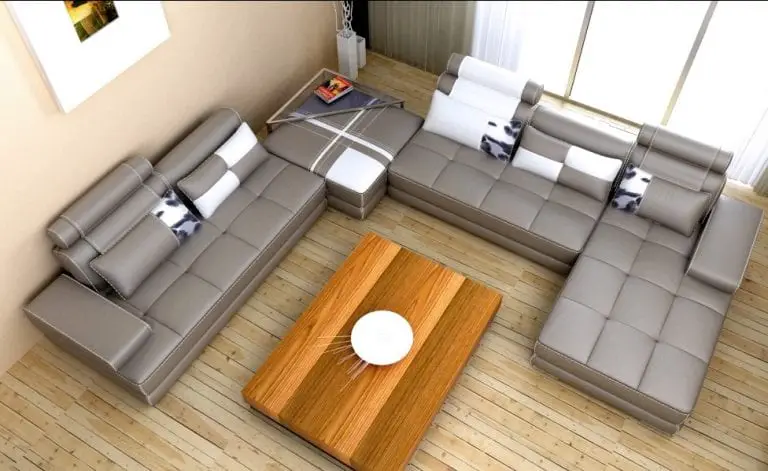 Feast your eyes on one of the biggest arrangements on the list, and possibly one of our favorites. Hazy greys mix well within a variety of spaces and style themes, which is a benefit in and of itself.
But we also love how you can build this sofa in any form you'd like to make it fit within the room you're highlighting. And those pillows, subtly fashionable and cozy!