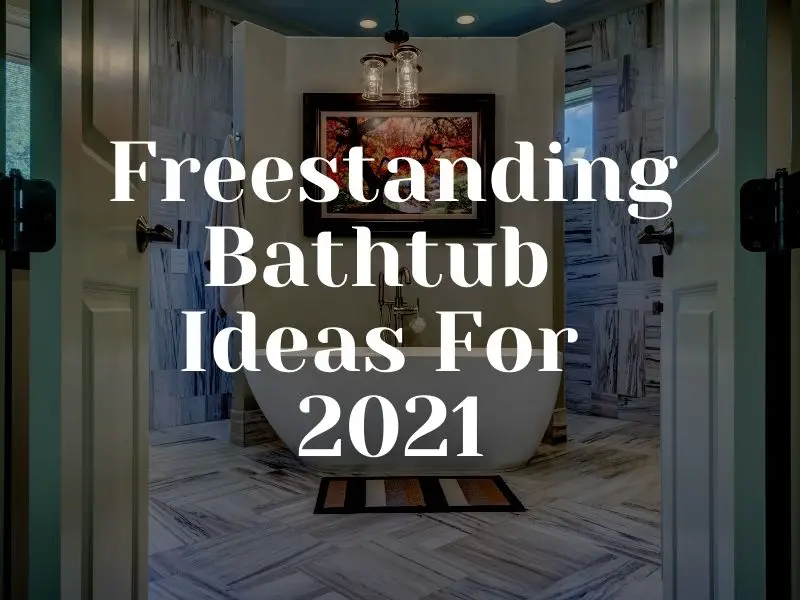 Choosing A Freestanding Bathtub For Your Home
Freestanding bathtubs are stylish. They will add a touch of sophistication, class, and elegance to your bathroom. Before, many considered such tubs a preserve of the rich, but this is no longer the case. There are so many types and models that will fit most budgets. Freestanding tubs are also excellent for creating the illusion of space. You can move them around with none structural changes.
But, with so many options, it's difficult to choose the right one for you. We will simplify the process by looking at the factors you need to consider when buying one.
1. Take a Critical Look at the Bathroom Space
The one thing about freestanding bathtubs is that they take up a bit of room. This is because they do not sit flush against the wall. Rather, you need some space around them. That is why one critical consideration is how much space you have.
The advantage is there is a lot of variety of sizes. Some smaller models are only 60 inches wide. That makes them ideal if you are working with a smaller bathroom. Try to leave about four to 12 inches between the wall and the location for the tub.
Have a plumber come in to advise on the space they will need for the plumbing installations. Everything should be easily accessible in case of future maintenance jobs.
Also, think about how you will get the tub into the bathroom. That means taking a walk through the house to measure hallways, doorways, and the stairwell.
It would be inconvenient if you had to remove doors, for example, to get the tub in. You also don't want to have to destroy the drywall to create room. The cost of repairs will make the freestanding tub installation a bit too high.
2. Height and Weight Considerations for the Freestanding Tub
It helps to factor in height considerations for anyone who may use the bathtub. The average sizes of freestanding bathtubs are 67 × 32 × 15 inches. These refer to the length, width, and soaking height. There are also deeper ones, including the Japanese soaking tub that has a 35-inch depth.
You should be able to immerse yourself completely in the tub. But, it should not be too high, so that climbing in or out becomes difficult. If there are children or elderly bathers, go with the smaller options. You don't need to restrict yourself to the average size. There are ranges available, so explore the best option for you.
If you are installing the freestanding tub above the first level, pay attention to the floor. A heavy basin may require that you reinforce the floor if the support is not sufficient. The weight of the basin depends on the type of material. Fiberglass and acrylic are the lightest, while porcelain-enameled cast-iron and stone are quite heavy.
See what the bathtub weighs when it is empty. Also, consider how many gallons of water it will take to fill it. A gallon typically weighs 8.34 lb. Also, consider the heaviest weight amongst the people who will use it. If you will share the tub at any point, combine the two weights for a real representation.
Also, make a provision for the freestanding tub accessories. The basins do not have in-built shelves. Yet, you will need a place to put your bath products. Building a shelf or installing a bathroom caddy will take up some room. You need to get in and out of the tub without bumping your head on a cabinet or shelf.
3. Decide on Your Preferred Style
Now here is where it gets really exciting. There are so many styles, ranging from modern to vintage freestanding tubs. On this, your preference will determine the style you choose. Here are some of the more popular freestanding bathtub types
Freestanding tub with a shower that works well if you do not have space for a shower cubicle
Clawfoot tubs with 'feet that elevate the tub above the ground level. They differ from the pedestal or skirted freestanding tubs. These tubs sit on a plinth rather than a claw foot. But if you want a touch of vintage, go for the clawfoot. They have been around since the 1800s.
Slipper tubs with sloping sides making them ideal for reclined seating
Single-ended/slipper with one sloping side. The other side is typically for plumbing features like faucets and drainage.
Double-ended/slipper with raised ends for comfortable seating. They will typically fit two bathers.
Japanese soaking tubs that have in-built seating. If you like to recline while soaking, they will not be the best option. They, however, are shorter, making them ideal for smaller spaces.
Freestanding tubs with whirlpools, air tubs, or both. The water movement and bubbles make them ideal for relaxing because of the massaging effect.
When picking the style, also consider the faucet. You have varieties like deck mount, freestanding, and wall mounts.
A solid tub surface or rolled rim, for instance, will not allow for drilling. That means a deck-mounted faucet is out as an option. If your preferred faucet option is a deck-mounted one, look for basins with pre-drilled holes or a material that can accommodate drilling.
4. Choose the Right Material
As we have already hinted above, you have many choices for the material. Again, your preference and the structural integrity of the floor will determine how to go.
The options include cast iron, acrylic, stone, fiberglass, and copper. Go for durability, affordability, and versatility when choosing.
Acrylic is stained, discoloration, and scratch-resistant. They may, however, crack.
Fiberglass is inexpensive, lightweight, and works well with shower combos. Installation, cleaning, and maintenance are also easy. The downside is that they're not very durable and may require more repair.
Stone resin freestanding tubs are non-porous, leach-proof, and lead-free. They are durable, easy to clean, affordable, and keep heat well.
Cast iron is durable and scratch-resistant. They, however, come at a higher price point and are quite heavy.
Stainless steel brings a contemporary look to the bathroom. The tubs are easy to maintain and clean.
Cast polymer also goes by the name of engineered natural stone. The material is easy to clean and taking care of scratches is a simple process of buffing. But it is quite brittle, making it less than ideal where there is heavy usage. That means it will not work for a family bathroom that serves many bathers.
Copper, stone, and wood are high maintenance and quite costly. But, they are stylish and have heat-keep qualities.
5. Cost Implications You Need to be Aware of
The advantage of freestanding bathtubs is the range of options. The cost typically depends on material and size. An acrylic tub, for example, can cost about $600. Stone resin and cast iron range from $500 to $2000. Copper will cost you anywhere from $2000 to $5000.
The price of the bathtub is a critical cost implication. There are, however, other essential things you need to consider. Will you, for example, need to reinforce the floor to protect the structural integrity? If yes, you will need a cost breakdown from the building contractor.
Are you looking for other customization options? Air bubbles, whirlpools, LED lights come at different price points.
Freestanding bathtub accessories like faucets, product caddies, and shelves will also attract a cost. The faucet, for example, can cost anywhere from $380 to thousands. One way to save on some costs is to look for all-inclusive packages. You can find tubs that come with the faucet.
You must also factor in the costs that come with the actual installation. The good news is that installing one is not as complicated as what you go through with a built-in tub. But aspects like plumbing and faucet mounting will require expert handling.
If you have a freestanding tub with a shower, you must protect the wall from any water damage. That could mean adding the cost of tiling. You can also use mildew-resistant paint or glass brick instead.
Final Thoughts
We have gone into an in-depth exploration of how to choose the best freestanding bathtub. They are stylish and come in a wide range of options. You have the choice of original designs, sizes, and materials. What this means is even without a huge budget, you can still own a freestanding bathtub.
Do take into consideration how much space you have. They consume a little more space than inbuilt basins. The style and material will depend on your preference. But, do note, you may need to reinforce the floor if you go for the heavier tubs. Have a structural engineer or building contractor help you decide whether this is necessary.
Get the services of an expert to do the installation. You may be tempted to take on the project as a DIY. But if you do not have plumbing knowledge, you could have some issues. Otherwise, invest in a freestanding bathtub. It looks great and is a fantastic accessory for relaxing after a long, stressful day.