We're an affiliate
We hope you like our recommendations! Just so you know, we may collect a share of sales or other compensation from the links on this page. Thank you for using our links, it is much appreciated.
For every morning you see the sun start peeking through the windows and you're preparing your daily caffeine coffee fix, wouldn't it be amazing to have a breakfast nook designed just for you to relax and enjoy in? We've seen vintage designs and a mash-up of cluttered corners, but how about clearing away all the fuss near that kitchen bay window and creating an area to rest, eat well and get your morning started in? We're here today giving you some great tips and inspiration for transforming that kitchen space into a chic and clean modern breakfast nook. Here's how …
Make sure to create a separation.
You need to create some type of separation from the kitchen to really transform the bay window area or extra table space into the cozy, nook feel. But of course, in a contemporary and chic way. Whether it's a black and white folding room divider or making sure to create a leather bench cushion next to the windows, there's got to be some way to distinguish the difference between this space and the kitchen and/or dining room area.
Think about crisper colors.
Muted colors won't help to create a contemporary style. Instead, when you're finding your color scheme, think about crisp, contrasting shades. Make sure they have personality and a bold appeal so they're sharp, to the point and exude that modern style. Black, bright whites, royal blues and ruby reds are all great choices to ponder on.
Add a unique light fixture.
One of my favorite parts about modern decor is the amazing, artistic light fixtures that, well, light up the spaces! From interesting, unique chandeliers to hipster bulbs that make a statement, this is a place you can get creative without ruining your clean, straight-edged style.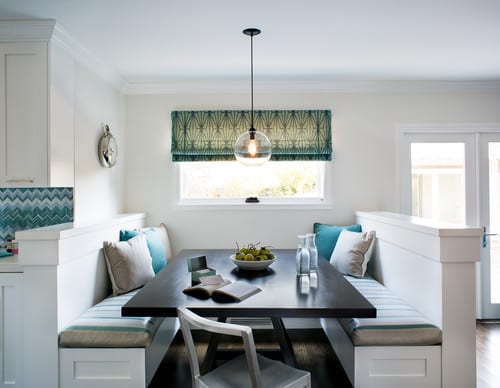 Pay attention to the table.
Wooden palettes aren't going to help you amp up the contemporary ambiance. Instead, fine sleek finishes or industrial metal pieces to slide right into the nook. These sleek tables will shine in the natural light from any kitchen windows and create that sparkle and shine every clean, modern mind loves.
Make sure you add a personal touch.
It could be a curtain you love or a piece of art that sings your personal style. This is a personal (and family) space that needs a bit of extra love and care. So, round up some must-have pieces that will accent your newly refined space!