Living Room Table Lamp Ideas
Building a stylish and comfortable home is all about setting the scene. You start with color, progress with furniture, think about light and then add the details and decorative accessories. The latter two being ever-so-important to the foundation of the vision.
From how your windows and light fixtures make the room dance to the way those accessories fit inside a particular space, it all has to come together to fill and transform a room into exactly what you need and want it to be.
Today, we're showing off 15 cool and decorative table lamp ideas for a living room. We'll guide you into finding just the right choice for your home!
A  few other table lamps for you to browse through in case you do not fancy running through the whole article.
Image
Title
Price
Prime
Buy

Top

KANJJ-YU Explore The World Magnetic Globe Levitation Lamp 360 Degree Rotating Floating World Map Home Decoration Festival Birthday Gift Children Education,5 Inches,C (Size : English Version)

Prime

Take a Look
Bedside Lamp with USB port - Touch Control Table Lamp for Bedroom Wood 3 Way Dimmable Nightstand Lamp with Round Flaxen Fabric Shade for Living Room, Kids Room, College Dorm, Office(LED Bulb Included)

Prime

Eligible

Take a Look
Multifunctional LED Desk Lamp with Wireless Charger, USB Charging Port, 5 Lighting Modes,5 Brightness Levels, Sensitive Control, 30/61 min Auto Timer, Eye-Caring Office Lamp with Adapter

Prime

Eligible

Take a Look
Table Lamp with Outlet, Aooshine Bedside Lamp with Dual 2-Pin Charging Ports, Beige Fabric Shade & Sliver Base, Nightstand Lamp Suitable for Bedroom, Living-Room, Office

Prime

Eligible

Take a Look
AUKEY Table Lamp Touch Sensor Bedside Lamp Color Changing RGB & Dimmable Warm White Light Night Light for Bedrooms, Living Rooms and Office【2020 Updated Version】

Prime

Eligible

Take a Look
Set of 2 Industrial Touch Control Table Lamps with 2 USB Ports and AC Power Outlet, 3-Way Dimmable Bedside Nightstand Reading Lamps with Glass Shade for Bedroom Living Room Office 2 LED Bulbs Included

Prime

Eligible

Take a Look
A Christmas Story Full Size 50" Deluxe Leg Lamp

Prime

Take a Look
Product prices and availability are accurate as of the date/time indicated and are subject to change. Any price and availability information displayed on [relevant Amazon Site(s), as applicable] at the time of purchase will apply to the purchase of this product.
Prices pulled from the Amazon Product Advertising API on:
3-Way Dimmable Touch Control Table Lamp with 2 USB Ports 
This room is settled in contemporary chicness but built with a masculine and almost "untouchable" nature with the harsh lines and organic material. This table lamp design fits in quite nicely with its soft approach that doesn't overwhelm the natural light source.
In today's world a table lamp with additional extras is something that is always handy to have around, especially if you are not alone in the household and others are using the same charging points. A table lamp with usb port is probably a must have for many homes in 2021.
Noiseless Handy Touch Control

Built-in sensors

Easily switched on/off and adjusted to three different levels of brightness

Does n

ot to give out the noisy pattering sound like the traditional switch

Saves you the trouble of searching for a switch in the dark

Free LED Bulb (60W equivalent)

Multiple Power Sources For Convenient Charging

2 USB ports(5V/2.1A)

1 AC outlet(120V)

The USB ports and AC outlet are available for use whether the lamp is on or off

High Quality Materials and Unique Design

Cream-colored linen of high taste

Interprets a sense of elegance and classic

L

amp base is made of rust-proof metal and weighted to avoid wobbling

Dual metal poles that makes it steady
---
Industrial Table Lamp with Dual USB Port
If you're feeling like your living room may need a funky, artistic touch you'll need to take a good peek at these geometric beauties. They would fit quite nicely into a black and white scene or compliment a vibrant space with its timeless color combo. You can see from the design and quality why this is a VERY POPULAR TABLE LAMP.
Fully Dimmable Pattern ( 0-100% ) Nightstand Lamp

Simply rotate the switch to change the brightness from 0-100%

With rotary switch and dimmable vintage led bulb

Dual USB Fast Charging Port

Vintage Edison Dimmable ST45 E26 LED Bulb Included

Modern and Industrial Design

Heavy-duty tubular metal body and base

C

lear glass shade for an added industrial look
---
USB Table Lamp MOICO Nightstand Lamp 
This piece would fit nicely inside an eclectic room or one with a more industrialized overall vision. This table lamp equipped with dual 5V/2A USB charging interfaces that fast and save charging time, and a 3-prong outlet that. You can charge most of the electronic products while using the lamp, such as mobile phones, tablets, kindle readers, iPad, iPhones, and so on. To ensure safe use,
Dual USB Charging Port & One 3-Prong Outlet

Equipped with dual 5V/2A USB charging interfaces

D

o not exceed 1500W

Comfortable Light Design

Metal Base & Convenient Switch

Rocker switch on the cord
---
Brushed Steel Lamp with Charging Outlet
If you're looking for something simple and sweet, take a peek at this set of black table lamps. They give extra height and interesting to the focal wall of the room but they're also subtle and slick, not taking away from the bigger features of the room, instead they merely compliment and provide function and balance.
---
Battery Powered Moon Shape Table Light
A very nice-looking table lamp that would be equally at home in a living room, dining room or children's bedroom.
Stylish Design: A stylishly designed desk lamp with soft light will bring a dull room to life and bring you a peaceful night! 10 LED beads with warm white light create sweet atmosphere for you to relax yourself at night. There are four available choices for you to meet your demand for personalizing your bedroom, kids" room, study room or living room, etc.

Battery powered: Powered by batteries only. This product contains no extra wires, so you can put the lamp at anywhere you want to safely. (AA batteries are not included)

Eye Protection: Soft and comfortable, the warm white light of the lamp will create cozy atmosphere for you while warm light is more comfortable for your eyes. No Flickering, No Glaring.

Energy Saving: The product comes with 10 LED beads, which will save energy and increase battery life. Saving your money, saving your electricity bills.

If you have any quality problems whthin one year, you can give us a message. We will help you at any time.
---
Cool and modern table lamp design
We are completely swooning over these charming pieces. Normally, you'd see the most design in the top half of a fixture, or where the light shines – instead these table lamps have been given "legs" for a surprising and completely delicate bit of style.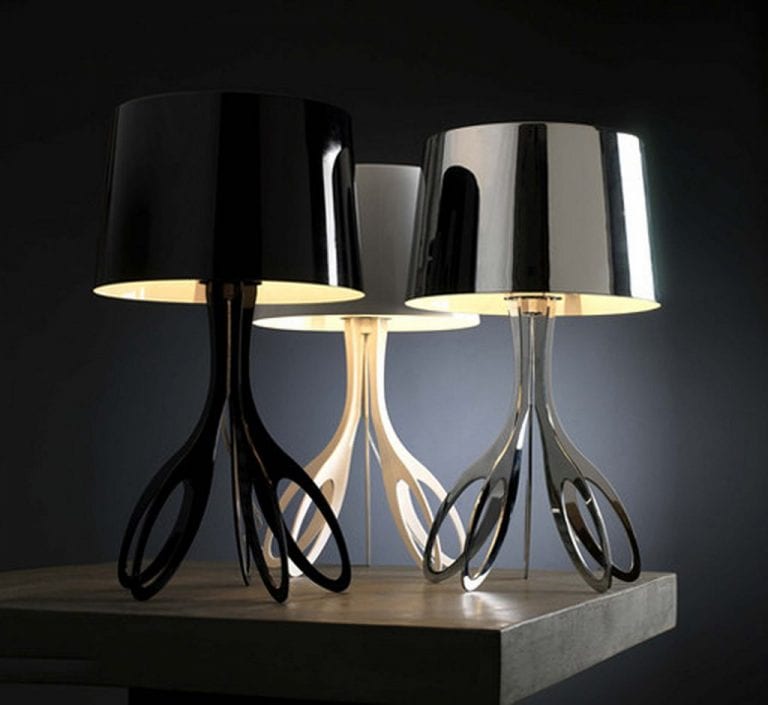 ---
living room lighting ideas
Although we love the hanging type, today we're all about the table version here and this one in particular sure knows how to make a splash in the most subtle of ways. Blending in with its background but still creating a beautiful scene, this bulking, yet elegant lamp was made to accent and delight.
---
Decorative gold table lamp
This piece looks just like a piece of art, don't you think? Take off the shade and this could be sitting in an art gallery somewhere and we'd never know the difference, which is also a reason why we have fallen completely, head-over-heels in love with the design. It's fresh, it's beautiful but it's also very sophisticated and meant to please throughout a more formal living room.
---
Jeeves table lamp design shaped like a hat
For a personalized touch to your living room, add this black, bowler hat. At first glance, it will deceive the eye, but once your guests notice their mistake, it'll become a funky little focal and conversational piece! It's perfect for smaller end tables or behind the sofa!
---
Leon Table Lamp
Sleek, smooth with a sophisticated and artistic presence, this style is for those rooms with a very contained and precise vision. We believe that a matching set to balance out a sharp-edged sofa would look interesting and cool under a sea of hazy grays, as well. It'll definitely give off a modern yet relaxing ambiance.
---
Handmade Mosaic Glass Table Lamp
One of the more traditional and homey of choices, this design definitely has an interesting yet old-age spirit happening. There's texture, bits of color but an otherwise vintage style that cannot be ignored. And we think it looks perfect sitting beside the most comfy leather couch we've seen in a while. A Turkish Moroccan mosaic table lamp. Comes in a variety of colours for you to choose from.
---
Orange Lamp Shades
Here's another example of a pair of matching table lamps that give balance to a room. If you have a matching set of end tables or a longer sofa table that needs the accent, make sure you buy two. Again, this is a more traditional style overall, but it fits in well with this cozy, yet lbright living area.
---
Black Modern Table Lamp
And here's another example of a beautiful piece of art and function! Fit for a modern vision, this silver piece was made to be seen and used on a daily basis. We love its feminine essence but we love its chic and refined flair even more so. Now envision this accent in a room filled with neutral, futuristic style.
---
Metal Cage LED Lantern Battery Powered Cordless
Like these pieces for example, although they'd easily fit into a more traditionally and neutrally styled living room, these shape gives it an extra, personalized pop.
---
Modern Leather White Fabric Shade Table Lamp
Another set that is perfect for balancing out the setting but this time with a more zen and feminine appeal. We love the texture and shape of these pieces and we love how they balance and blend into this creamy room. It's definitely a space made for relaxing but it's also a space that was made for showing off a bit of personal style too.
---
Table Lamp Gun
You'll definitely make your guests talk with this golden piece. So, it may not be the most family-oriented or family-friendly of choices, but if you have a formal living room, no children and looking for something extremely unique – this design may be exactly what you've been looking for all along for a surprising bout of masculine charm and chic styling.
---