Childrens Bedroom Ideas For 2020
A child's bedroom collection normally fits a smaller room and a young child, with all the main pieces he or she needs for storage, sleep, play, and maybe even school. It would be nice to see a bedroom design that can be taken from a child and moved into a teens room without too many adjustments. Here we have a selection of ideas for young children to teens.
Childrens Media Desk
A great solid looking desk and chair for your child to study on. Plenty of space for the things needed to keep them happy.
Natural Chic Bedroom Collection
Most collections feature bright colors or whimsical themes, which are attractive to a child under 10.  The designers at Lineas Taller, however, imagined a bedroom suite fit for children today with their future in mind.
Thus, the Natural Chic bedroom collection was born out of the desire to create a bedroom for children that would last for years thanks to its quality and "grown-up" style.  The neutral fundamentals of this collection are easy to accessorize, and then re-accessorize, according to the changing tastes of young children and teens.
The first choice in the Natural Chic Youth Bedroom Collection by Lineas Taller is to make it between a basic bed frame with a tall, half-upholstered headboard and a versatile storage daybed.
A natural cream finish on the wood unites the beds with the rest of the collection, providing the clean and simple background from which they can decorate the suite for a boy or girl of any age.
For those in school, a petite secretary or a full-sized desk offered based on space.  Also to accommodate different sizes of rooms, a full dresser is interchangeable with tall chests for drawer space where needed.
Floating shelves keep toys and books out of the way.  Possibly the most creative piece in the whole collection is the bookshelf partition, an open shelving system that can be used against a wall or freestanding to divide a space without making a room feel closed off.  Why not give your children a room they can grow up with for years?
Stephan Full Metal Bunk Bed With Built In Ladder
A great design for bunk beds with the ladder built into the framework. To make things even easier they have made it so that there is a ladder on either side, meaning you can place this sturdy metal bunk bed in any room almost where ever you would want it.
Wave Modern Bunk Bed from Gudiksen Design
I really wish I would have had some cool modern kids furniture that is available today when I was young. The "Wave" modern bunk bed from Gudiksen Design of Denmark is perfect for the modern interior design we see more often in children's bedrooms. The Wave children's bedroom series also includes a single bed with an elevated design allowing storage below.
Merax Twin Over Full Stairway Bunk Bed with Storage and Trundle Bed
A stunning designed wooden bunk bed with room for four or children or adults to sleep. Comes complete with ladder fixed for the top bunk, storage to the side and a pull out trundle bud underneath. Great space saving idea when you have a need for a bed for guests.
Kids Bedroom Desk and Hutch Set
In the last article we featured kids bunk beds using simple design style and featuring natural wood color good for both boys and girls bedrooms. Here is a great kids desk and hutch set. Coupled with the bunk beds, this makes for a very attractive set of kids furniture.
With today's school requirements, it is important to have a place for studying. This desk provides ample storage space for books and provides a surface that is large enough to accommodate a laptop or notebook for school assignments.
BalanceFrom Kid's Puzzle Exercise Play Mat
It was one thing to play with little toy cars when we were children, making grooves into the carpet of our bedrooms and pretending the lines were racetracks.  It's quite another, these days, to let a child play.
36-Tile: item comes with 36 tiles in 9 colors and 54 end borders (6 boarders each color). (9 different color tiles, each tile has 4 piece) each tile measures 12″x12″x0.4″. each square = 1 square foot; total coverage 36 square feet (6′ x 6′ area)
The Blue Room For Boys
Just like with the girls, it can be hard trying to co-decorate your teenage boy's bedroom. From sports equipment to clothes in piles, we already know the challenge is real and it can get frustrating.
But we're here to show you how to transform that room full of boy's toys to something a young man can be proud of. For some easy inspiration, look at 5 classic, stylish and contemporary ways to creating a modern teen boy bedroom!
NICETOWN Solid Grommet Top Blackout Curtains
Chic colors and smooth designs. A good set of blackout curtains can make a big difference to a room. From the quality of sleep with no daylight getting through, to help with the look and style of your boy's room.
These curtains are energy smart designed. The blackout fabric balances room temperature by insulating against summer heat and winter chill. They also help to protect your furniture, floors, and artwork from the ravages of the sun.
They design these curtains to fit any standard curtain rods. Ready made to look stylish, wrinkle free to look good as soon as you hang them. They are also machine washable in cold water and can be tumble dried if need be.
The Stylish Room For Boys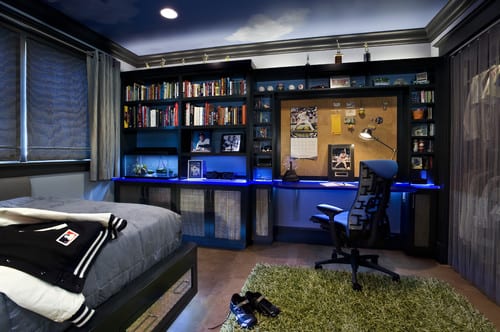 A downtown feel with a glow, club vibe, this bedroom will make any teenage boy happy. It's relaxing with the blue lights and grey foundation, but it's also quite fashion-forward in design. There's enough room to be organized and do homework, and enough space to get a little R&R after a week of grueling school.
The Guitarists Room
Created with a more homey, traditional vibe, this contemporary room also has quite the sophisticated and "grown-up" look. The chocolate browns exude confidence and the accents make for a manly charm throughout the space. We love the personal touch of the guitar too!
Moredig Night Light Projector Remote Control and Timer Design Projection lamp, Built-in 12 Light Songs 360 Degree Rotating 8 Colorful Lights for Children Kids Birthday, Parties – Black White
2019 Night Light Projector --- No longer have to worry about get out of bed or sofa to start or close the light, just press the remote control, which can control the night light, colorful Lights, music songs, timer and rotation mode.

Auto Off Timer Design --- The projector night light allows you to set time from 5 - 500 minutes, when the time is end, it will turn off automatically. Parents dont have to get up and turn off the night light after kids asleep.

Starry Sky / Animal World Projection + Night Light Modes --- ① Starry Sky night light projector. ② Animal world projection night light. ③ Colorful Lights Mode: there are 9 modes of light combined by red, green, blue and warm white. ④ Night Light Mode.

Musical Night Light Projector for toddlers --- Accompanied by 12 wonderful light music songs, they are sleep soother soft Rhythm, create a warm and quiet sleep environment, can also help you release your body and mind.

Soothe and Calm Your Baby --- The night light projector is designed for kids to closer the sky and the animals, which is helpful for baby sleep soother at night. No longer worried struggling with bedtime!
Prices pulled from the Amazon Product Advertising API on:
Product prices and availability are accurate as of the date/time indicated and are subject to change. Any price and availability information displayed on [relevant Amazon Site(s), as applicable] at the time of purchase will apply to the purchase of this product.
The Comfy Room For Boys
For those with a more funky style, try some eclectic designs. Bright colors mixed with some masculine neutrals can make for an easy bedroom with lots of personality. We love the mixture of materials, like the wood and metal. And the beautiful windows give off the best lighting.
photos via Decoist 
City Kids Bedroom Collection by Lattas
If you live in a big city, it can be hard finding an apartment with a big bedroom for your little one. However, you can design his small room to be a lovely haven using the right furniture.
The City Kids Bedroom Collection from Lattas is specifically for kids with small bedrooms. The compact unit has a wardrobe, drawers, workspace, open-and-closed shelves, and a small chair.
The collection also includes a small bed and nightstand. These furniture pieces can easily fit in kids' bedrooms no matter how small.
Kids' furniture collections come in many styles, but it's hard to find one that's specifically designed for small bedrooms. The City Kids Bedroom Collection is perfect for small spaces and leaves ample room for your child to play.
During the day, he can play with his toys on the floor and do his homework on the workspace. At night, he can store everything neatly and get a good night's rest on the comfy bed. The collection comes in different color schemes and are available in vibrant colors or in neutral colors that will suit your young one for years to come.
Small spaces are intimate, but they can look unappealing when filled with unnecessary furniture items. If you want to create a bedroom for your child that allows them to rest and play when they want, consider the City Kids Bedroom Collection from Lattas.
The space-saving pieces provide a lot of valuable storage without taking up additional floor space. Wouldn't your children love the City Kids Bedroom Collection?
Melissa & Doug Solid Wood Table & Chairs (Kids Furniture, Sturdy Wooden Furniture, 3-Piece Set, 20″ H x 23.5″ W x 20.5″ L)
EASY TO ASSEMBLE KIDS FURNITURE SET: The Melissa & Doug Solid Wood Table & Chairs set is an easy to assemble set that has been sized for kids from ages 3 to 8 years
STURDY WOODEN FURNITURE: Melissa & Doug focuses on making high quality furniture sets for kids. Weve built this sturdy wooden table and chairs set from durable wood. The 2 chairs stand 24.75 inches high with an 11 inch seat height

GREAT FOR SCREEN FREE PLAY: Our table and chairs set is ideal for playing games, working on puzzles, creating arts and crafts, enjoying real and pretend meals, and more

GIFT FOR AGES 3 AND UP: The Solid Wood Table & Chairs set makes a great gift for kids ages 3 years and up. Children love to have their own dedicated space for imaginative and creative play

THE GOLD STANDARD IN CHILDHOOD PLAY: For more than 30 years, Melissa & Doug has created beautifully designed imagination and creativity sparking products that NBC News calls the gold standard in early childhood play

100% HAPPINESS GUARANTEE: We design every toy to the highest quality standards, and to nurture minds and hearts. If your child is not inspired, give us a call and well make it right. Our phone number is on every product
Prices pulled from the Amazon Product Advertising API on:
Product prices and availability are accurate as of the date/time indicated and are subject to change. Any price and availability information displayed on [relevant Amazon Site(s), as applicable] at the time of purchase will apply to the purchase of this product.
Morfeas Kids Collection by Lattas
Children develop and learn through playing. They need items that spark their imagination and help them discover new things about the world. When designing your child's bedroom, try the Morfeas Kids Bedroom Collection from Lattas.
It comprises functional pieces that help your child to play, learn, and rest. They join some pieces to create room in shared bedrooms.
The Morfeas Kids Bedroom Collection from Lattas has everything a child needs in their room. It has a lovely sofa with storage underneath, open-and-closed shelves, a wardrobe, a computer table and seat, and a chest of drawers.
It also includes a bed and a bedside table. The drawers, shelves, and wardrobe combined to eliminate the need for extra furniture. They design all the pieces with your young one in mind.
They are highly durable and will withstand the rough and tumble of everyday play. Available in a range of vibrant colors including green, blue, yellow, and soft pink. The furniture pieces blend beautifully to provide visual delight without sacrificing space to roam and play.
Your child will be young only once so let him embrace this wonderful time in his life. Transform his room into a magical place he'll cherish now and recall fondly.
Get the Morfeas Kids Bedroom Collection and make his bedroom playful and useful. It is a combination that works for him and is ideal for your space. Thinking of revamping your child's room? Why not get the Morfeas Kids Bedroom Collection?
TomCare Cube Storage 6-Cube Bookshelf Closet Organizer Storage Shelves Shelf Cubes Organizer Plastic Square Book Shelf Bookcase DIY Closet Cabinet Organizer Shelving for Home Office Bedroom, White
Ample Storage Space: It contains 6 cubes modular shelving, each size of the cube is 12x12x12 inch, providing large space to store shoes, toys, clothing and handbags, etc.

Multifunctional Shelf: This cube storage can be used in many places: a collection shelf in your study room, a clothes organizer in your bedroom, a display shelf in entryway, and a toy storage solution in kids room.

High Stability: The high quality ABS connector secure the whole structure firmly and the thickened PP panel is durable that can hold more things. And the max load capacity of each cube is up to 15 lbs. So this closet organizer is really stable.

Easy Assembly: Simple modular structure makes it easy to install and disassemble. With the help of a hammer (included in the package) and the instruction, you can easily assemble the whole unit.

Warranty: We will provide 45 days Money Back Guarantee and 12 Months Warranty. If you have any issue, please contact us, We have a professional team to solve your problem. Purchase with worry free.
Prices pulled from the Amazon Product Advertising API on:
Product prices and availability are accurate as of the date/time indicated and are subject to change. Any price and availability information displayed on [relevant Amazon Site(s), as applicable] at the time of purchase will apply to the purchase of this product.
Childrens Beds by A P Furniture Industries
For the expecting parents or people with young children A P Furniture Industries will prove to be a great furniture experience. This 60 years old Canadian company has several great looking collections for the kids including cribs and bunk beds in a full range of finishes with something for everyone.
A P Furniture Industries specializes in quality wood products made to last. I like the grown up case goods that work for many years after the crib and twin beds are gone. Not to leave the parents out, there are quite a few great looking bedrooms for Mom and Dad.