Windproof Umbrellas Worth Looking For in 2021
Something I have always wanted is a good quality windproof umbrella that keeps the rain at bay and does not blow inside out and brake as soon as you hit your first storm.
We walk our dog twice a day, and that means sometimes we need an umbrella to keep the wind and rain at bay. I have yet to find an umbrella that is handy in size and works well without breaking in windy conditions. Most of our current crop of umbrellas are the cheap version that you end up buying when you are hit by a sudden downpour.
Actually finding an umbrella that lives up to expectations is no easy task. Due to the facts of life, an umbrella is never going to be top of the shopping list.
There are many cheap types of umbrellas that are normally purchased for under $15 and are a complete waste of money and time. They normally fail to last the length of a bad day even though you have probably only just purchased it due to it raining and being windy.
I have been through a lot of online reviews looking at what they have to say about the umbrella and what they regard as the best in the business.
Instead of choosing the ones that they have recommended I went out and purchased one from the Hedgehog Umbrella company in Vancouver who is making big claims about their umbrella, which is now in its 2nd generation.
This time I decided to look for one that can go in my rucksack which is with me on almost all of the days I am away from home, or with the motorhome traveling.
Doing it this way we know that we have a good quality item with us that will not fall to pieces on the first signs of a storm, and if we do have issues with it, a simple email should help to sort out the problems ASAP.
There are a number of good ones to choose from at different prices from $25 upwards for a decent umbrella.
The Hedgehog Wind and Waterproof Umbrella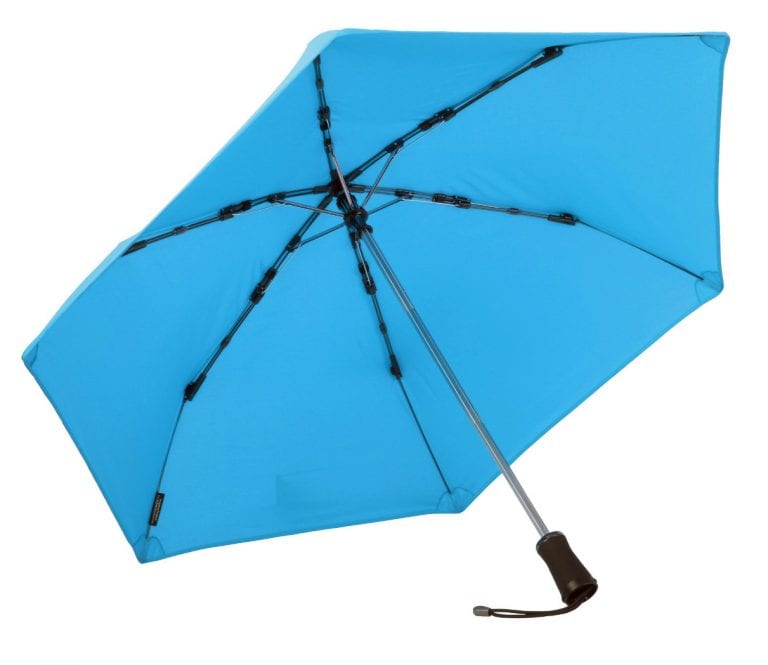 Hedgehog Windproof Umbrella, Classic Black
Coverage - diameter 47 in (arc-diam); 41 in (straight-diam)

Closed length - 13 inches

Weight - 15 oz

Frame system - Carbon fiber frame with patent pending rib suspension technology

Fabric - 210 thread-count Water Resistant Pongee fabric
We have gone for the "HEDGEHOG" Umbrella
Enter the "Hedgehog" umbrella. I have been looking some time for one that should last longer than one strong breeze, and be able to give a longer life than its first real bad windy or rainy day.
A good quality umbrella should come with a decent warranty if you are paying good money for it.
Hedgehog Unbrella Claims
A umbrella lifetime warranty that they will either exchange the damaged parts or the whole umbrella.
No rip off postage costs if you have to return the whole umbrella to them.
A quick reply to your email should you have issues
Hedgehog Umbrella Features
Shielded Tips
Interchangeable Canopy
Dual Carbon Fiber Ribs
Ballistic Grade Polycarbonate Joints
Rib Suspension System
Stainless Steel Shaft
Embedded Enclosure
Fabric is 210 thread count water repellant pongee fabric
Size 47" (arc diameter) 41" straight diameter
Closed length 13"
Windproof up to 70 mph (No Inverting)
This last point is a very strong point to make for an umbrella and is where most umbrellas fail, invert and break.
So what exactly are we looking for?
An umbrella that is made from quality products
Solid quality construction and mechanism
An umbrella that does not break at the first signs of strong winds
An umbrella that actually keeps the rain out
An umbrella with a good warranty should you need to replace it, or parts if possible
An umbrella that you can put in your rucksack and forget about it until you actually need it.
A minimum of 39" dome canopy or bigger if there are two of you trying to squeeze under it
A small footprint when folded so it fits in your case or backpack
Obviously, a lightweight for day to day carrying
A good handle or grip to hold
Good customer service should you have any questions about your umbrella
No issues when you need to replace a part or the whole umbrella if it is to badly damaged.
Hopefully not get stung for postage charges if you have to return it under warranty
A well-built dome
Easy to open and close
There are many brands that offer lifetime cover or other claims. Sadly most of these have return shipping and documentation proof that is costly or too difficult to do.
A cheap umbrella with a lifetime warranty will probably cost you the same price or more just to post it back to get a replacement. They do not normally offer any postage costs.
You must also remember that you may have to pay customs if you cannot find the receipt.
My reasons for choosing this umbrella will not come easy to some people as the price is at the top end of the range for something that we only use when it rains, and when we are not caught out without it when needed.
If I have a good quality compact umbrella with me when I am traveling I can feel assured that I will not be caught out in the rain and wind, and more importantly, that I have confidence that the umbrella will work 100% and do the job it is supposed to do without fault.
A Collapsible Umbrella
A collapsible umbrella does not quite live up to the elegance and size of its full-sized brother, but they have many other qualities that are sometimes better: Compact, more convenient, and easy to put in your backpack or briefcase for days when it may be raining, or if you have room to leave it there on a more permanent basis.
A well designed compact umbrella will unfold with a simple touch or the push of a button.
The hedgehog is a fully manual umbrella. It is not a push button automatic. This is because there are more problems to build reliability into a fully automatic umbrella. The manual design helps to keep parts costs low compared to an auto design which is a little more complex.
A company that has ideas will design their compact umbrella in a variety of colors to suit the needs of male and female alike.
They have gone one step further than this in designing a replaceable skin for their customers. If you would like a different color it is a simple 10-minute job to change it over. They even have a video on their website that shows you how to do it.
The hedgehog umbrella was first introduced in 2015 and is now in the mark 2 version having been updated in 2019. This is also a good sign as any issues that they have had in the mark one version should now have been completely ironed out,
The hedgehog umbrella is designed with a mixture of stainless steel and carbon fiber. This helps to keep the weight to a minimum. The main ribs are fully composed of carbon fiber and connected with polycarbonate joints and that is supported by a patented stainless steel stem design.
The umbrella opens like any other umbrella. However, the technology and innovation are designed to interact with the wind (especially very strong winds) and stop the umbrella from blowing inside out.
It has a dual rod layout and a patented rib geometry that creates a flexible design yet retains a core stiff profile.
The hedgehog has a core suspension system that adds in more wind resistance to help in creating dynamic actuators to pivot and adjust against any form or direction of the wind.
It works and is designed similar to an independent suspension found in race cars.
Check out this umbrella wind testing video to see the suspension system in action.
Check out this hedgehog umbrella test in February 2019 where the hedgehog is run over by a car to test its capabilities.
Their Youtube channel is here with more hedgehog umbrella videos.
Easy Swap Colours and Video
In addition to this, you can even design your own colors and make your own designs.
The hedgehog umbrella has even been reviewed by the Huffington Post. Their review is worth a quick look for a non-biased opinion.
My umbrella has been out twice now in quite strong and windy conditions and has stood up well so far. The test will come over time and this review will be updated as and when I use this umbrella with small images to match its use.
questions I ask when looking for an umbrella
Is the umbrella windproof
Yes. It should stand up to winds at 70 mph
Is the umbrella fully waterproof
Yes, within normal reason. It is made of Carbon and not a fully waterproof material as this would be unpractical in a dome umbrella. It will only keep the parts that it covers dry
What guarantee does the umbrella come with
A lifetime guarantee with help to either repair or replace
Will the umbrella break in strong winds
No. It should withstand almost any winds. Watch the video that has been made
Which is the Best umbrella in the world
The "Hedgehog Umbrella" has to be up there with the best of them
Which is the Best Umbrella Company
The Hedgehog is now in its 2nd Edition, so the company knows a thing or two about how an umbrella works
Ease of transport
The Hedgehog folds down to 14". So it's a very practical umbrella
How is its Durability
Probably as good as any umbrella currently on the market
How easy is it to use
Same as any other folding umbrella with a manual mechanism for reliability
The Hedgehog is up there as one of the best Umbrellas on the market in 2019
Other Questions
What is a vented umbrella?
Wind vents are placed in the fabric of the canopy of the umbrella which allows for wind and heat to escape through the top of the umbrella. This should stop it from turning inside out in a storm.
Are dome umbrellas windproof?
It will all depend on how the umbrella has been designed. The Hedgehog umbrella is windproof up to wind speeds of 70 mph
Does The Umbrella Have other Colors?
Yes, it has many colors and you can actually design your own color.
Hedgehog Umbrella in Black
Hedgehog Umbrella in Blue
Hedgehog Umbrella in Red
Hedgehog Umbrella in Yellow
Hedgehog Umbrella in Pink
Which is the best color umbrella for sun protection?
While all the umbrellas in the study offered protection, black models fared the best, intercepting at least 90% of the sun's rays. "If you wear a dark-colored shirt, for instance, you get hotter because the color absorbs more UV rays," said Dr McMichael and Dr Chen.
What is the most expensive umbrella?
The Billionaire Couture Umbrella at $50,000. This can only be purchased on special order from Billionaire Couture flagship store in London.
This was in 2016, and things may have moved on since then as there are now a number of billionaire couture stores throughout the world in the most expensive cities, all owned by Flavio Briatore.
No two umbrellas are the same as each one is made of top quality crocodile skin with its own unique details.
The umbrella idea was created by Italian Formula One mogul Flavio Briatore and designer Angelo Galasso.
Billionaire Couture opened a market for men who wanted something a little different and is all about creating that quintessential wardrobe for those who dare to be who they want to be.
It's extravagant, rich and totally unapologetic – not unlike this lavish umbrella that, despite its leather framework, is actually completely functional.
The Billionaire Couture Crocodile Skin Umbrella can hold its own in the rain. It is water resistant and its tough material probably means it won't even flip out from strong winds.
Don't leave it behind though when you leave the restaurant or it could be a very expensive meal.
Other Umbrellas of note are:
Swaine Adeney Brigg Mens Malacca Umbrella – $1,270
Burberry Nubuck Ostrick Handle Umbrella – $850
Swaine Adeney Brigg Men's "Whangee" Umbrella – $760
Louis Vuitton Pre Owned Cherry Blossom Umbrella – $950
Where Can I Buy The Hedgehog Umbrella
You can buy direct from the manufacturer in Canada.
The hedgehog umbrella is also available on Amazon.
Not all customers gave a positive review.
The Hedgehog Umbrella Company have a FREE Draw every month where someone wins a Hedgehog Umbrella. Go to their website and look around. Eventually a pop up will appear with the chance to win.
Image
Title
Price
Prime
Buy

Top

Repel Windproof Travel Umbrella with Teflon Coating (Navy Blue)

Prime

Eligible

Take a Look
Repel Windproof Double Vented Travel Umbrella with Teflon Coating (Black)

Prime

Eligible

Take a Look
Repel Reverse Folding Inverted Umbrella with 2 Layered Teflon Canopy with Reinforced Fiberglass Ribs (Navy Blue)

Prime

Eligible

Take a Look
Bodyguard Inverted Umbrella, Windproof Umbrella,12 Ribs Reverse Umbrella with Reflective Stripe, Teflon Umbrella in Rain and Sun, Leather Cover for Women and Men

Prime

Eligible

Take a Look
Hedgehog Windproof Umbrella, Classic Black

Prime

Eligible

Take a Look
G4Free 62 Inch Automatic Open Golf Umbrella Extra Large Oversize Double Canopy Vented Windproof Waterproof Stick Umbrellas (Black)

Prime

Eligible

Take a Look
G4Free Wooden J Handle Classic Golf Umbrella Windproof Auto Open 52 inch Large Oversized Double Canopy Vented Rainproof Cane Stick Umbrellas for Men Women (Black)

Prime

Eligible

Take a Look
G4Free 62inch UV Protection Golf Umbrella Auto Open Vented Double Canopy Oversize Extra Large Windproof Sun Rain Umbrellas

Prime

Eligible

Take a Look
Umbrella,JUKSTG 12 Ribs Auto Open/Close Windproof Umbrella, Waterproof Travel Umbrella,Portable Umbrellas With Ergonomic Handle,Black

Prime

Eligible

Take a Look
totes Women's Clear Bubble Umbrella

Prime

Eligible

Take a Look
Product prices and availability are accurate as of the date/time indicated and are subject to change. Any price and availability information displayed on [relevant Amazon Site(s), as applicable] at the time of purchase will apply to the purchase of this product.
Prices pulled from the Amazon Product Advertising API on: