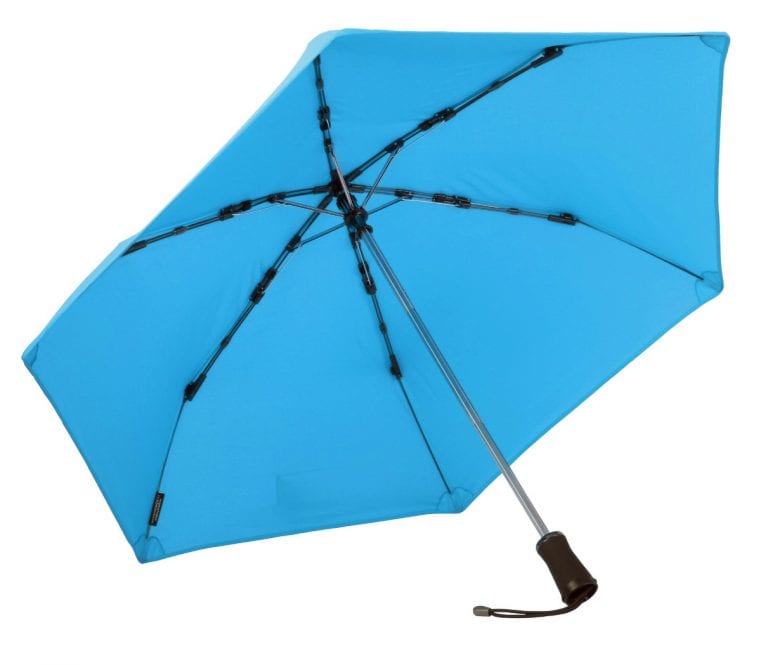 Are You Looking For a Good Windproof Umbrella?
Something I have always wanted is a good quality windproof umbrella that keeps the rain at bay and does not blow inside out and brake as soon as you hit your first storm.
We walk our dog twice a day, and that means sometimes we need an umbrella to keep the wind and rain at bay. I have yet to find an umbrella that is handy in size and works well without breaking in windy conditions. Most of our current crop of umbrellas are the cheap version that you end up buying when you are hit by a sudden downpour.
Actually finding an umbrella that lives up to expectations is no easy task. Due to the facts of life, an umbrella is never going to be top of the shopping list.
There are many cheap types of umbrellas that are normally purchased for under $15 and are a complete waste of money and time. They normally fail to last the length of a bad day even though you have probably only just purchased it due to it raining and being windy.
I have been through a lot of online reviews looking at what they have to say about the umbrella and what they regard as the best in the business. This time I decided to look for one that can go in my rucksack which is with me on almost all of the days I am away from home, or with the motorhome traveling.
Doing it this way we know that we have a good quality item with us that will not fall to pieces on the first signs of a storm, and if we do have issues with it, a simple email should help to sort out the problems ASAP.
We Have Gone for The "Repel" Windproof Umbrella
The Repel umbrella black is designed with you in mind and built to ensure the ultimate protection and comfort in any weather condition. Measuring just 11.5 inches long (29 cm) and less than 1 pound (15 ounces), it's easily stored in purses, briefcases, backpacks, and more.
Repel Travel Umbrella is fortified with 9 resin-reinforced fiberglass ribs that flex slightly to withstand powerful gusts without turning inside out. It defends against the elements like no other umbrella. To ensure they have it with the highest quality protection, we created a double vented and Teflon coated canopy. This black umbrella lets wind through the top while keeping water out. The waterproof and windproof umbrella canopy will keep your protective partner fighting the elements for the years to come.
So what exactly are we looking for?
An umbrella that is made from quality products
Solid quality construction and mechanism
An umbrella that does not break at the first signs of strong winds
An umbrella that actually keeps the rain out
An umbrella with a good warranty should you need to replace it, or parts if possible
An umbrella that you can put in your rucksack and forget about it until you actually need it.
A minimum of 39" dome canopy or bigger if there are two of you trying to squeeze under it
A small footprint when folded so it fits in your case or backpack
Obviously, a lightweight for day to day carrying
A good handle or grip to hold
Good customer service should you have any questions about your umbrella
No issues when you need to replace a part or the whole umbrella if it is to badly damaged.
Hopefully not get stung for postage charges if you have to return it under warranty
A well-built dome
Easy to open and close
If I have a good quality compact umbrella with me when I am traveling I can feel assured that I will not be caught out in the rain and wind, and more importantly, that I have confidence that the umbrella will work 100% and do the job it is supposed to do without fault.
A Collapsible Umbrella
A collapsible umbrella does not quite live up to the elegance and size of its full-sized brother, but they have many other qualities that are sometimes better: Compact, more convenient, and easy to put in your backpack or briefcase for days when it may be raining, or if you have room to leave it there on a more permanent basis. A well designed compact umbrella will unfold with a simple touch or the push of a button.
What Is the Most Expensive Umbrella?
The Billionaire Couture Umbrella at $50,000. This can only be purchased on special order from Billionaire Couture flagship store in London.
This was in 2016, and things may have moved on since then as there are now a number of billionaire couture stores throughout the world in the most expensive cities, all owned by Flavio Briatore.
Is the Umbrella Windproof
Yes, within reason. It should be able to stand up to very strong winds, but like all umbrellas there is a limit before you take off.
Is the Umbrella Fully Waterproof
Yes, within normal reason. It will only keep the parts that it covers dry.
Will the Umbrella Break in Strong Winds
No. It should withstand almost any winds. However there are limits to what any umbrella can take.
Which Is the Best Umbrella in The World
The one that does everything when it comes to wind and rain, storms and the like.
How Easy Is It to Use
Same as any other folding umbrella with a manual mechanism for reliability
What Is a Vented Umbrella?
Wind vents are placed in the fabric of the canopy of the umbrella which allows for wind and heat to escape through the top of the umbrella. This should stop it from turning inside out in a storm.
Are Dome Umbrellas Windproof?
It will all depend on how the umbrella has been designed. The Hedgehog umbrella is windproof up to wind speeds of 70 mph
Which Is the Best Color Umbrella for Sun Protection?
While all the umbrellas in the study offered protection, black models fared the best, intercepting at least 90% of the sun's rays. "If you wear a dark-colored shirt, for instance, you get hotter because the color absorbs more UV rays," said Dr McMichael and Dr Chen.
No two umbrellas are the same as each one is made of top quality crocodile skin with its own unique details. The umbrella idea was created by Italian Formula One mogul Flavio Briatore and designer Angelo Galasso.
Billionaire Couture opened a market for men who wanted something a little different and is all about creating that quintessential wardrobe for those who dare to be who they want to be. It's extravagant, rich and totally unapologetic – not unlike this lavish umbrella that, despite its leather framework, is actually completely functional.
The Billionaire Couture Crocodile Skin Umbrella can hold its own in the rain. It is water resistant and its tough material probably means it won't even flip out from strong winds. Don't leave it behind though when you leave the restaurant or it could be a very expensive meal.
Other Umbrellas of note are:
Swaine Adeney Brigg Mens Malacca Umbrella – $1,270
Burberry Nubuck Ostrick Handle Umbrella – $850
Swaine Adeney Brigg Men's "Whangee" Umbrella – $760
Louis Vuitton Pre Owned Cherry Blossom Umbrella – $950