Choosing The Right Hanging Planters For Indoors or Outdoors
Hanging planters bring a fresh and fun vibe into your home or garden. These planters are so versatile because you can hang them almost anywhere, even inside! Many people choose traditional plants for their hanging planters, but for those without a green thumb, a succulent can be a great alternative.
Succulents are easy to take care of because most require minimal watering (compared to other plants) and sunlight. They come in so many fun looking varieties and colors from green to white to colorful.
Finding the perfect mix of succulents to choose with your new planter will be a joy. The hanging planters below are made with ceramics, brass, plastic, and wood. To help decide which hanging planter you can choose for your home, check out this list of 6 unique hanging planters or take a look some some great outdoor ideas.
LA JOLIE MUSE Hanging Planters for Indoor Plants 
Can be used indoors and outdoors.
Hanging Planters by Cor Pottery
These adorable set of three planters made from clay can come custom made and feature jute cording. Mix and match several different colors and hang together for a unique look.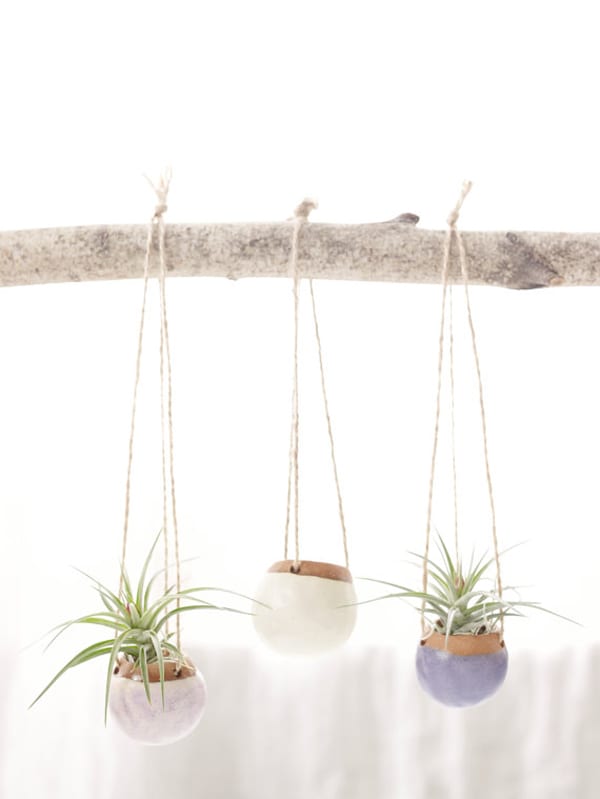 Round Hanging Planter Baskets for Indoor and Outdoor Plants
Copper and Brass Hanging Planners by In. Sek Design
These extraordinary copper and brass planters are made using traditional methods and include an antique chain. They are a symbol of good luck and would look great with a plant overflowing out of the bowl.
Umbra Trigg Hanging Planter Vase
Himmel Hanging Planter with Cup by Hruskaa
This hanging planter comes with a geometric frame in one of three colors. It also includes the white porcelain cup to hold your plants. This look is very modern and would look wonderful hanging in a kitchen.
Round Metal Plant Hanger with Plastic Plant Pot
Air Plant Terrarium by Sea and Asters
These hanging glass globe terrariums are another beautiful and different way to display plants. Air plants are a perfect match for this terrarium and like succulents also require less maintenance than typical plants. They also do not need soil to grow. Just decorate your bowl and add an air plant!
Wooden Hanging Planter by The Woody Beckers
These lovely wooden box planters are made out of walnut and don't need to be hung by a string so they can offer yet another look for a hanging planter. You can nail them to the wall making them look like they float effortlessly. They are a great design to put almost any type of plant and are lined with plastic so water won't leak through the wood.
Which hanging planter would you choose?