Choosing The Right Hanging Planters For Indoors or Outdoors
Hanging planters bring a fresh and fun vibe into your home or garden. These planters are so versatile because you can hang them almost anywhere, even inside! Many people choose traditional plants for their hanging planters, but for those without a green thumb, a succulent can be a great alternative.
Succulents are easy to take care of because most require minimal watering (compared to other plants) and sunlight. They come in so many fun looking varieties and colors from green to white to colorful.
Finding the perfect mix of succulents to choose with your new planter will be a joy. The hanging planters below are made with ceramics, brass, plastic, and wood. To help decide which hanging planter you can choose for your home, check out this list of 6 unique hanging planters or take a look some some great outdoor ideas.
LA JOLIE MUSE Hanging Planters for Indoor Plants 
Can be used indoors and outdoors.
UNIQUE SPECKLED WHITE DESIGN – This attractive set of speckled white hanging flower planters(10"D*4.7"H) are an ideal way to enjoy your favorite hanging plants and flowers. You will love them adorning outdoor areas such as your patio, deck, or garden or indoors in your kitchen, living room or bathroom.
INDOOR/OUTDOOR USE – Designed with your gardening needs in mind, these hanging planters come with 4 predrilled, built-in drainage holes to create a healthy living environment for your indoor and outdoor plants. The water reservoir at the base ensures that your plants and flowers always receive the correct amount of water without the worry of over watering. Your ferns, pothos, ivy and spider plants will thrive in these porous, breathable hanging planters. Removable plugs are included
LIGHTWEIGHT MATERIALS AND ADJUSTABLE HANGER – Made from durable recyclable plastic and natural stone powder, these planters are light enough to hang anywhere indoors and outdoors. Feel free to adjust the height to your liking with its sturdy heavy-duty triple rope hanger. The concrete-like appearance gives these hanging flower pots a natural look without the weight.
WEATHER RESISTANT – Allow you to enjoy these hanging plant pots for outdoor plants in all types of weather. Built to withstand intense sun and harsh winter temperatures, they are free from fade, frost, crack and peel damage.
Hanging Planters by Cor Pottery
These adorable set of three planters made from clay can come custom made and feature jute cording. Mix and match several different colors and hang together for a unique look.
Round Hanging Planter Baskets for Indoor and Outdoor Plants
SET OF 2 attractive hanging spheres make a great addition to any part of your home – indoors or outdoors

DIMENSIONS: Measures 13.78″ wide by 13.78″ deep by 8.66″ high

RESIN CONSTRUCTION: Durable polypropylene resin construction is easy to maintain and won't peel, dent or rust

RATTAN LOOK: Attractive woven look and texture that's remarkably similar to real rattan

DRAINAGE PLUG: Sealed inner bowl and drainage plug allow for indoor or outdoor use

STURDY CHAIN: Iron with black finishing-chain hanger and hook withstands the elements while providing secure support
Copper and Brass Hanging Planners by In. Sek Design
These extraordinary copper and brass planters are made using traditional methods and include an antique chain. They are a symbol of good luck and would look great with a plant overflowing out of the bowl.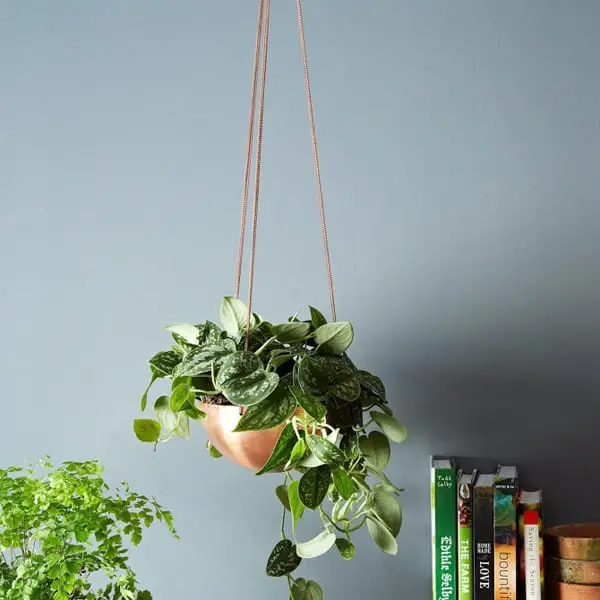 Umbra Trigg Hanging Planter Vase
ATTRACTIVE GEOMETRIC DESIGN: Designed by Moe Takemura for Umbra, Trigg is the original geometric vessel with a simple, elegant design that adds a contemporary decorative touch to any indoor space
MODERN INDOOR PLANTER: Trigg is the perfect way to add some color and liven up your living space with indoor plants such as small succulents, air plants, mini cactus, faux succulents, faux sedums or other small plants or flowers
UNIQUE DECOR THAT FITS ANYWHERE: Use it to enhance your home décor, office décor, bathroom décor, and more For larger spaces, combine multiple Trigg vessels to create a truly unique display
VERSATILE OPTIONS FOR WALL OR TABLETOP: Trigg is available as wall décor or desk décor, comes complete with easy to follow instructions, and can be used to hold everything from greenery to office supplies
SATISFACTION GUARANTEED OR YOUR MONEY BACK: Umbra is committed to the highest levels of quality and excellence and stand behind every product we make We know you're going to love your purchase but if you're not completely thrilled for any reason (or even no reason at all), simply contact us within 30 days of receiving your order and we'll happily resolve the matter or issue a full refund

Material: Ceramic / Wire
Himmel Hanging Planter with Cup by Hruskaa
This hanging planter comes with a geometric frame in one of three colors. It also includes the white porcelain cup to hold your plants. This look is very modern and would look wonderful hanging in a kitchen.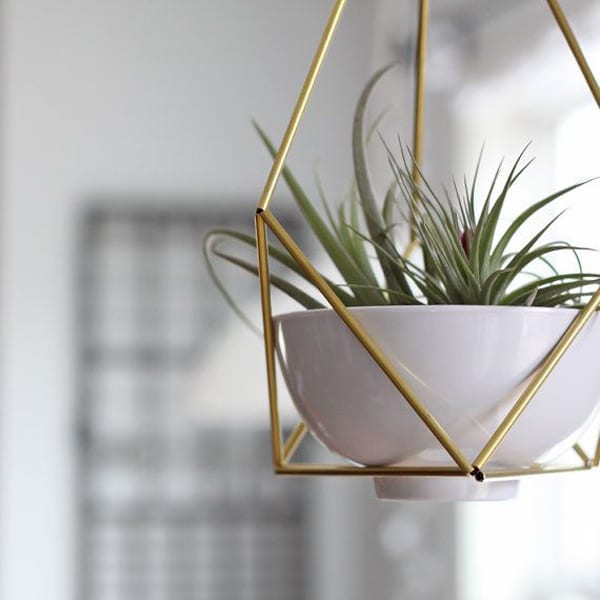 Round Metal Plant Hanger with Plastic Plant Pot
This minimalist hanging planter brightens up any room in the home with its gently modern simplicity. Great plant decoration is perfect to show your plants some love with this elegant. Simple, yet meticulously. Package includes 2 metal plant hangers and 2 plastic flower pots, but no plants are included in this item!

Material: metal hanger, cotton rope and plastic planters. Strong and durable. Suitable for indoor and outdoor use. Gold ring in circle shape match with round flower pot to brighten up the window, bedside, ceiling, livingroom, bedroom, kitchen in your home.

Adding some modern accent and charm to your space with this special circular plant holder. Simply fill in with your favourite green and get hangging with a cotton rope. You can also replace the attached plastic planters with your own favorite 6 inch flowerpot.

The metal hanger is suitable for standard terra cotta flower pots about 6″ in diameter, but the max diameter is 6″ and the pot height should be within 5″ – 6″. In the pictures, the matte white plastic planter shown is about 6.5″ in opening diameter, 6″ height. Please be careful for the size of this metal plant hanger.

Size is appromixately: Outer circle diameter is 12 1/2″, plant holder is 6″ in diameter, 5″ height. Planter – 6.5″ in Opening Diameter, 4.75″ in Bottom Diameter, 6″ in Height. Mkono is a registered trademark and our product is professional manufacturing and sole selling.
Air Plant Terrarium by Sea and Asters
These hanging glass globe terrariums are another beautiful and different way to display plants. Air plants are a perfect match for this terrarium and like succulents also require less maintenance than typical plants. They also do not need soil to grow. Just decorate your bowl and add an air plant!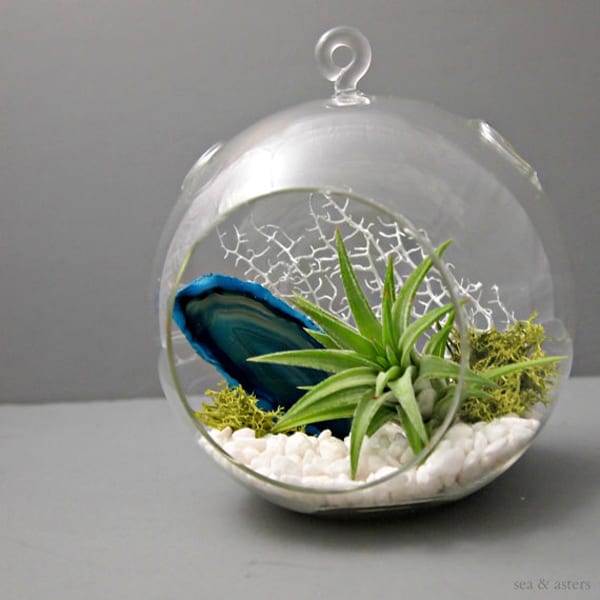 Include: 4 pack glass air plant orbs; 4 pcs 39 inch slings(NOTE:PLANTS ARE NOT INCLUDED)

Glass orbs diameter:3.15 inch, height:3.74 inch; fit succulent, air plant, moss miniature gardens and etc

High quality borosilicate glass could create to sustain the strong elements of nature, they would not have an impending mess or accident to deal with later

Come with slings, let these hanging planters decorate any places like balcony, home, garden, bathroom, kitchen, or living room, bring the nature green into your life

Beautify and purify your home, garden, aquarium, wedding, giving any space a unique decoration, also great as DIY ornaments, Christmas gift
Wooden Hanging Planter by The Woody Beckers
These lovely wooden box planters are made out of walnut and don't need to be hung by a string so they can offer yet another look for a hanging planter. You can nail them to the wall making them look like they float effortlessly. They are a great design to put almost any type of plant and are lined with plastic so water won't leak through the wood.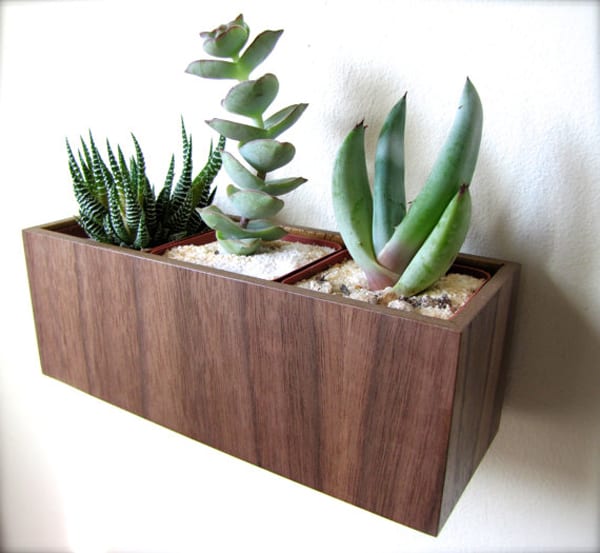 Source
Which hanging planter would you choose?
Image
Title
Price
Prime
Buy
White Hanging Planter Basket - 10 Inch Indoor Outdoor Flower Pots, Plant Containers with Drainage Hole, Plant Pot for Hanging Plants, Pack 2

Prime

Eligible

Take a Look

Top

AOMGD 3 Pack Macrame Plant Hanger and 3 PCS Hooks Indoor Outdoor Hanging Plant Holder Hanging Planter Stand Flower Pots for Decorations - Cotton Rope, 4 Legs, 3 Sizes

Prime

Eligible

Take a Look
CABASAA 2 Pack Metal Hanging Planter Basket with Coco Coir Liner Chain Round Wire Plant Holder Flower Pots Hanger Garden Decoration Porch Decor Watering Hanging Baskets Indoor Outdoor (12INCH)

Prime

Eligible

Take a Look
Mecai 5 Inch Ceramic Hanging Planter Macrame Plant Holder Cute Succulent Cactus Pot with Cotton Rope Hanger for Indoor Outdoor Décor(Dark Grey)

Prime

Eligible

Take a Look
Mkono Macrame Plant Hangers Indoor Hanging Planter Basket with Wood Beads Decorative Flower Pot Holder No Tassels for Indoor Outdoor Home Decor 35 Inch, Ivory

Prime

Eligible

Take a Look
Seagrass Hanging Planters Basket Indoor - Hanging Two Layers Natural Seagrass Basket Flower Pot Holder Containers Storage Organizer with Waterproof Plastic Liner, 41.3 Inch Long(Brown&Beige)

Prime

Eligible

Take a Look
Umbra Triflora Hanging Planter, for Succulents, Herbs and Other Small Plants, Triple, White

Prime

Eligible

Take a Look
Set of 2 Hanging Rope Planter Baskets 8"x8" with Long Hanging Rope. Natural Cotton Hand Woven Plant Holder Available in 12 Different Styles & Popular Colors. Eco-Friendly Decorative Basket

Prime

Eligible

Take a Look
2 PACK Eco Joy Boho Metal Hanging Planters with POT 6" (Removable) + HOOK + CHAIN | Hanging Planters Indoor, Modern Wall & Ceiling Planters, Gold Planter for Indoor & Outdoor, Gold Pot, NO Plant incld

Prime

Eligible

Take a Look
Product prices and availability are accurate as of the date/time indicated and are subject to change. Any price and availability information displayed on [relevant Amazon Site(s), as applicable] at the time of purchase will apply to the purchase of this product.
Prices pulled from the Amazon Product Advertising API on: