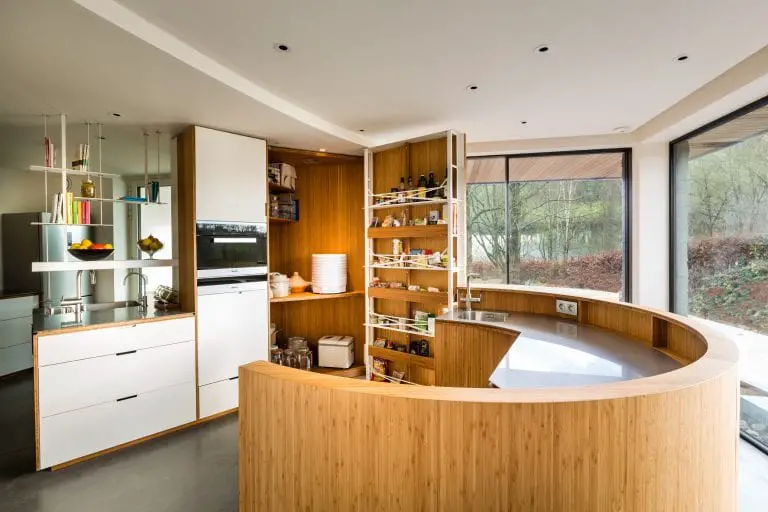 Have a look at this Vibrant Kitchen by Sebastien Boucquey, a wooden kitchen that proves once again wood can be contemporary and fit any modern type of interior.
Decades have passed since kitchens were supposed to be that boring place intended only for cooking! This area of a home doesn't need to look dull and boring anymore, or just serve its function. Nowadays its a space built to enhance your home and offer, other then functionality, an extra space for relaxation.
This is the case of the custom made Vibrant Kitchen from Jo-A; a design where semi-circular central island is the project's key feature, but also the white steel that contrasts with the warmth of the wood to create a bright and warm atmosphere.
Focusing mainly on functionality, the designer, Sebastien Boucquey, makes the area as useful as possible without catering to minimalist values. The piece is intended specially for cooking lovers and chefs being fitted with premium appliances and handy storage cabinets, bins, and drawers, made from easy to clean durable materials.
Adding and embedding high quality appliances in the wooden structure, like blenders and juicers or electrical ovens, transformed this kithchen from a contemporary work of art into a highly functional piece of furniture perfect for those who need extra space and love cooking.
Some of the extra features of this custom made design are separate work stations that make the kitchen usefull to more then one person, and the stainless steel counters that create a nice work space.
The clean, minimalist cabinets that have a frameless construction, are perfect for storing everything you might need in a modern kitchen.In addition to that, next to the column oven, a secondary work space enables the plates to be placed under a dish warmer that is cleverly housed in a suspension.
But if you're expecting to find the Jo-a products in your closest furniture shop, you will be totally wrong. Jo-A was born from a determination to fullfill the desires of those looking for furniture that is truly unique. They are a custom made furniture manufacturer that works based on each client's expectations, lifestyles and budget.