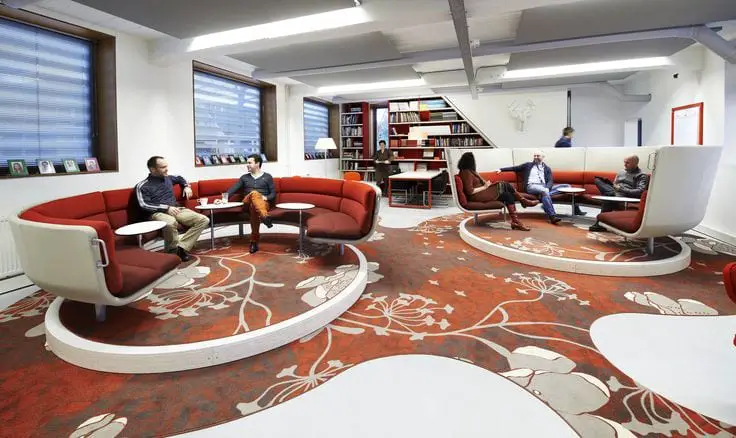 Turning Talks opens new roads and a relatively new category in the furniture manufacturing, the brainstorming furniture. In every company a great decor and furniture is an important component to encourage creativity and collaboration.
Known as collaboration zones, these open spaces provide a natural meeting place for coworkers to gather and share ideas. They can be as informal as a large table in the break room or as formal as a walled conference room.
Lande is a furniture maker from the Netherlands that offers a perfect mix of form and function  and a whole different view over working and living furniture.With this concept in mind, Lande and the designer Michiel van der Kley created an amazing piece, the Turning Talks brainstorming furniture.
Turning Talks is a sofa combined with tables that signals an open and relaxed environment, making employees feel comfortable and encouraging informal conversations. Its a place to meet and talk, a working environment, a combination of ideas and creative solutions.
Highly modular and customizable according to each office needs, Turning Talks can be used as a more closed unit, or very open. Coming with three tables, low and high walls, or even a combination between these options, it allows the owner to always choose between the need for concentration and the desire for an open space. The rotating platform allows employees the freedom to choose, being able to change the focus point whenever desired.
A company's brand identity is usually expressed also through its furniture finishes and colors, and this makes Turning Talks even more malleable, allowing the owner to choose from a wide selection of colors that meet their needs.
Brainstorming lounge areas are becoming a must have nowadays in every company that respects itself and its employees, and collaboration office furniture helps build in these areas a creative, relaxed environment where team members can gather together and come up with their next big idea.