Beautiful Furniture By Antonello Italia
Tecno TV Stand by Antonello Italia
Do you like watching TV or movies? Why not consider the perfect TV stand to adorn your favorite area? The Tecno TV stand by Antonello Italia appeals to those with a taste for the unique and will look stunning in any living room or TV room. Constructed from superior materials, it a smart, modern choice for those looking to simplify their setups.
With its open shelf space for your electronic components and a single drawer that keeps any clutter out of sight. Thanks to its sturdy construction, it will withstand many years of use.
Modern form and functionality make a strong pair when it comes to the Tecno TV stand by Antonello Italia. It has contemporary straight lines that showcase taste for beauty and passion for style. The swiveling stand offers a great way to bring elegance and function to your living space. The modern storage area provides adequate storage for your media related equipment and efficiently hides all the wires.
The stand comes in two sizes: a smaller version that accommodates 40" TVs and a larger version that accommodates 50" TVs. It has a satin steel base and a chrome frame. Its TV panel and horizontal drawer are available in walnut wood or wenge finish.
They also come in shiny lacquer or matt in six color options comprised of red, black, white, mocha, green, and brown. Arranging your entertainment area can be a difficult task but this TV stand performs the job with ease. It brims with versatile appeal and brings modern sophistication to your living area. How about getting the Tecno TV stand for your home?
All Images are Copyright of Antonello Italia
Diamante Table by Antonello Italia
What is it that attracts you to a table? Is it the stylish shape, quality construction, or lovely hue? If you answered yes to all three questions, the Diamante table by Antonello Italia is the one for you. With a unique design you'll be hard pressed to find anywhere else, this design will easily become your living room's centerpiece.
It is the contemporary living room update you've been looking for. The table is designed by Gino Carollo and born from the idea of sophistication and elegance. It has a clean, classic feel and is devoid of unnecessary features.
Flaunting a lovely geometric shape, the Diamante table by Antonello Italia is what quality craftsmanship is all about. It comes in two versions: completely lacquered in different colors, or with a wooden top and satin aluminum sides. Its sturdy frame is made from aluminum. This piece has a clean profile that will add chic appeal to your living space. It offers the perfect blend of style and functionality. Get it and create a striking centerpiece in your living room everyone will adore.
Small tables have become basic components of living room décor. They not only offer storage for everyday items like remotes, coasters, and magazines, they create focal points in rooms. When looking for the perfect fit for your space, look no further than this gorgeous table. It is just what you need to elevate your living room from ordinary to outstanding. Don't you love the compact size of the Diamante table?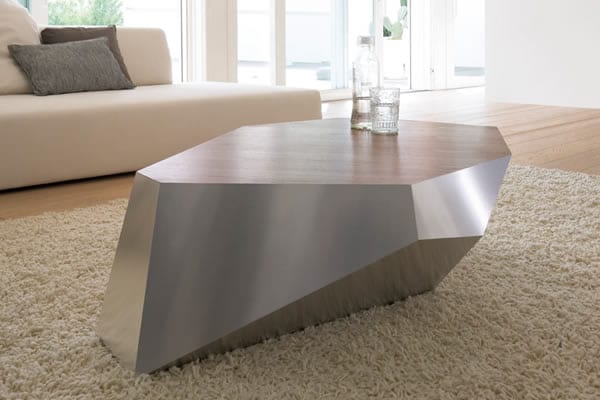 Aura Sideboard by Antonello Italia
If you have a gorgeous dining table and chairs but are still looking for the perfect sideboard, take a look at the Aura sideboard by Antonello Italia. With a clever design based on a mix of production technology, research, and innovative materials, show stopping sideboards don't get better than this. It will help you to get rid of clutter in your dining room and enhance the room's aesthetic appeal.
The Aura sideboard by Antonello Italia provides two main things: ample storage and beauty. It not only has dashing looks, it has all the space you need. It will excellently hold your party platter, napkins, and cake stands and still have space to spare.
It comes with decorated or lacquered wood doors and drawers with a rippled or flat effect. It has a wooden or lacquered wood frame and inner shelves made from clear tempered glass. The sideboard is finished in matt or shining lacquer. It has a solid front and looks like a rare piece of art.
While a sideboard is normally used to store serving platters, it reaches its pinnacle of style when you use it to fit your needs. Use the Aura sideboard to display your favorite collections or to showcase flowers or pieces of art. If you like to travel, put your photos on display and give your guests something to talk about during dinner.
Once you get this sideboard, you'll discover it is all you needed to complete the room's look. Wouldn't you love to have the Aura sideboard in your dining room?  If this is not the piece that fits your taste, take a look at at another article featuring some amazing contemporary sideboards and see how those designs can inspire your dining room.
River Bookcase by Antonello Italia
A bookcase is a valuable piece of furniture. It can display your books, small collections, and pottery and has a height that gives a space visual interest. While bookcases come in all shapes and styles, the River bookcase by Antonello Italia is a perfect piece for any home.
It offers an innovative solution to your organizational needs. The bookrack is comprised of curving sectional storage compartments which alternate in stacks of two and three. The compartments can be joined to form a number of configurations; from a semi-circle to a rolling wave.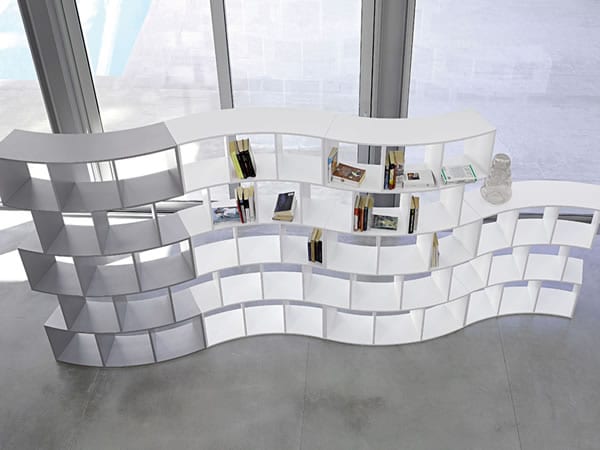 Made with a wooden or lacquered matt frame, the River bookcase by Antonello Italia will appeal to book lovers and design enthusiasts alike. Its open back is perfect for areas where you want to make a statement yet keep things simple.
The case comes in two sizes and looks good in any home. It will excellently display your books and works of art. For a personal touch, add your portraits and favorite photographs and create a cozy spot you can call your own.
If you have large rooms, use the bookcase as a room divider and create different functional spaces. The River bookcase makes a great focal point to design a room around. For those who love to read or have a large collection of books, storage can become an issue.
The River rack offers an excellent solution to your problems. It will help you to store your books, sentimental possessions, and home accents beautifully. Don't you think the River bookcase is the perfect place to store all your favorite pieces?