Funky Unique Modern Table Lamps in 2022
With it comes to home accessories, table lamps top the list since most of us opt for any generic model and seldom focus on its aesthetic value.
However, your selection of interior lighting does not need to be just practical and should extend your personality or your home decor. In fact, if you like me are bored with the usual run-of-the-mill lighting fixtures you will like the creative approach these rather cool designs offer.
There is something here for the tech lover and the practical joker. So if you are looking for the perfect lighting fixture then keep reading on as we are about to list some of the funkiest table lamps in the design world.
My favorite is the "One Man Shy", I think it is so simple yet it says so much, especially when you remove the shade. If you are looking for a more clean looking style, see our post on 12 Contemporary Ideas and Designs.
Lighting is very important in making your house look beautiful. Lights and lamps also serve a functional purpose. There is more to buying a modern or unique table lamp than grabbing the first one you think looks pretty.
You also need to think about your needs. You should consider size, color, scale, function and wattage. Even your own height is important! Your choice of modern table lamp depends on what you want the lamp for. Is it for dining and entertaining? Is it for reading or working? Or just for some extra lighting?
Color and Style of Your Unique Table Lamps
You can buy lamps in just about any color or style these days. Matching your table lamp to your décor is a good idea. If you have, for example, a peach colored room, a peach tone of table lamp can introduce a beautiful accent and blend into the décor.
If you favor the antique look, a Tiffany style lamp can look attractive. Tiffany lamps were popular in the 1970s and are making a big comeback now, thanks to their timeless style. They are now more refined in terms of color and design and more affordable in today's economy.
You can choose from fringed lampshades, plain fabric lampshades, glass fibers and many more designs. It is worth taking as much time as you need to select the perfect one.
For something a little more modern, how about a traditional desk lamp or something quirky, like a lamp with the sun, moon and stars on? You can get copper-based lamps, gold effect lamps, silver lamps and many more types. Your table lamps should match both your personality and requirements.
---
Cat-Tastrophe Fully Sculpted Funky Table Lamp
Celebrate your love for cats with the Cat-Tastrophe table lamp.  Expertly hand-cast in artist's resin, this sculpted table lamp showcases 4 adorable kittens scampering up an elegant mahogany-finished lamp column.
The fully sculpted cats are intricately hand-painted from their tiny toes to the tips of their hand-applied whiskers. A tone-on-tone damask-patterned shade accented with a braided trim adds the perfect finishing touch to this cat-themed home decor
---
Dog Adjustable Wooden Dimmable Beside Desk Table Lamp
A Full function with 3 gears dimmer touch control for adjustment to the eyes when you are reading. Made of Asche wood with a strong anti-decay function and very easy to be cut and polished. The texture of the wood is very natural and beautiful. The on-off switch is on the top the dog head, which is very convenient.
---
Dimmable Metallic Beside Lamp with Touch Controller
This is beautiful lamp with elegance, and something that will stand out in any type of household. Most unusual and not something you will see very often.
The table lamp's curved shape stands at nearly 12.5 inches tall and is 10 inches in diameter. The contemporary minimalist lighting design adds an artistic aesthetic to any room. It's the perfect table lamp for a living room, office or as a bedside or nightlight in your bedroom.
Constructed from a solid iron material painted in black, the lamp is durable, well made and will ensure quality lighting for many years. Thanks to the non-slip metal material applied to the base for additional stability, you can feel confident it is safe and stable.
The LED table lamp has a color temperature of 3200K and 550LM which allows you to adjust your light according to the occasion by a simple touch controller. Brighten for when you need to read or study or dim when you're looking to create a softer ambience. This is the best choice for a casual, contemporary or meditative environment.
The decorative bedside lamp is not only an elegant addition to your décor, this modern shape lamp with its 7.2-watt built-in LED will save on your electric bill. This lamp consumes low energy and will require no light source replacement.
This unique design lamp is suitable décor for home and office use. Backed by a 12-month product warranty, with a fast, friendly customer service and a 30-day return guarantee.
---
Crystal Bead Dragonfly Style Table Lamp
For the last hundred plus years people have been falling in love with Tiffany Table Lamps and Tiffany Accent Lamps. In fact since the first leaded glass shades started being produced by the Tiffany Glass and Decorating Company somewhere around 1898, they have been collected, cherished and displayed in many various room settings along with other Tiffany Glass products and collectibles.
Today people still buy these same style Tiffany Table Lamps. They still collect them, cherish them and display them the same way they did all throughout the early days of the 19th century. People buy these beautiful timeless Tiffany Table Lamps for their absolute beauty, their own enjoyment, and the enjoyment and delight of their friends and guest who visit their home.
Tiffany glass products are unique in that they are a reflection of their own artful design. The right Tiffany Table Lamp will lend itself to almost every interior decorating scheme. From antique to modern to traditional or contemporary. From your living room, to the bedroom, a Tiffany Table Lamp's ageless design and elegant style and color stands by itself in a way that no other table lamp lighting product can achieve.
A stylish 16 inch wide and 24 inch tall table lamp with a twin pull chain. Finished with a zinc base and bronze in color with a stained glass lampshade. You will need 2*60 watt E26 incandescent bulbs as they are NOT included. A different type of bulb will produce a different light.
Beautiful decoration with high quality for living room, bedroom, office, kids room, or college dorm. Your satisfaction is guaranteed. Comes with a 90 days refund guarantee & 24 months warranty.
---
Spiral LED Modern Table Lamp
Standing nearly 17.7 inches tall and 5 inches in diameter, it is not only a lamp but also a living room/bedroom decoration, perfect to place it on adorns desk, shelf, stand and any furniture with its stylish design. The height of each lamp may slightly differ due to the production process.
The Spiral Table Lamp has a color temperature of a color temperature of 6000K and 3800LM, best choice for any kind of casual, contemporary, or meditative environment. It comes with a 24-watt built-in high quality LED fixture, this modern shape lamp will save on your electric bill. Low energy consumption and will need no replacement on light source.
This modern table lamp can switch the light color between pure white, warm yellow, warm white, simply click the bottom to change the lighting effect. However it is not a dimmable lamp.
---
The Titanic By Viable London
A superb funky lamp design that is hard to find anywhere. Just looking at this lamp would make you wonder who could come up with such a brilliant idea.
---
The Colgao By Enpieza
Again who would think of the "hanging man lamp"as a bedside table lamp. a modern looking lamp design that will be in favor for many years after it has been bought.
A table lamp with a gallows-like metal base. Two common elements, a cable and a light bulb, are associated to create a bold character in a transgressive attitude that challenges us to change the way we look at life.
Year: 2007
Design: Lucas Muñoz for enPieza eStudio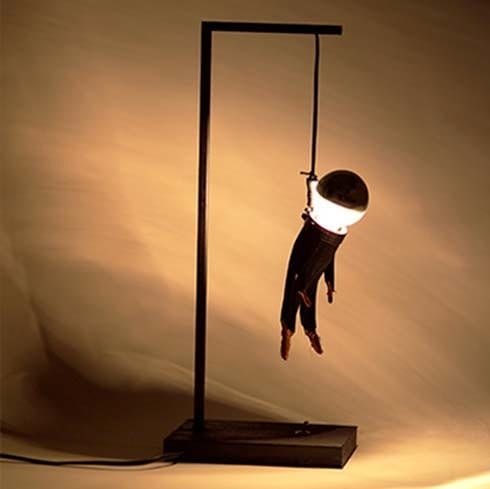 ---
The Side A Side B
---
The Black and Blum
---
The Paper Clip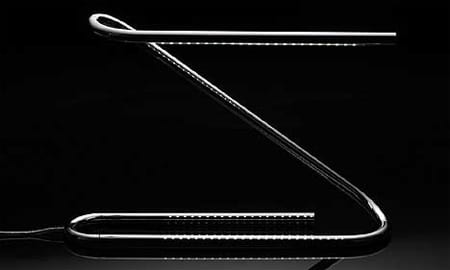 ---
One Man Shy Lamp
Got to say this one is my favorite. I do not know why, but something catches the eye. The light bulb makes it even more impressive. I still wish you could buy them as they would make a great joke present.
---
Lamp No. 1 By  Nicolo Taliani
---
The Lambretta
Nothing more cool than a lambretta front as a table lamp. Looks superb.
---
Graphic Printed By Catherine David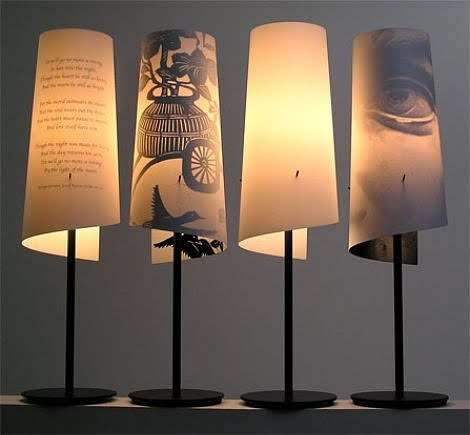 ---
"Dishlamp" Lamp By  Denis Belenko and Dmitriy Nkolaenko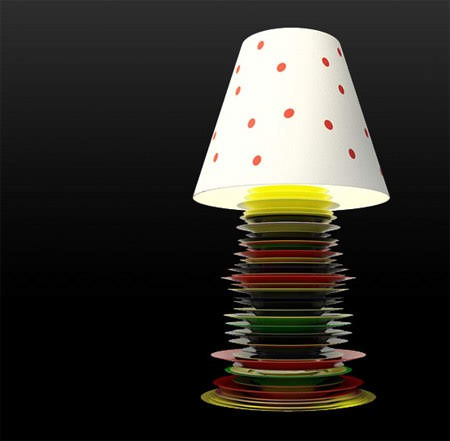 ---
Chrysalide By Emmanuel Jacquet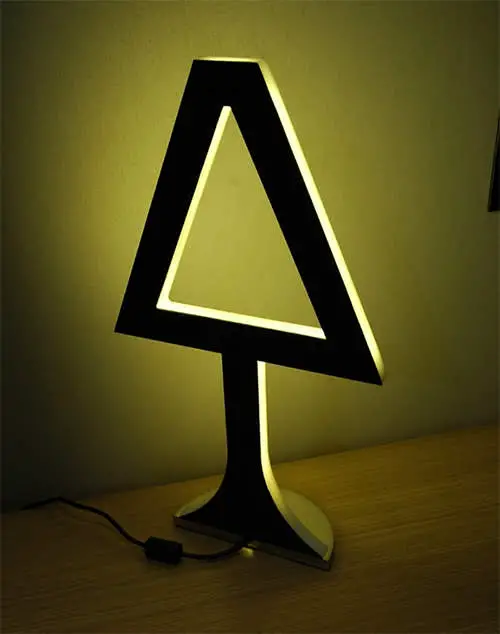 ---
The Barry
---
The Bamboo Light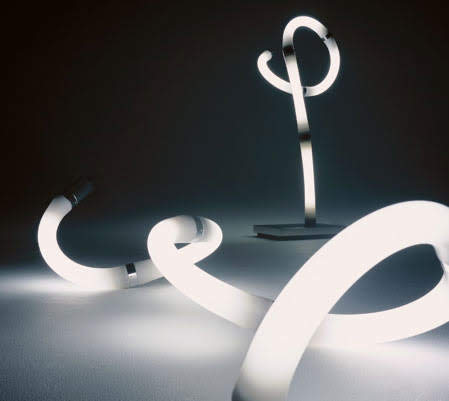 ---
At Your Command By Daniel Loves
A lamp that is fully adjustable and can be positioned in a number of ways on your desk. Looks good to me.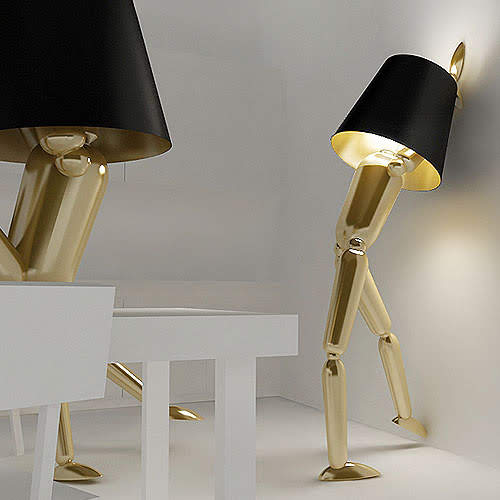 ---
The GILApple 
---
Conclusion
Funky table lamps are something that are a little different from the current trend of USB style lamps that are currently all the rage. Funky and unusual lamps are more suitable for upmarket rooms and the bedroom for reading a quite nights without the mobile.