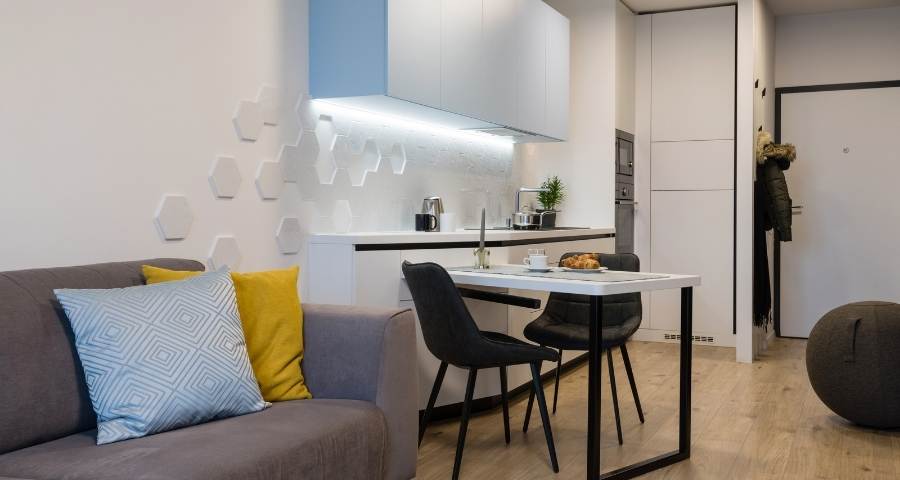 Small Apartment Interior Design Ideas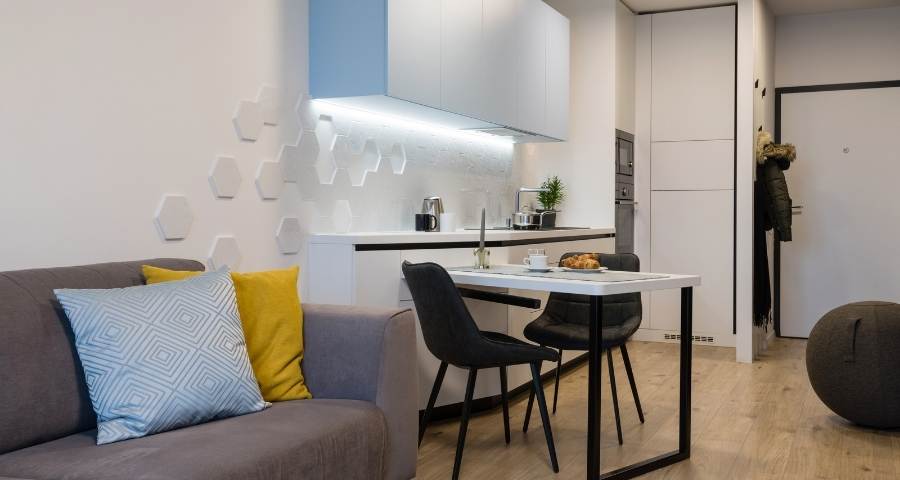 Don't let your small apartment keep you from freely decorating. Regardless of your space – whether you rent or own it – it can look trendy and exquisite if you do it right.
This article will walk you through simple yet creative interior design ideas to make the most of your space! Discover some of the best small-apartment décor tricks and techniques to zhuzh up your living space.
15 Best Small Space Decorating Tips And Designs To Maximize Style And Space
Small spaces or apartments are known to be affordable, cozy, and largely adorable. However, in terms of design and style, diminutive spaces can present a lot of challenges.
Here are the 15 best small-space ideas for decoration that will make it feel bigger, cozier, and less cramped:
1. Sectional In A Corner
According to popular opinion, you should place your pieces of furniture in the middle, away from your home walls, to enhance traffic flow, build intimacy, etc.
It's good advice mostly. However, in smaller spaces, an angular sectional in a corner suit well. This way, you can improve intimacy and traffic flow significantly in a compact living space.
2. Reduce Entertainment Accessories
Sometimes blank walls of entertainment centers or built-ins don't fit in the small living space. Instead, go for a simple Parsons desk with drawers holding a turntable under the wall-mounted television.
This living room idea is a perfect solution to maximize your limited space square footage.
3. Convert Closets
Looking for bespoke storage solutions? Convert your closets!
Retrieving your storage space for creating living room additions can have major functional and visual impacts.
Make sure to highlight your studio apartment and living space by using white paint or crown paint, or some other contrasting color.
4. Choose Neutral Living Room Walls
Whether you like bolder colors, accent colors, pastel colors, or muted colors, you'll have to paint your apartment walls with one neutral color.
Want to enhance your living room furniture by adding some bold color? Add a few pops of color to your favorite furniture pieces in the form of floor-style cushions, blankets, etc.
5. Select Multi-Purpose Furniture
Multi-purpose furniture – also known as space-saving furniture – is a perfect living solution to save apartment space while making sure your compact living space is as functional and cozy as possible.
Place a bookshelf near the window to act as a window seat, or opt for coffee tables or console tables that you can use as seating.
6. Be Strategic And Creative With Artwork
Believe it or not, wall art or balanced artwork can add appeal to the bedroom in studio apartments – a perfect design trick. 
Ensure to place wall hangings above your sofa instead of all across the room to create a visually attractive feel.
7. Layered Lighting
Layered lighting involves the usage of multiple types of lights to create a balanced and well-lit space; it's a key to creating a cohesive lighting scheme in all spaces, small or big.
Make sure to have pendant lights overhead with dimmable controls along with various wall lights and lamplights.
Choose a shade you can use for tasks such as reading and creating a romantic ambiance. Wall lights can also make your space look bigger and better.
8. Create Accent Walls
It's always better to have accent walls to show personality instead of having a lot of patterns on a single wall. One well-chosen shade will frame your living room's focal points nicely.
9. Consider Oversized Wall Mirrors
Adding oversized wall mirrors into your compact living space will give it a more airy and light entrance and make your living space look and feel bigger.
10. Choose Modern Carpets And Rugs
Neutral colors make a minimal space look bigger; this is especially true with modern rugs and carpets. Make sure to pick light-colored carpets and textiles that will make your space look spacious and light, no matter the size.
11. Apply Minimalism
Whether it's an accent, acrylic, or armless furniture, the less you have, the better. Instead, choose multi-purpose furniture. Try to mix-match and be creative.
12. Grow Big
Don't have a yard? No issue! You can invest in massive-scale greenery to bring nature indoors, adding texture and color to your studio apartment.
Though you can choose a plant you like, we recommend red aglaonema as it needs minimal care and low light to grow. You can also go for faux plants if dealing with real plants can be challenging for you.
13. Focus On Monochrome Palette
When designing small-space apartments, you have to ensure every tone sticks to a similar color palette, creating flow across the room. It's best to choose a light color palette to accentuate your space further.
This doesn't mean it shouldn't be colorful; instead, it means sticking to tonal palettes such as greens or blues or warm tones like rusts, beige, and terracotta.
14. Utilize Open Shelving
Rather than choosing bookcases, go for open shelves. Not only do they provide shelving, but also allow homeowners to showcase their most-loved books, bringing style and personality to the compact space.
15. Utilize Arc Floor Lamp
Nothing's better than exquisite light fixtures to add movements to your space. Add light fixtures you like that don't require electricians and your building permit. If used well, this beautiful arrangement can work wonders.  
Conclusion
Want to maximize your studio apartment? One of the best and easiest ways to maximize your living space is to avoid overcrowding it with furniture and have your layout suited.
Making small spaces feel big and spacious is about choosing ideal textures, lighter colors, and multi-purpose furniture.
Follow our interior design moves and ideas to take your apartment to the next level.