Security Door For Home
Insecurity is on the rise these days and many homeowners are taking protective measures to keep their properties safe. If you value your family and the place they dwell in, choose the Deniz door from Sur Security. It is a durable piece that is not affected by traffic, pets, or bad weather.
The security entryway won't show cracks or imperfections that can often come with the wear and tear of an exterior door. It is visually appealing and will boost the curb appeal of your home. It comes in a neutral color and is suitable for any interior.
WF Woodguard Steel Security Door
STEEL SECURITY DOOR – This Woodguard Steel Security door is strong and durable, featuring 24-gauge perforated steel mesh, a 1-in x 1-in welded steel frame & 3 heavy duty tamper proof hinges

This beautiful Woodguard door offers a traditional "screen door" look with the strength and security of a steel door, stained in a light oak finish. You can rest easy knowing you have a high-security door without sacrificing looks.

Installation is quick and easy. The how-to video on this page covers what tools are needed.

This steel security door includes a 3-piece 1-1/4-in outside mount frame for easy installation. Matching one-way security screws are included.

Note: doorknob & deadbolt not included.
Deniz Security Door
The main benefit of the Deniz door by Sur Security Door is the security it provides. It deters potential robbers while keeping your home safe and sound. The product is made by experienced Turkish engineers using quality materials. It is a lovely piece that will attract visitors long before they step into your home.
It gives your home's interior a polished look and increases your property's value. Deniz is virtually indestructible and will keep off the most determined burglar. It is an excellent choice even for homes with security systems.
Many burglars use the front entrance when performing a robbery so it is very important to fortify this area. Locking your regular door is a good idea but it can never deter a burglar bent on breaking into your home. Use the Deniz Security Door to keep off intruders and burglars. You will love it and your family will be forever grateful. Do you think the Deniz  will make a great fit for your home?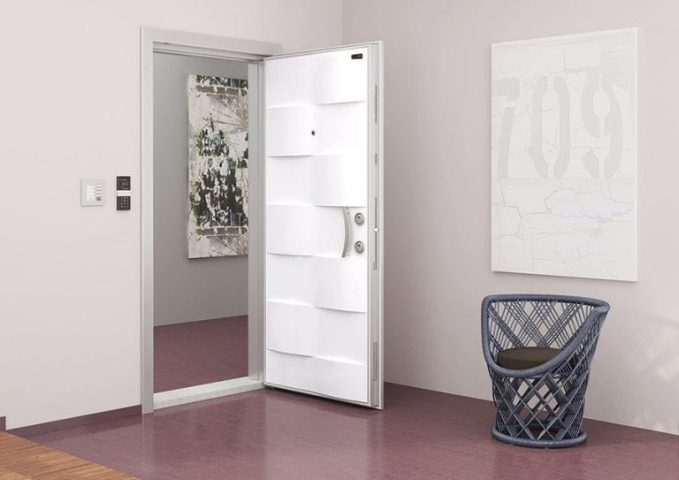 Alinda Door by Sur Security Door
Often times a new door is all you need to improve your home's appearance. Why go for a regular one when you can have a state-of-the-art piece? If you are looking for a door that will beautify your home and improve your security, look no further than the Alinda from Sur Security.
It is a strong piece with a front made from tempered glass and a back encrusted with polyvinyl membrane on MDF. It has a curved jamb and a steel lock coated with aluminum. It has a multi lock mechanism of 14 and is as secure as it is beautiful.
Alinda offers contemporary security in sleek style. It allows radiant light to enter a room while providing ample privacy. It enhances a home's appeal and is ideal for both residential and commercial settings. Unlike conventional entryways, it does not get damaged by pets, traffic, or harsh weather conditions. The door is highly durable and guarantees total safety. It will make you happy just by being.
When choosing a security entryway, there are many things to take into account. The most important ones are the door's effectiveness and design. However, it is hard to find a security door that goes well with home décor.
The Alinda Door from Sur Security Door is an unusual piece. It is beautiful and functional and will make your home the envy of all who pass by. It brings enhanced security to the contemporary entryway. Do you love the elegant design of the Alinda Security Entry?
Alya c-33 Door by Sur Security Door
Security doors have become a common feature in many homes. As opposed to regular doors, they protect homes and give homeowners peace of mind. Their sturdy construction and heavyweight make them more force-resistant than other doors.
When looking for a good security door for your home, consider the Alya c-33 door from Sur Security Door. It is a stylish piece that provides security while still creating a gorgeous statement for your home. It is made with quality materials using the latest manufacturing processes and will adorn your home like an accent piece.
Alya c-33 Door by Sur Security has a front made from tempered glass and a reverse with a wooden panel. Both sides have a width of 8 mm and the wooden panel is fitted in the middle and measures the same width. It has a shiny metal handle which makes it easy for you to open it.
Alya c-33 guarantees total safety. It has a central lock system of 14 and is an excellent alternative to costly alarm systems. It makes you stress-free whether you are out of the house for a few hours or a month.
It is never too soon to invest in a high-security door. A security entryway can prevent break-ins and keep your family safe. Even if you live in a safe neighborhood, burglaries can occur. A security door is the only way to keep intruders out.
It also gives the feeling that the place is secure making it hard for potential burglars to target your home. Don't you love the trendy look of the Alya c-33 Security?
Image
Title
Price
Prime
Buy
Ring Alarm 5 Piece Kit – Home Security System with optional 24/7 Professional Monitoring – No long-term contracts – Works with Alexa

Prime

Eligible

Take a Look
Blink XT2 Outdoor/Indoor Smart Security Camera with cloud storage included, 2-way audio, 2-year battery life – 2 camera kit

Prime

Eligible

Take a Look
YI 4pc Home Camera, 1080p Wi-Fi IP Security Surveillance Smart System with 24/7 Emergency Response, Night Vision, Dog Monitor on Phone App, Cloud Service - Works with Alexa

Prime

Take a Look
Smart Security System WiFi Alarm System Kit Wireless with APP Push and Calling Alarms DIY No Monthly Fee for Home Apartment Office Store and Business

Prime

Eligible

Take a Look

Top

Ring Video Doorbell with HD Video, Motion Activated Alerts, Easy Installation - Satin Nickel

Prime

Eligible

Take a Look
HeimVision HM241 Wireless Security Camera System, 8CH 1080P NVR 4Pcs 960P Outdoor/ Indoor WiFi Surveillance Cameras with Night Vision, Weatherproof, Motion Detection, Remote Monitoring, No Hard Drive

Prime

Eligible

Take a Look
Defender Security Satin Nickel U 10827 Door Reinforcement Lock – Add Extra, High Security to your Home and Prevent Unauthorized Entry – 3" Stop, Aluminum Construction Finish

Prime

Eligible

Take a Look
YI 1080p Home Camera, Indoor IP Security Surveillance System with Night Vision for Home / Office / Nanny / Pet Monitor with iOS, Android App, Cloud Service Available - Works with Alexa

Prime

Eligible

Take a Look
SimpliSafe 8 Piece Wireless Home Security System - Optional 24/7 Professional Monitoring - No Contract - Compatible with Alexa and Google Assistant

Prime

Eligible

Take a Look
Product prices and availability are accurate as of the date/time indicated and are subject to change. Any price and availability information displayed on [relevant Amazon Site(s), as applicable] at the time of purchase will apply to the purchase of this product.
Prices pulled from the Amazon Product Advertising API on: