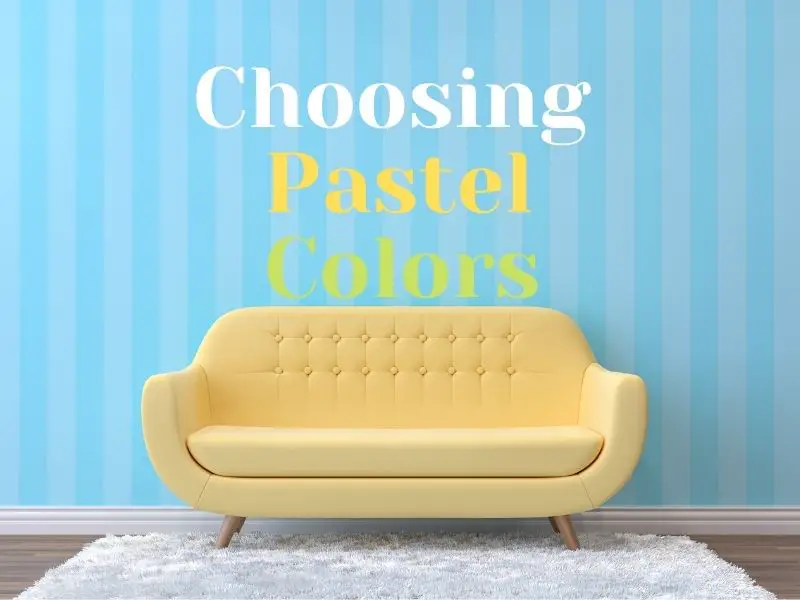 Pastel Colors For Your Home
The appearance of an interior and mood can be changed by choice of colors. Although all-white spaces are stylish, it is not as elegant as a vibrant color scheme. It allows you to express your style. You can incorporate pastel colors into your home if you are up for being bold. These striking shades will elevate your home to the next level.
Why Is Pastel Color The Best Choice?
A splash of color can revive a dull room. Opting for pastels may be the best place to start. Every pastel color has its personality and appeal, from warm, peachy colors and pretty pinks to calm seaside blues. A pastel color instantly elevates an all-white kitchen with European charm or a neglected dressing area with Old Hollywood glamour. Pastel colors are not only for vintage and retro lovers.
Top designers are choosing pastel colors as of 2021-2022, and pastel rooms are developing with the times. Even though the pastel colors are soft, you can find a wide range of living room decor to match any style. You can lighten your space, add contrast, or love it. We have collected our favorite pastel rooms to inspire you, including bedrooms, kitchens, and patios.
Use a Grounded Sage
Sage is one of the earthiest pastels. It soothes your soul. The combination of sage and yellow undertones creates a space that is both inviting and calm. Combine sage paint with natural tones such as dark leather, warm wood, or soft white for a seamless living space.
Mimic the Sky
This living room is adorned with light lavender and pale blue-sky colors. These contrasting elements create a personalized and unique space that is bursting with color. This design's mid-century and maximalist roots make it easy to use and comfortable, but not lacking any character.
Warm with Yellow
Who said the living room color must be bold or dual-tone? Let it be natural. Add large pieces of artwork that incorporate your color scheme. You can add some depth by using a more neutral color, such as this buttercream yellow. The room is highlighted by darker accents on the furniture, which adds warmth and texture. Brass accents give the room a more elegant, shiny look.
Be Romantic with Rose
We love the way the modern coffee table and angular wall art reflect the soft elements of the room. They play on the wealthy, pastel pink walls and the bold sofa. The designer used brass accents to add depth against the natural wood floors. The unique textures cape features exquisite proportions that bring out the personality of each space.
Liven up Neutrals
The living room has a pale beige color on the walls, blending warm colors from the ceiling to create depth and visual interest. The room's natural accents are complemented by lush houseplants and wood grains that add texture and interest. This living room has a calming feel and a simple color scheme.
Stay Sleek Yet Gorgeous
This space looks balanced because of the contrast between the brighter accent colors in throw pillows and the light, icy walls. The living room is brightened by sleek gray furniture and a textured fireplace made from stone. It also keeps its airy feel. This designer gives the room a relaxed feeling without losing its formality.
As For Refresh as Mint
This living room is an excellent example of how you can go maximalist with your favorite color. A dark color fireplace uses deeper greens to contrast the pastel mint upper wall. An array of furniture gives it a unique, bohemian feel. These soft colors can be paired with bright patterns in floor pillows and rugs to create a different decor.
Soft Pistachio Is a Great Choice
A pastel shade can be a wonderful choice if you feel stark white is too stark in your warm-hued living space. It will still add contrast but not feel jarring. The rug's burnt orange and pistachio hues contrast beautifully with the walls' barely noticeable pistachio tones. This living room is decorated with minimal decor and natural woven baskets. The subtle hint of color in the living room paint keeps things fresh.
Blushing Yet Simple
This blush-themed living space is perfect for those who love rose gold, pale pinks, and warm hues. The room's trim is a subtle shade of faded coral pink that contrasts the ivory walls and blends the tones. The bold, dark colors of the sofa to the left add an elegant touch and stand out from the rest.
Mix Earthy Tones
You can achieve an authentic pastel look by using a variety of earthy tones throughout your living space. This space looks richer with the combination of olive green and pale pink armchairs, along with one dark accent piece. Meanwhile, warm wood ceiling rafters add visual interest. Thanks to their neutral pastel colors, these geometric wall designs add a lot of personality to the space while still feeling clean and sleek.
Get Creamy Beige
You do not have to be a big fan of color. This creamy beige living space feels both elegant and inviting. This space has rustic cabin vibes thanks to woven materials and a rustic wood fireplace surround. The classic design is enhanced by the addition of blankets and wall art in muted tones. This living room looks spectacular with faded, creamy beige paint.
Go Natural
A pastel tone is an excellent way to introduce natural elements. This clay-painted fireplace makes a bold statement in an all-white space along with the terracotta accent color that blends into the overall design. The area is enhanced by a plush, fluffy rug and a patterned hearth tile that adds texture and personality without overpowering its neutral style.
Add Some Contrast
This living room features a contrasting accent color–the soft pastel walls and ceiling create the perfect backdrop. The warm and inviting background in faded colors allows brighter orange hues to pop out from the sofa, floor, and wood furniture. The space features a minimalist color scheme, with only small touches of bright yellow or blue.
Soothe Through Ivory
The ivory-peach walls look soft and elegant. This room has a classic feel thanks to its polished finish. However, two accent pieces in muted green contrast the otherwise neutral tones. This living room has texture everywhere. From the three-tiered fireplace to the velvet chair and ottoman to the patterned rug, it is dynamic from floor to ceiling. Bold, dark accents can be used throughout a neutral room to bring life and interest.
Neutralize Sandy Tones
This room is bright, with pastels everywhere, from the sandy-colored walls to the soft gray sofa. Light blues and beige tones complement the design. Small white accents in every corner brighten the living room.
Light Blues Comfort Your Eyes
Paint your walls with the same color and trim them to create a combination of a soft tone and a bold statement. This blue shade is soothing, reminiscent of the ocean. The living room features accents in darker blues. They add depth to the space and complement its cool-colored theme.
Keep Your Head High In the Clouds
The space feels like it belongs in a home high on the clouds. This living room is light, thanks to the pastel accent wall behind it. A fluffy rug and feathered décor enhance the room's soft, inviting character.
Be Pretty in Pink
The classic pastel color pink is pink, and this living space does it right. Bright walls with only a hint of pink in their undertones make it feel warm against white furniture. These slightly pink walls look soft and rich when paired with bold black window trims and an upholstered ottoman made of leather.
Can Pastels Be Used in Interiors?
Pastel colors are just brighter shades of more available colors that have had their whites mixed with them. They are known for their neutrality and calmness. They are often used in interior design. Pink and blue are the most used pastel colors in interior design. It is just one option. The names of these shades can vary depending on the classification. In another arrangement, what is called crème could be called ivory. Similar to salmon pink, peach pink can sometimes be reached.
Designers Refer to Pastel Colors as "Graceful."
Pastel color can be mixed with other colors and work well in any interior. It is excellent for both working and relaxing before bed. Pastel colors can easily be matched with other colors. They can be used with both grays of different intensities. These arrangements make your home look delicate. These colors look great in an industrial environment when combined with another color like charcoal grey. You can use them as a base for walls or in rustic styles.
Conclusion
Are you looking to make some changes to your interior design? Maybe you are thinking about a renovation. Consider the recommendations mentioned above before you decide on a makeover. This season, pastel colors are trendy. Society seems to look for peace. Interiors with pastel colors such as pink, mint, green, and neutral beige will look great when paired with bolder accessories.