Stardust Sofa by Mario Bellini
The magnificent piece of furniture known as the Stardust Sofa, expertly crafted by the talented Mario Bellini, embodies sheer elegance and sophistication.
Its sleek curves and luxurious upholstery make it a true centerpiece for any discerning homeowner. The Stardust Sofa seamlessly combines form and function, with its ergonomic design providing unparalleled comfort for hours of relaxation.
The attention to detail is evident in every stitch, showcasing Bellini's mastery of his craft. This exceptional creation effortlessly transforms any living space into a haven of style and refinement. Whether placed in a contemporary loft or a classic bungalow, the Stardust Sofa exudes timeless beauty, captivating all who encounter its allure.
Envisioned by the eminent Italian architect and master designer, Mario Bellini, The Stardust Sofa is innovation and artistry, at its very best. The revolutionary Stardust is the first product in collaboration with Meritalia and sees Bellini blending his genius design skills and modern technology with extraordinary finesse.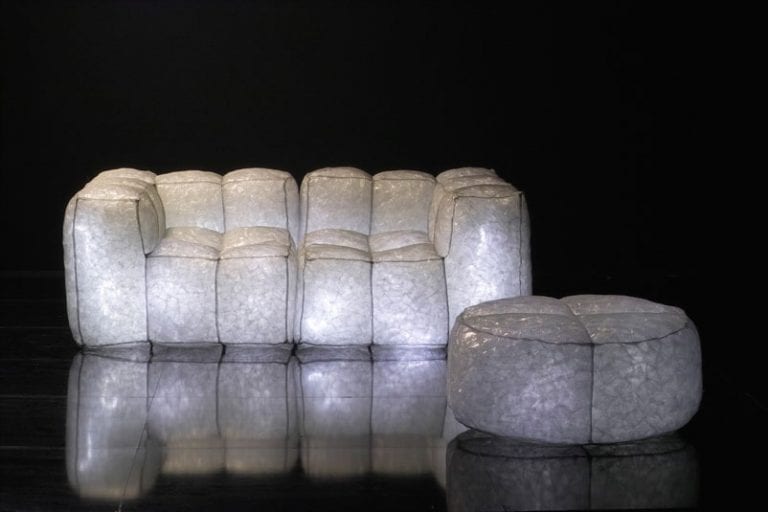 The Stardust Sofa by Mario Bellini, embodies the fundamental concept of ensemble design. The Stardust sofa not only serves as a plush seat but also performs the dual task of a room lamp as it comes fitted with high-performance, energy-saving LED lights, and on that account befits the role of sculptural seating,  magnificently.
Particularly noteworthy are its feather-light weight and material buoyancy, making Stardust an impeccable choice for water pools and living rooms alike. The "air ravioli" inspired by the packaging materials and the lightweight stainless steel mesh and the recycled fibers seeking stimulus from the construction industry have been used unconventionally to create this masterpiece called Stardust.
Stardust stands tall amongst its competitors as it is an evolutionary step in furniture design that symbolizes evolution in terms of materials and technology that are still untouched in the furniture design industry.
A fine blend of simplicity and lightness, Stardust sofa, generates a feeling of airiness regardless of the space it adorns. Where will you place your Stardust sofa in your home?
Related Articles: