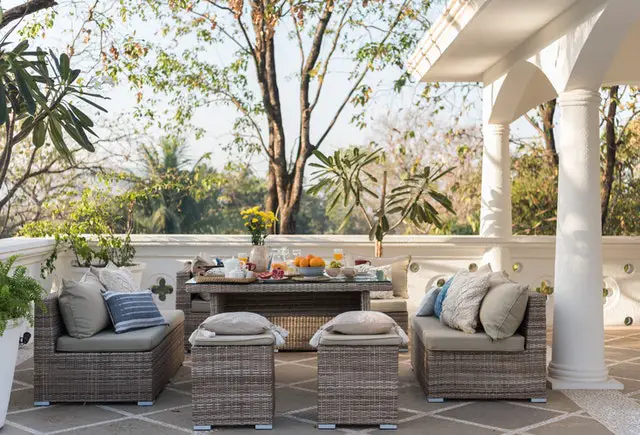 Transform Your Backyard: Great Ideas
Spring and summer are on the horizon, and it's time to start planning an enjoyable outdoor area in your backyard. Where do you begin this adventurous undertaking? How about a few simple backyard ideas to get you going?
There are many different options that you can do to spruce up your backyard, whether you have money to spend or are on a budget. Read these five ideas for turning your backyard into a relaxing, carefree oasis for warmer days.
5 Backyard Design Ideas
Patio Area
A patio is a great space outside your backdoor to entertain guests or sit and enjoy the outdoors. Take your patio to the next level of relaxing by adding furniture with lovely cushions, a fire pit to sit around during the cooler nights, and some hanging or potted plants around the area.
Pergolas are becoming a very popular addition to patios. They add a unique element to the patio and some shade on hot summer days. Pergolas can be any shape or style you want and as intricate or simple as you design. Have fun creating this new piece of eye candy for your patio setting.
Change up the concrete on your patio by customizing it with new designs and colors. Custom concrete patterns are trending for new looks and styles on patios. Custom concrete patios can also add to your overall vision of sustainable home decor. The concrete itself is sustainable, and many companies make custom add-on designs with sustainable, low-toxic chemicals.
Deck Area
A backyard deck can be a wonderful place to sit and catch the breeze. There are some simple updates and maintenance techniques you can do to help your deck become your oasis of the house.
Restain your deck wood regularly. The fresh look of the stain adds to the deck's visual appeal and keeps the wood in good condition against weathering and rotting.
Add an outdoor rug to add design to the deck's flooring.
Splurge on furniture. Chairs, couches, and a table help bring a chill social gathering to the deck for an evening of enjoyment.
Bright, fun colors in your deck's decor will lighten the area. Vivid colors are in style, so don't hesitate to bring that deep yellow or orange up a few notches to pop the deck's details and visual engagement.
Play Area
Kids love using the backyard. They love being outdoors and playing for hours. Setting a specific area for the kids is a winner for everyone. You can even put an adult touch to the site with a hammock. Lay back, relax, and let the kids play.
For your play area in the backyard space, add some ground cover that makes you feel comfortable with the kids, whether it's natural grass, rubber pieces, or playground turf.
Choose a playground that meets your children's needs now, but remember they grow up.
Finding something you can add to for older children might be worth the extra time upfront. For example, start with a simple playhouse and toddler swing, but allow for the extension of kid swings or a second level to the playhouse down the road.
Always look for good quality, reliable and well-built equipment, and try to choose the best playground equipment you can find within your budget.
The playground might be your central place of enjoyment for the next ten years of raising children, so the investment will pay off immensely with their activity choices and the time you can relax while listening to their excited squeals.
Grass Area
If you want areas in your yard with plants and grass, this is an opportunity to bring creative ideas into the yard. You can work with a professional residential landscaper to get inspiring thoughts for paths, designs, and vegetation that grows well in your area.
You may use a portion of the grassy area for a raised flower or garden bed. Add a path to your beds and gravel around them, so you can walk and look at the beautiful flowers and vegetation you choose to plant.
Ponds surrounded by gardens are unique designs that bring joy and relaxation to the backyard. Surround a pond with flowers that attract butterflies and hummingbirds to enjoy the beautiful colors of nature's flying beauties. Looking into a pond full of fish is an eye-catching choice, and sitting and watching them is a delight.
BBQ Area
If you enjoy BBQing or hosting parties or gatherings where hot dogs, hamburgers, or steaks are on the menu, the BBQ area of your backyard will be a big deal. Whether you want the area on the patio, deck, or grass, there are several things you can do to tweak it to modern appeal.
Buy a grill that you love and will be tempted to use regularly. The taste of grilled food comes down to how the chef grills it, so spending money on a good grill will be worth it.
Your modular outdoor kitchen area should include your grill, a kitchen station to prepare and store your food, cabinets, and a dining table. Having the station set up with easy access to everything will allow the guests to enjoy the aroma of dinner cooking while the cook can quickly move the food to different areas.
Supplement your BBQ area with an outdoor bar to add a spark to the night and entertain guests. Have part of the area with a countertop to serve your drinks and another portion to create and store your beverage choices.
Conclusion
Creating your unique backyard oasis just got easier. There are many different designs and styles that you can implement into your backyard patio, deck, grass area, playground, or BBQ area. You will be the talk of friends and the go-to place for fun, kid play dates, relaxing evenings under the stars, and good food in your trendy backyard space!
Related Articles: