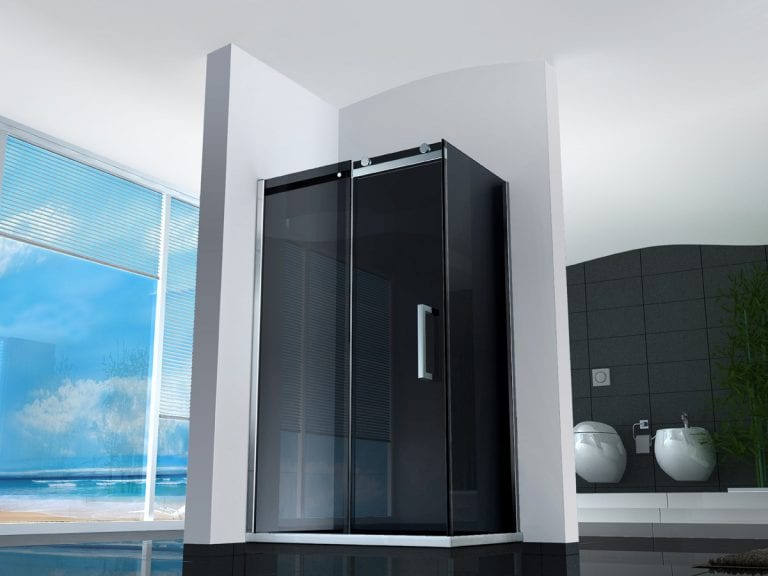 Glass Shower Doors Designs
Say goodbye to plastic curtains and say hello to beautiful stand-alone shower enclosures with gorgeous glass shower doors. Shower doors come in all different designs and shapes. There are a plethora of routes to take when it comes to created or renovating your new bathroom.
If you are moving into a new home, or are looking at a new bathroom project and looking for shower design ideas the things you should consider for your new bathroom might help you in choosing the right type of door and shower.
There are a number of different types of shower doors
Frameless shower doors
Semi frameless shower doors
Hinged shower doors
Barn door type shower doors
Sliding shower doors
Types of Glass Shower Doors
This can be quite a complicated subject as a shower door comes in a number of different types of glass. Ensure you know which type of shower door you are having fitted if you are thinking of choosing your own shower door glass for something a little different.
Most shower doors are made of a tempered glass. This is a glass that has a different process than annealed glass. Should a shower door break for any reason if will break into many thousands of tiny pieces, that are not as sharp as annealed glass.
Some of the different types of shower glass are
Clear glass
Low Iron glass
Frosted and Opaque glass
Patterned glass
Tinted glass
Rain glass
Textured glass
Hammered glass
Take a look at this explanation for different types of shower door glass for a deeper idea.
We've compiled a list of shower door styles that gives you a taste of a variety of ideas and how each of them has the ability to transform the space into something quite special. Let's have a peek at 15 decorative glass shower doors designs and get inspired about updating the bathroom!
Semi Frameless Glass Shower Doors
This semi frameless glass shower door has a beautiful finish that reacts to the incredibly chic and modern atmosphere of the ambience. This is a very good looking semi frameless shower door.
The door has a "shattered" accent that creates a magical focal point in a very clean and clever way. It gives an artistic appeal and luxurious, edgy essence that we're swooning over.
Have you looked at your bathroom and longed to give it an update, but put it off because of time and money? All you need for a dramatic bathroom update is a solid plan, a free afternoon and some good old-fashioned elbow grease.
Semi-Frameless Sliding Shower Door
(6mm) thick clear certified tempered heat treated safety glass; anodized aluminum corrosion-resistant wall profiles and guiderails for a durable semi-frameless shower door that will last!

streamlined semi-frameless design gives your bathroom a more modern and open feel, instantly transforming any bathroom space regardless of style and décor

Customize the shower door based on your own personal preference and also the layout of your bathroom space. Reversible shower door can work for either a right- or left-side opening

Integrated towel bar on the Stationary Panel optimizes space in what's usually one of the smallest rooms in the house; with a matching handle on the Sliding Shower Door pa
Black Framed Glass Shower Doors
Here's a great example of a traditional and simple idea. You can see right inside the space with ease and there's a handle attached making it easy to use.
Overall, the black frame and glass colors work well and can be paired with furnishings and other colors easily.
Who knew that glass could be so alive and refreshing? These frames sure do liven up the bathing experience, don't you think?
✖

September 15, 2023 00:51
Frosted Glass Shower Door Design
This interior idea has its own outdoor scene that turns a very plain space of the house into something more special and personalized. A curved frosted glass shower door.
A shower that has a very nice curve to it that can be installed in a small bathroom if space it at a premium. Frosted style tempered glass that provides a full state of intimacy and is CSA certified.
It's got a bit of femininity made right inside. It surely brightens up any room with a bright corner pop and it creates an easy focal point for a guest or master suite!
✖

September 15, 2023 00:51
Semi Frameless Hinged Shower Door
A single glass semi frameless door with hinges and bronzed edgings make this design one of our favorites. It gives this bathroom a holiday, home-away-from-home type feel without you actually having to go on vacation to feel that way. This bathroom definitely refreshes.
✖

September 15, 2023 00:51
Classic Style Shower Design
This double shower door has a bronzed edge that is patterned and frosted for privacy. The doors have been designed to help those who have slightly out of plumb fittings as it is adjustable in many ways. With this look, you'll get that modern feel without all the eyes on you!
✖

September 4, 2023 15:32
Square Panel Shower Style
Even your smaller stand alone enclosures can be spruced up using glass as opposed to curtains. This frosted, textured idea gives privacy and interest to smaller lavatories. The addition of the ice cube blocks gives even more fun and liveliness!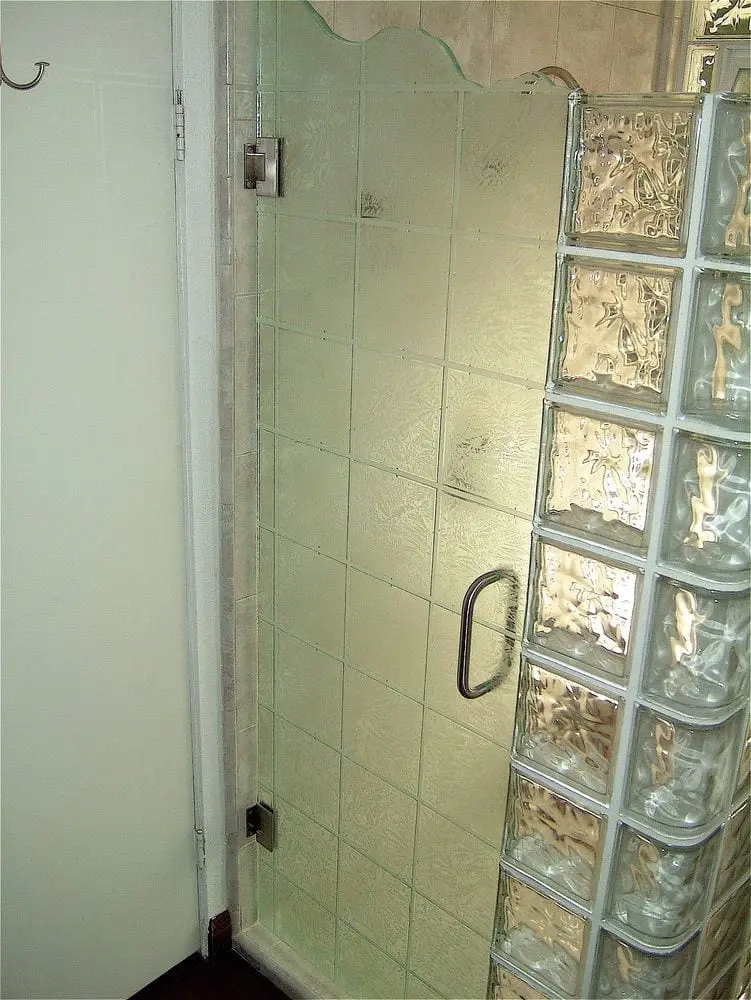 Full Glass Shower Design
The swirling accent detailed onto this idea is reminiscent of rolling waves in the ocean. What a great way to jazz up bathing with the relaxing setting of a beachside scene! We love this extra addition as opposed to a more traditional and simpler experience.
Marble Glass Design Shower
Similar to the example shown above, this piece too has an ocean scene on display. This is such a fun and personal way to jazz up your space.
The motif is surprising, acts as a focal piece and it surely gives off a great impression to any guests that come inside. Again, we love this idea in a plainer bathroom that needs a big of extra design touch.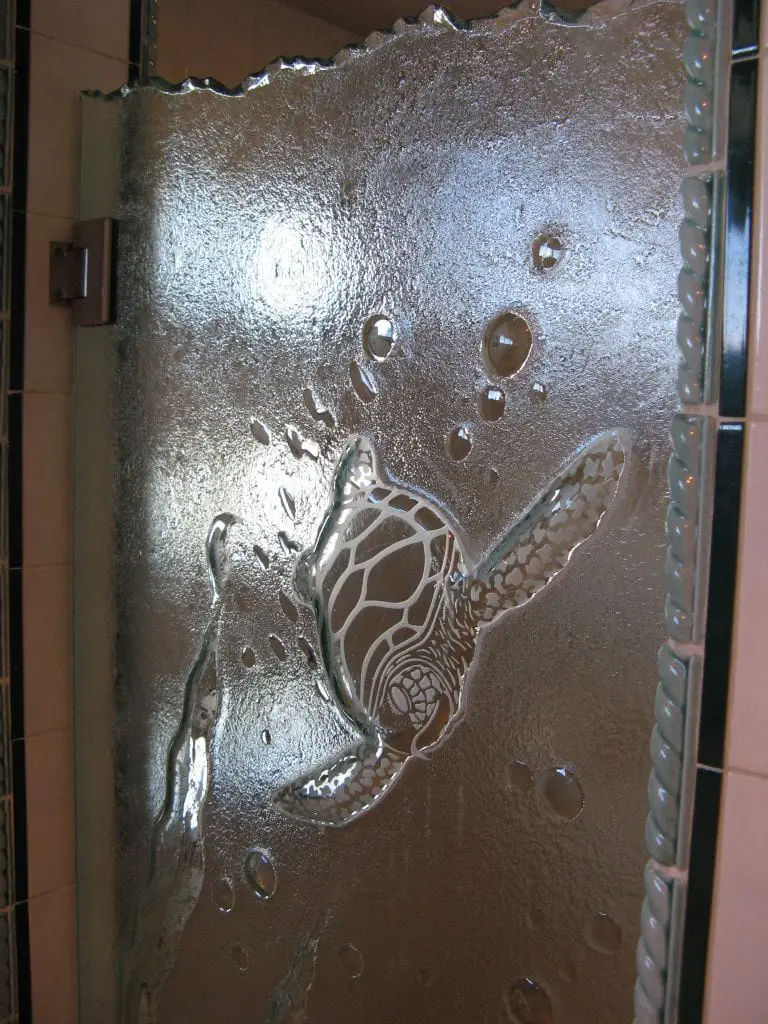 Bright And Light Shower Design
Tinted glass shower doors! Not only are do these pieces have a fun texture that gives an artistic essence and privacy inside, but the mint green shadows also blend in with the brightness and refreshing nature of the room. Imagine the same look with a powder blue or even blush pink tint, magical and memorable!
There are an array of different feelings that tinted glass come with frosting and this one has a very chic and posh feel. The entire idea has a bright and light feel with clean lines and sharp, contemporary vibes. And the sleek glass door only adds and enhances that overall style.
Depending on the size of your shower, if you are lucky enough to have the space you could consider putting a shower seat into it. This can be a godsend for many who like to spend more time than normal when having and enjoying a shower.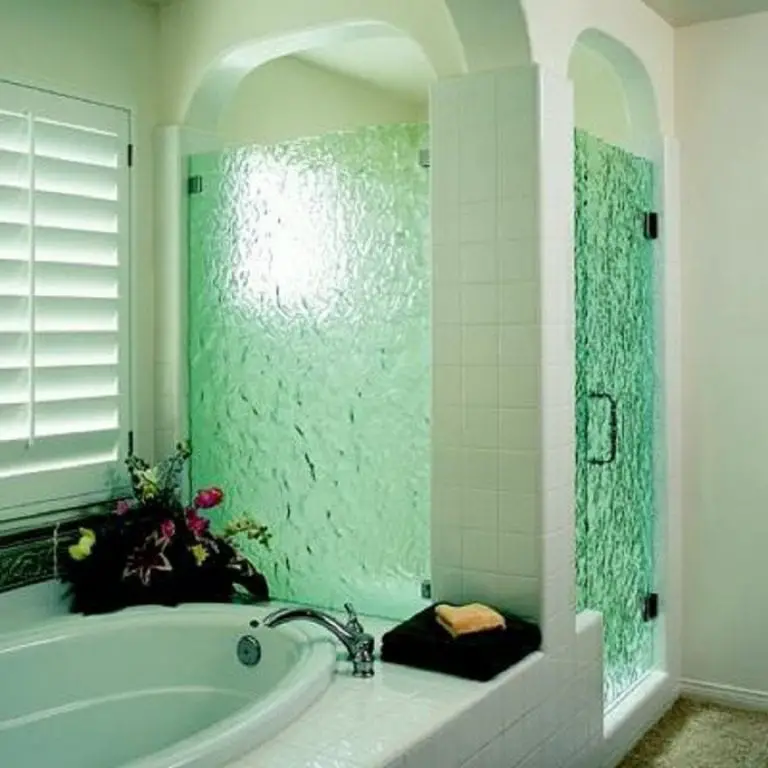 Parisian Style Shower Glass Door
A personal favorite from the entire list, the design is simple, sweet and with an infusion of French charm. The daintiness of this design is perfect for the small space and Parisian styles that are sprinkled around this charming setting. The etching goes great with the claw foot tub and wonderful hardware.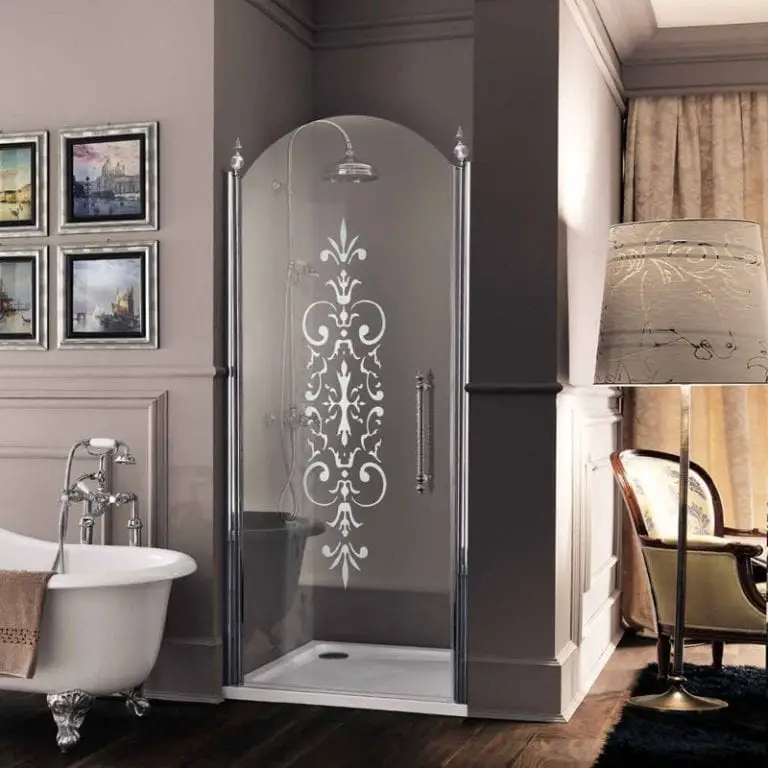 Dark Design Sliding Shower Doors
This graphic design spread sure puts some great ideas and inspiration inside our heads for our next renovation or dream house sketch. The black tinted glass helps to even out the modern, futuristic feel that this entire space has and with the natural lighting coming in through the windows it doesn't darken too much.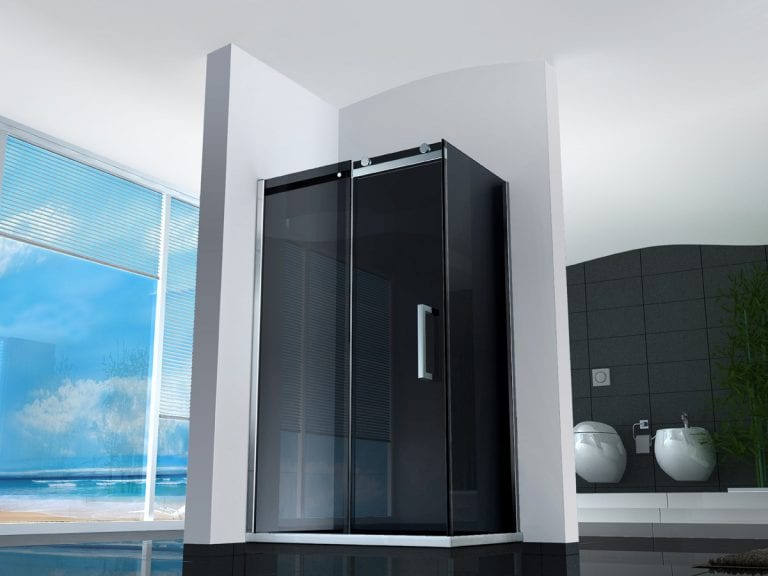 Half Clear Glass Shower Doors
Here's another decorative glass shower door example of a traditional setting with both classic glass and frosted placements. This gives you the privacy you deserve with the appeal of a more interesting way of decorating a bathroom.
There is still a sleek, clean vibe without being over-the-top or overwhelming in such a functional setting.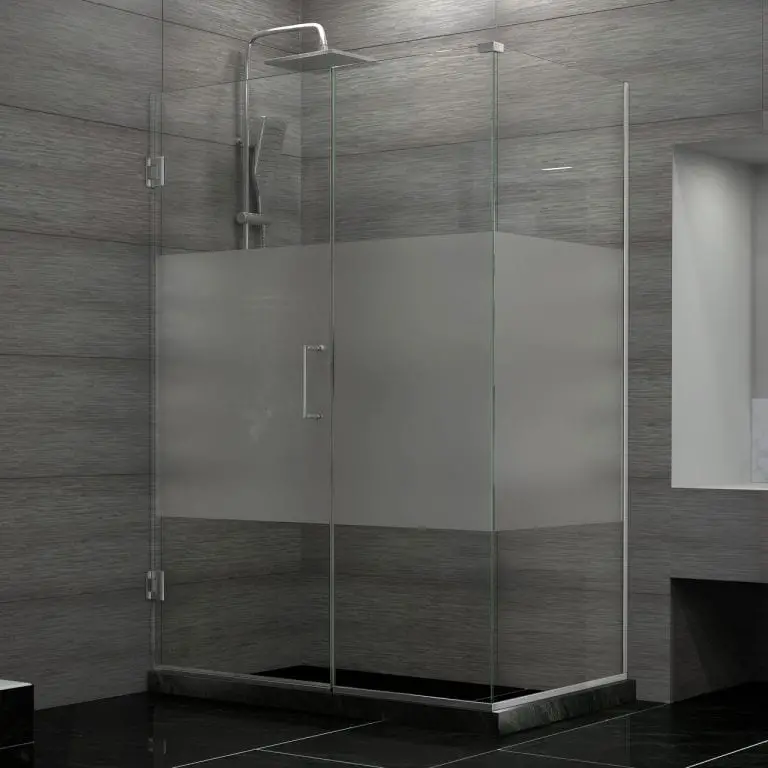 Conclusion
Glass shower doors can bring a large bathroom to life and make a stunning difference in the look and feel of your bathroom. If you are thinking of completing a bathroom or shower project in the future, then consider installing glass shower doors, or better still frameless shower doors for that stunning and appealing look and feel.