Inspirational Walk In Shower Ideas
Are you looking for walk in shower ideas? Or maybe walk in shower designs?
A walk in shower can be something that can bring a great deal of pleasure to a home. From the point of view that it is so simple to take a quick shower when you have an easy walk in shower at your convenience.
Of course, if you prefer a little more privacy you can still place glass shower doors at the entrance if that is your style. Some prefer that little bit of privacy when taking a shower.
Walk in shower designs can be spacious, luxurious and incredibly relaxing. Plenty of style options and materials to play with, you have the ability to create a living space with lots of personalized options and unique ideas.
Get inspired by our list of modern flavors and contemporary vibes. Whether you're renovating or figuring out a way to spruce up your own home, let's have a closer look at some walk-in shower designs that will knock you off your feet! The thing that is missing here are the glass shower doors.
Check out ideas for smart bathroom mirrors for your next bathroom project…
Walk In Shower With Glass Panels
What a beautiful design. A walk in shower and tub conbo. Not only does this design look stunning, it also makes you want to take a shower or a bath on a daily basis.
This ultra unique design fits both your tub and your stand-up options right inside – that's how spacious it is! It's practically entirely separate room to bathe in, and we love it.
You can never have too much room when it comes to morning routines and we're also a fan of the textures stone walls and bold, dark tones used to create this scene.
White Bright Walk In Shower
A much smaller design than its predecessor, this beautiful design bathroom with a seperate bath, sink and walk in shower with plenty of light is also much more chic and contemporary.
There's a lot of interest in the mixed material choice but there's also simplicity and sleekness that creates a no-mess, no-fuss overall appeal. Just don't be afraid to add a pop of color for a more personalized feel.
✖

September 15, 2023 09:23
Walk In Living Shower
Here's a picture example with an open-air accent. The head comes out of the partition wall and you've got a quick bath and go vibe in incredibly contemporary and chic bathroom design.
This idea is youthful and has a certain "bachelor" essence surrounding it. The windows give off gorgeous natural lighting but make sure if you go with a theme as such you add blinds for privacy!
Walk In Bedroom Shower
At first glance, we fell head-over-heels in love with this cabin. Of course, the spacious feeling and the deep, charcoal tones are welcoming and attractive, but the shower head, falling from the ceiling, makes it such a cozy and luxurious design. There's a very beautiful, feminine look to this space but still ultra contemporary.
Stone Walk In Shower
Here's a great example of some of the elements seen above coming together to make one gorgeous space. Contrasting tones, crisp white and charcoal, a spacious area but still a very neutral and modern vision.
The backdrop wall is filled with organic textures and there's a very quick, youthful glow about it's openness.
✖

September 15, 2023 09:23
Stunning End Space Walk In
Create your very own spa with a plan that has the space, the feel and even the right type of style. Spoil yourself by transforming a traditional floor plan with one that has a very zen and very natural essence.
Check out this sweet and simple end space corner design. Crisp whites with a glass wall, this cabin is clean with a slight contemporary edge in its accents and shaping. We love the height to the large head and it's "rain" effect, making for an even more relaxing experience. Having the water come down on you gently is a different experience than a powerful jet of water.
Super modern and futuristic in feel this glowing example may not be as warm and cozy as some of the ideas above but it sure is inspiring!
Bright Stunning Glass Walk In Shower
Black and white color combinations start its foundation and the blue lights create a romantic and relaxing vibe for nixing the morning grouchiness.
One of the more traditional styles of the bunch. This smaller example is easily replicated in a family home. Glass doors, neutral, subdued tones all come together to create a modern feel, this narrow cabin is on trend but also ready to be used in your own space.
One of the most unique designs, this model has a rustic and Victorian style mix that makes a very personalized look. We love how the floor plan has windows to look out at the morning skies and pretty views with what we assume is a second or third-floor view, making it an even more relaxing experience while inside.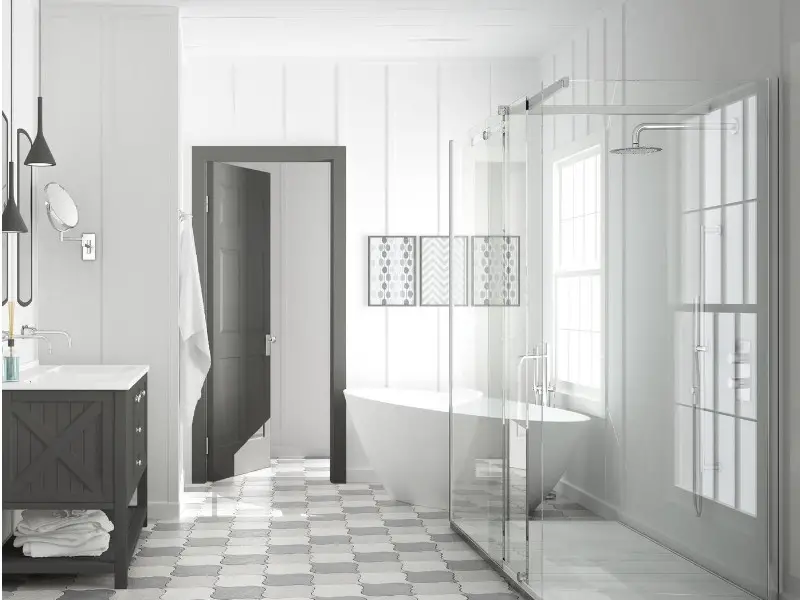 Conclusion
A walk in shower is something that almost everyone who owns a home would love to have installed as it is the perfect way of starting the day.