Cobra Table by Pierre Cardin Studio
Since the 1970's, every piece of furniture from the Pierre Cardin Studio had two primary qualities.  First, each one was a genuine work of sculptural art, so much so that visitors to the Pierre Cardin Museum in Paris can see his designs presented for display as fine art.
Second, every item has true function that makes it appropriate for everyday use in the home.  Cardin himself called his designs "Sculptures Utilitaires," because they have practical purpose beyond their dramatic artistic presence. 
The Cobra table from the Studio Pierre Cardin is a perfect example of the visually pleasing curves that would be admired in any museum of decorative art combined with a perfectly functional work surface that will become part of daily life in your home.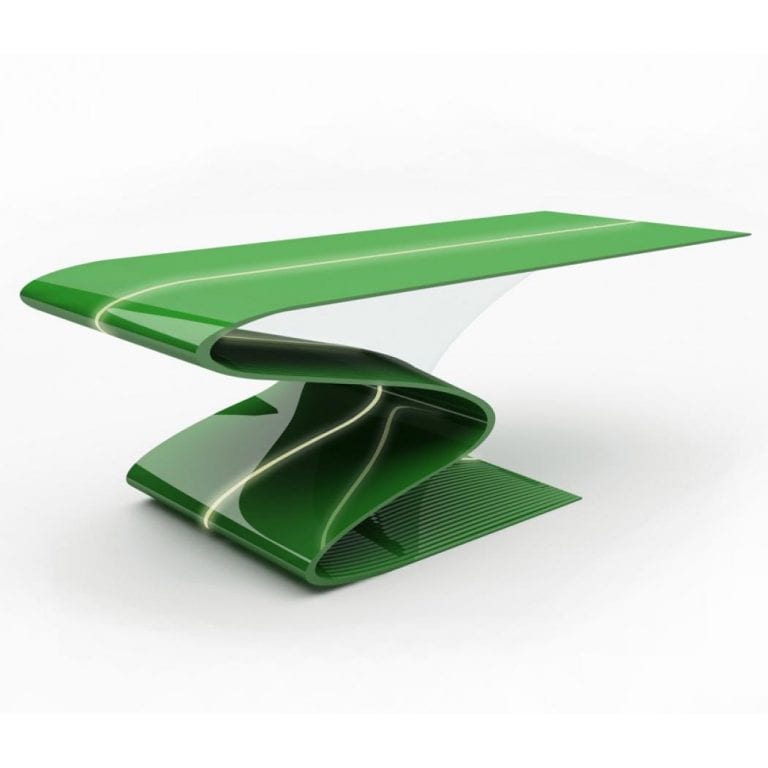 The Cobra Table by Pierre Cardin Studio is crafted into its sinuous shape with high-gloss lacquered wood and Plexiglas.  To highlight — literally — the sweeping S-curves of the design, a strip of LED lights illuminates the form of the counterbalanced table, which only uses one leg for support.  The result is a smooth, uninterrupted line with a hint of sensual fluidity like a liquid form being poured from a glass.
Pair the table with its complimentary chair, also balanced on a single S-curve base, for a complete look.  The Cobra table and chair are offered in custom colors to compliment your style.  The chic table fulfills Pierre Cardin's vision as a designer and artist.  Which aspect do you love more about the Cobra : it's sculptural design or practical functionality?
Related Articles: