Frank Gehry Designer Furniture
1970s Frank Gehry Easy Edges Dining Table
Frank Gehry fancied using materials from his architectural models in his furniture designs. They constructed the Easy Edges dining table from corrugated cardboard.
When cardboard is layered enough times, they build strength into the piece making it suitable for everyday use? It is hard to fathom that the Easy Edges dining table is constructed of cardboard and yet can be an everyday piece of furniture with the stress of weight and movement while still keeping its shape.
Examples of Frank Gehry furniture for resale can be difficult to find and may require some dedication on your part to locate.
Dimensions: 35.75″ x 82″ x 28.5″.
Resale price range: $2,400 – $3,200.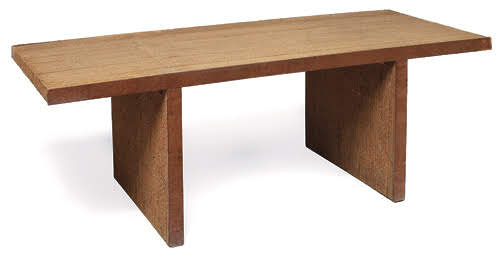 Frank Gehry Heller Sofa
When one of the world's foremost architects creates furniture it will be interesting. Such is the case with the Heller Frank Gehry sofa.
It is almost hard to describe the unique lines and shapes on this couch. I am fascinated with the lines of this piece. The lines are so edgy. There are so many shapes I am amazed at how they come together and form a functional piece.
The construction is a one-piece molded polymer.
Measurements: 30″L x 72″W x 39.5″D x 17.5″SH. Available from mod livin for $1,200
Chances are you have seen at least one of Frank Gehry's modern designs that changed conventional ideas about modern furniture and architecture.
Gehry like many of the icons of the 20th century designed modern furniture to complement his buildings that were seen as controversial at the time it released them.
Here is his Collection Bench from Heller that is intended for indoor/outdoor, commercial, institutional, and residential use and offers a carefree one-piece roto-molded polymer construction.
The Collection Bench is part of the "Collection" series that features an Easy Chair, Sofa, and various shaped seating and table elements.
H: 16 ¾ W: 50 D: 19 11/16 Weight: 24 lbs $860 Available from 2Modern.com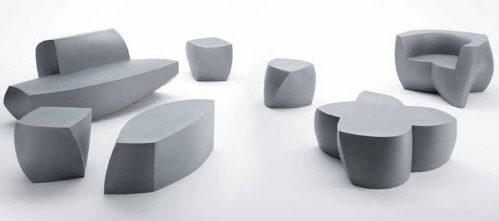 Collection Bench from Heller
Wiggle Chair Cardboard Furniture
The "Wiggle Chair" by Frank Gehry proves that cardboard can be more than something furniture gets packed in, it can be the furniture itself.
This award-winning design by one of society's most important architects, calls on his skills to create a chair that is tested to hold thousands of pounds despite its lightweight construction.
The Wiggle Chair and companion Side Chair are Frank Gehry signature pieces and produced by Vitra of 60 layers of corrugated cardboard held together by hidden screws and fiber-board edging.
These dining or accent chairs are part of the "Easy Edges" collection which includes edges made of hardboard with natural or lacquered finishes from Vitra.
The Wiggle: 24″D x 13.75″W x 34.25″H Side Chair: 21.75″D x 13.75″W x 32.25″H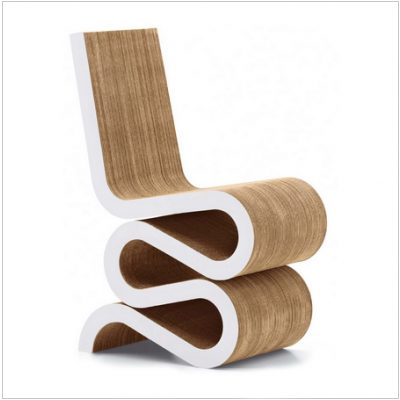 Frank Gehry Designs Ruvo Center For Brain Health
Renowned architect Frank Gehry stuns once again with his latest design project. The Lou Ruvo Center for Brain Health is a testament to Gehry's unique vision and the stainless-steel wonder also highlights his predilection for experimentation.
The research center for degenerative brain diseases has two separate buildings connected by a courtyard and is located at the intersection of I-15 and I-95 in downtown Las Vegas, Nevada.