Give your favorite setting an organic vibe with the Quarry lights by Benjamin Hubert. Just like their name, the lamps bring to mind a quarry and other natural realms. Long used as a luxurious product, marble forms a pendant shade for the lamps. The lamps make use of marble's translucent properties to reveal its veining and diffuse the lights. By using LEDs, the large, internal cavities remain open showcasing the rough cuts which contrast brilliantly with the smooth exterior. The Quarry lights will beautifully light up your home and are sure to spark conversation. Their soft texture brings warmth to any room and their eye-catching pattern makes them a great statement piece.
In collaboration with Spanish furniture manufacturer De La Espada, top designer Benjamin Hubert has created Quarry lights with slim marble pendant lights to cater to the needs of modern homeowners. The hand-turned lights have a roughly finished interior which gives them an enhanced texture. They tell the story of stone production and come in different sizes in capsule-like, rounded forms.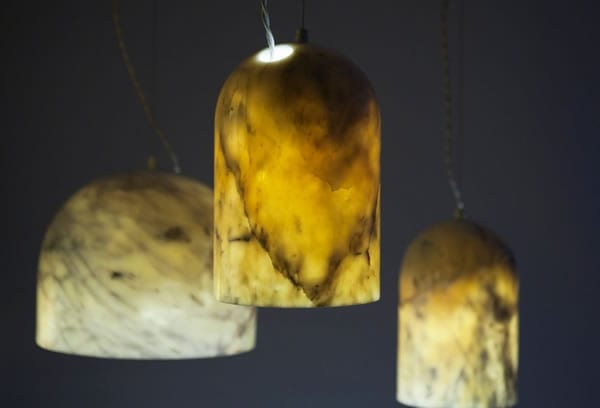 Their beautiful yellow lighting illuminates the marble shade from the interior flaunting its exceptional texture. The light also forms a lively contrast with the marble's grayish veins. The Quarry lights by Benjamin Hubert offer a perfect way to bring the outdoors into your home. Statement lighting is perfect for decorating as it can form one of the room's eye-catching points. Use the lights to create a focal point everyone will adore. If you love marble, these lights offer a fresh new way to indulge your passion.
Don't you simply love the natural beauty of the Quarry lamps?