Every summer families go away on vacation and create memories to last a lifetime. Whether it is a staycation in your local town – but you get to visit tourist attractions you wouldn't normally, or you travel half way around the world, memories should be remembered in your home. Often times we get back home and can't figure out how to display our images. Here are a few ways to showcase them in your home to relive your fantastic time away whenever you'd like.
Image via: Carrie Roby Interiors, LLC
Creative organization ideas for displaying photos: 
Once you get home from your vacation, determine which photos will look the best – especially when enlarged. Many photos look good on your small digital camera screen but once blown up to a standard picture size, they may not. Once you select images you love use shelving, hanging picture wire, and even shadow boxes to showcase your favorite photos. Choose frames that compliment the décor style of your room. Keep a theme of similar color or similar wood/metal frames throughout your composition for a pulled together unity amongst your display.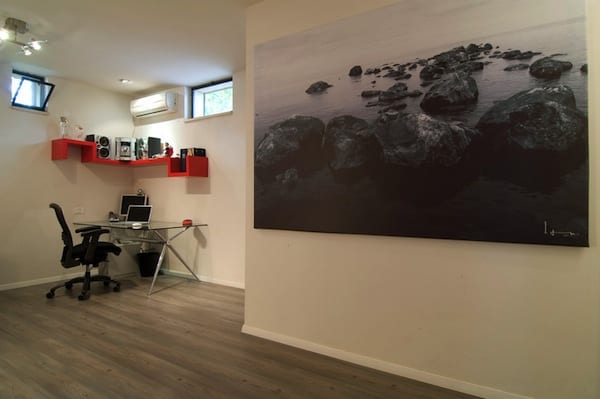 Image via: Nurit Geffen-Batim Studio
Choose an area in your home for display: 
Often times choosing the photos isn't hard, it's finding the perfect place on your walls for them! Walk through your home and determine what areas are open and could use a composition. Consider if you will be hanging a single large image or if you'd prefer to make a collage of several photos. There are some great DIY ideas for creating picture walls. From using reclaimed pallet wood for a rustic feel to using old wood shutters to individually place loose photos in. Wherever you choose to display them, ensure it's a place that is dear to you.  Many homeowners love to put family photos in areas the family loves to play in, while more sentimental images can be placed in bedrooms or your home office for inspiration.
Viscusi Elson Interior Design – Gina Viscusi Elson
Displaying your family images from your vacation is a great way to help the family remember the great times you all enjoyed together, plus it brings a personal element into your interiors. There is nothing better than a room that reflects your design style and has images that grace your walls that are dear to your heart. Try these ideas and before you go on vacation – look through your home to determine what walls could use some great vacation memories. That way when you are vacationing you can take pictures that are specifically for certain rooms in your home!