The Dedon ZOFA Living Room And Patio Furniture
The ZOFA modern seating and table collection by designers Harry & Camila / Dedon of Germany, has a unique way of comfortably accommodating your guests in your living room or poolside as very stylish patio furniture.
ZOFA is a clean and straight forward modular seating and occasional table system that features generous depths and a simple design reduced to only necessary elements. The series features a number of accent and lounge chairs, sofa sectional pieces, and coffee and end tables.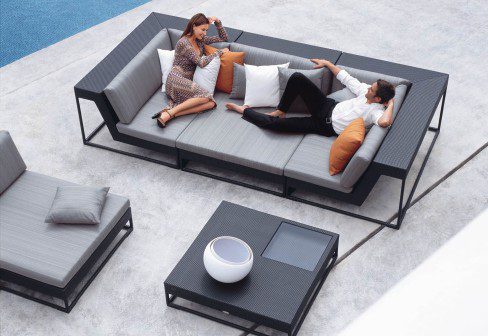 Dedon Alternative
Outdoor Conversation Set All Weather Wicker Sectional Sofa
Dedon Alternatives
Image
Title
Price
Prime
Buy

Top

Modway EEI-2273-GRY-BEI Hide Wicker Rattan Outdoor Patio Porch Lounge Egg Set, Swing Chair with Stand, Beige

Prime

Eligible

Take a Look
Walsunny Outdoor Furniture Patio Sets,Low Back All-Weather Small Rattan Sectional Sofa with Tea Table&Washable Couch Cushions&Upgrade Wicker(Black Rattan) (3-Piece, Blue)

Prime

Take a Look
Best Choice Products Outdoor Wicker Rocking Chair for Patio, Porch, Deck, w/Weather-Resistant Cushions - Red

Prime

Take a Look
PROHIKER 4 PCS Patio Garden Wicker Rattan Cushioned Conversation Sofa Set, 4 PCS Furniture Set Outdoor Indoor(Loveseat Sofa, 2 Single Sofas, Coffee Table) (Black Rattan, Grey Cushions)

Prime

Take a Look
COSIEST 5-Piece Outdoor Furniture Set Warm Gray Wicker Sectional Sofa w Thick Cushions, Glass Coffee Table, 4 Floral Fantasy Pillows for Garden, Pool, Backyard ¡­

Prime

Take a Look
Best Choice Products 3-Piece Patio Wicker Bistro Furniture Set w/ 2 Cushioned Swivel Rocking Chairs, Side Table - Beige

Prime

Take a Look
MOTRIP Wicker Rattan Swing Chair, Hanging Chair, Outdoor Patio Porch Lounge Egg Chair with Stand in Black, Olefin Fabric Cushion

Prime

Take a Look
Mecor 4PC Patio Furniture Set, Wicker Outdoor Furniture Sectional Cushioned Sofa Set with Storage Box Glass Coffee Table and Coffee Table Garden,Backyard,Lawn Furniture with 2 Pillow (Grey)

Prime

Take a Look
PAMAPIC 5 Pieces Wicker Patio Furniture Set Outdoor Patio Chairs with Ottomans

Prime

Take a Look
Modway EEI-2923-GRY-NAV Aura Outdoor Patio Wicker Rattan, Sofa, Gray Navy

Prime

Eligible

Take a Look
ToMe Foldable Swing Chair with Stand, Rattan Wicker Hanging Egg Chair Hammock Chair with Cushion and Pillow for Indoor Outdoor Bedroom Patio Garden (Light)

Prime

Take a Look
Barton Luxury Wicker Hanging Chair Swing Chair Patio Egg Chair UV Resistant Soft Deep Fluffy Cushion Relaxing Large Basket Porch Lounge, Cream

Prime

Take a Look
Product prices and availability are accurate as of the date/time indicated and are subject to change. Any price and availability information displayed on [relevant Amazon Site(s), as applicable] at the time of purchase will apply to the purchase of this product.
Prices pulled from the Amazon Product Advertising API on:
Philippe Starck Designs Play Collection
You know DEDON can't go wrong when they have a superstar like Philippe Starck on board. The Play Collection by Starck wants you to ditch work and frolic in the sun and sand (a girl can dream can't she?)?
Taking design cues from the inimitable Egg Chair, the Play Collection is part retro, part modern and a whole lot fun.
Dedon Alternative
Wicker Rattan Swing Chair, Hanging Chair, Outdoor Patio Porch

Swingrest Hanging Lounger by Dedon
Want to make relaxation an art? Try the Swingrest Hanging Lounger from Dedon. It is similar to the Nestrest Hanging Lounger and is the essence of relaxation. The piece is designed by Daniel Pouzet and stands out for its beauty and style.
It has a basket-like base and an extra-high ceiling similar to the ceilings of the villas in the Dedon Island Resort. Its design is inspired by a bird's nest which is round and organic. The hanging lounger is made in The Philippines in the Dedon Outdoor Living Lab.
It is more spacious than Nestrest and can accommodate more people. Its design is pure and simple and devoid of complications.
Swingrest hanging lounger by Dedon is the perfect piece for your veranda or terrace. It looks good floating above the water or dangling from a tree branch. It can be used indoors and is suitable for any place in need of a stylish lounger.
The piece has a brilliant suspension system and a unique tabletop that rotates 180ᵒ. Its specially-formulated cord holds it securely above the ground.  It has an optional Corian surface where you can place your cocktails and hors d'oeuvres. You can also get it with a fabric curtain for added privacy. The curtain provides shade while allowing you to see what's happening outside.
In the scorching summer months, outdoor seating is crucial. If you want something different from regular lounge chairs, get the Swingrest Hanging Lounger from Dedon. It creates the perfect relaxation spot where you can let go of your stresses. Where will you rest your cares away in the Swingrest Hanging Lounger?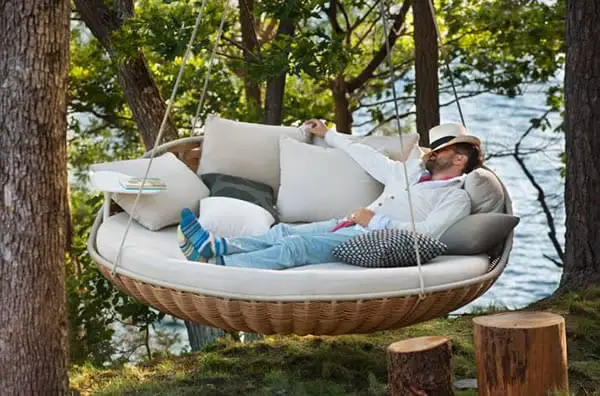 Dedon Alternative
Hanging Pumpkin Loveseat Chair with Stand
7SeaX Folding Chair By Dedon
Award-winning French designer Jean-Marie Massaudhas designed a furniture piece for Dedon that voices poise and novelty loud and clear. Massaud's own philosophy of design being `relevant, light and timeless' comes through very clearly in this creation. The 7SeaX Folding Chair by Dedon adds beauty to any outdoor space. Dedon is synonymous with luxury furniture and its latest piece is a true representation of its work.
7SeaX, a foldable armchair is the perfect souvenir. It is a reminder of how a minimalist ensemble can be both gorgeous and utilitarian. It stands out from the crowd for its intricate details and ingenious design. Offering a colossal selection of materials, colors and textures, the 7SeaX Folding Chair by Dedon comes across as a splendid piece of furniture.
The chair can be used in a number of ways: you can use it for dining, lounging outdoors, or for entertaining. It has a framework of powder-coated, die-cast aluminum and features water resistant yachting fabric and armrests finished in sea-bent plywood.
A variety of innovative, weather-resistant Dedon materials are provided for upholstery. You can choose from leather or woven fabrics.
The 7SeaX Folding Chair by Dedon impeccably reflects Jean-Marie Massaud's conscientious heed to subtleties of design and his thoughtful approach to the same. It is a streamlined, sophisticated, minimalist and modern ensemble.
You'll enjoy relaxing on it outdoors on cool, summer days. Who knows, you may even want to get more than one piece for your entire family. Do you see yourself lounging on this stylish chair?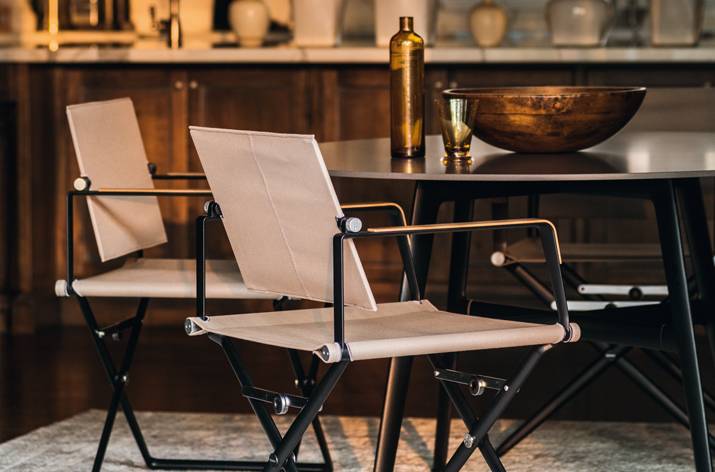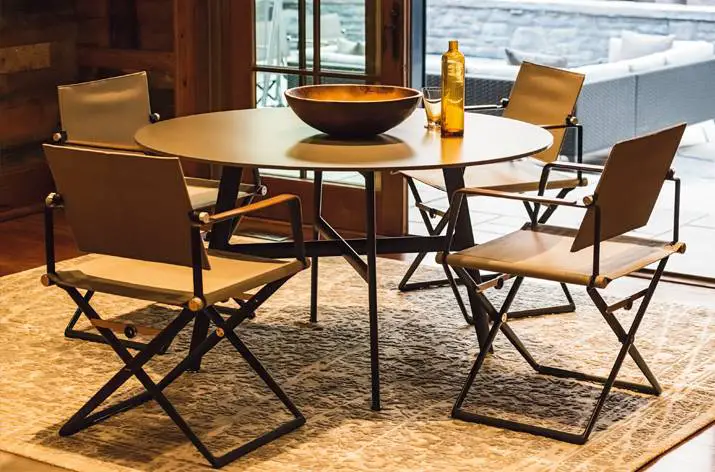 Leaf Lounge Chair By Dedon Furniture
Designed by multiple award-winning industrial designer Frank Ligthart, the Leaf Lounge Chair is a fresh respite from the usual mundane lounge chair design. They make the chair for Dedon, a brand acclaimed for its exclusive outdoor furniture.
The "Leaf" modern outdoor lounge chair from DEDON needs no real explanation, the benefits seem rather obvious. There is however two accoutrements, a curved side table and thick breathable cotton pad that make for a real quality lounging experience you should know about.
This organic lounger is available in two sizes and was the recipient of the "Award for Outstanding Design" by the British Interior Design Association. Outdoor furniture this cool definitely deserves a worthy back drop. See the entire collection of stunning furniture for all outdoor settings by DEDON.
The Leaf Lounge Chair by Dedon stays true to its name. It is a literal depiction of a leaf. It boasts a lovely silhouette with gentle curves and is a rather unusual take on a casual beach chair. They manufacture it in two sizes, single and double, and fully accessorized with a matching side table.
Leaf is a complete package; it gives a sensual high and offers an opportunity to unwind with nature. It is available in two versions: Seagrass and Java. It makes up hand-woven HULARO fiber on an epoxy powder-coated aluminum tube frame. It is highly durable thanks to its rust resistant framework.
The beach lounger beautifully contours the body of the user, lending comfortable ergonomics. Its breathable foam rubber cushion adds to its overall luxury. Leaf Lounge Chair by Dedon is an ensemble that excels in both looks and functionality.
Recently, Leaf was conferred the `Award for Outstanding Design' in a globally recognized design award ceremony held by the British Interior Design Association. It earned a stamp of approval from the international design fraternity for its unique aesthetic quality.
It is perfect for any outdoor setting. Wouldn't you love to experience sunsets on the beach while seated on this beautiful lounge chair?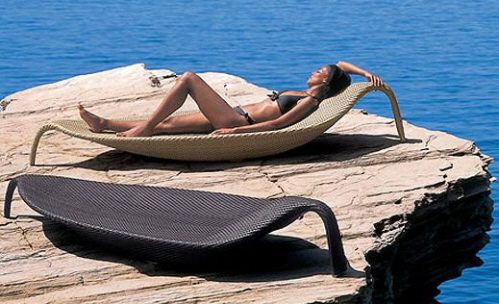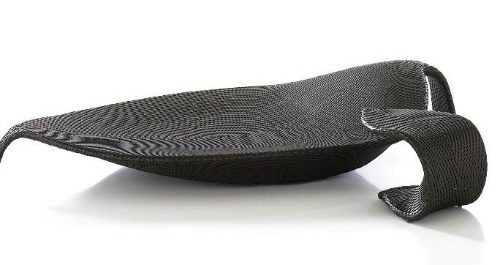 Dedon Furniture Seashell Collection
Your back yard may not look this good, but your patio furniture sure can. Dedon's new Seashell collection done in collaboration with designer Jean Marie Massaud features their all weather resistant weave that offers a breathable carefree maintenance for comfort and lasting good looks.
Dedon specializes in "exotic" outdoor lounge and Luxurious Patio Furniture, the kind you see at luxury resorts and spas worldwide, and maybe even your backyard or seaside villa.
Luxury Patio Furniture Design by Richard Frinier
There is no mistaking that Dedon is one of the top manufacturers of luxury patio furniture on the market. Each piece is constructed by hand of the finest wicker around. You can see the level of detail that goes into each piece.
I always admire their amazing designs and think of how dramatically different they are than the old standby plastic stackable chair! The designs are the creation of Richard Frinier, a California designer.
Richard's canopy chair has become a symbol of what patio furniture can be. In the pictures of their products, there is a canopy chair in the first image. That is the Orbit chair which retails for $7,800.
Dedon's products are truly for the luxury oriented.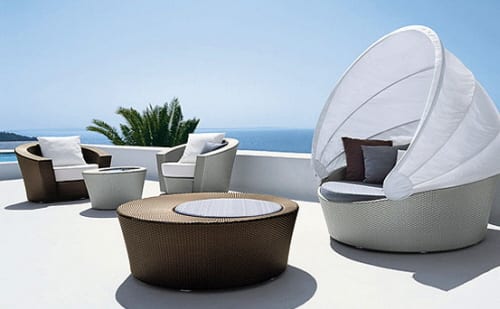 Zofa Lounge Chair From Dedon
It's everyone's dream to have great outdoor patio furniture where they can relax and escape the rigors of the world. One of my favorites is a quality lounge chair that offers a chance to recline and take that edge off. The Zofa lounge chair from Dedon offers great looks and the chance for such relaxation.
Pictured here in chalk color, the Zofa collection is made of top notch woven fibers with ample cushions. I particularly enjoy the small side table, which is perfect for your favorite beverage whether it be coffee with the morning newspaper or a cool margarita as you watch the sunset.
Dedon stops at nothing to ensure the best quality in craftsmanship. Each piece is hand woven and contains hundreds of meters of fibers. It is not uncommon for a single piece from their line to take up to 7 days of weaving to complete. Another advantage to hand weaving, is that each piece is unique in its own right.