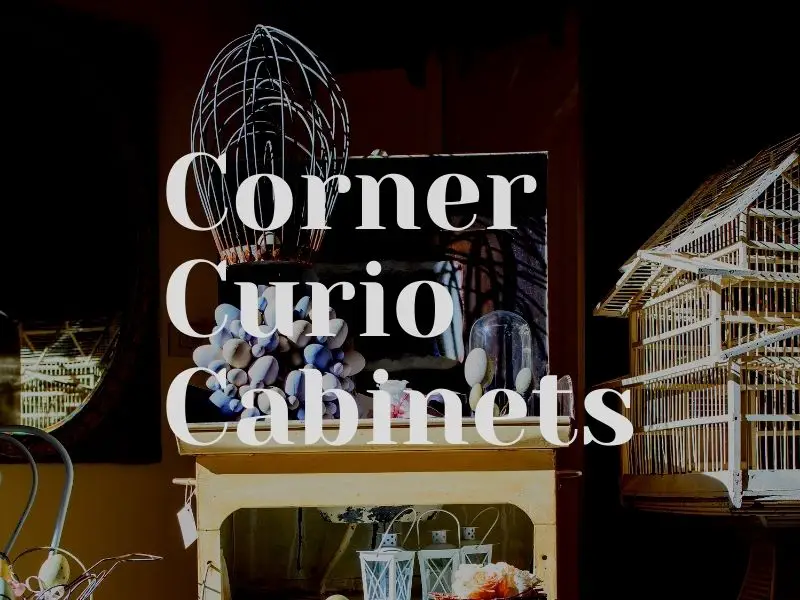 Corner Curio Cabinets Ideas
Do you have a dull corner or bare nook that needs a bit of refreshing? Does your home have large, open spaces (lucky you!) and you are at a loss on how to fill areas with interest and stylized ideas? Do you have a small space a small corner curio cabinet could fill?
Well, instead of creating clutter or leaving things without a lot of design initiative, what about taking something like a storage unit and having fun with the decor process? Let's look at 10 corner curio cabinets ideas and designs that each have a specific interior genre and ways to incorporate lots of personalities and useful storage space.
Why do you need a corner hutch? For decorative purposes, to make your kitchen more organized or simply for storage. The best part about them is that they can be purchased in various styles and sizes so it's easy find one to fit any home decoration! Some are designed with shelves for storing items like wine glasses while others have cabinets which provide additional room for clothing.
In a Hurry?
A Quick View of "THE" Most Popular Corner Curio Cabinets
Image
Title
Prime
Buy

Top

Coaster Home Furnishings Rectangular 4-Shelf Clear Curio Cabinet, 63.75" H x 14.25" W x 16.75" D, White, Chrome

Prime

Eligible

Check Latest Price on Amazon
3-Shelf Glass Curio Cabinet Black and Clear

Prime

Eligible

Check Latest Price on Amazon
BELLEZE Woody Lighted Corner Curio Cabinet Tempered Glass Door 6 Shelves, Cherry

Prime

Check Latest Price on Amazon
GOOD & GRACIOUS Corner Curio Cabinet with Tempered Glass Door and Light System 6-Tier with Adjustable Glass Shelves Display Cabinet, Walnut

Prime

Check Latest Price on Amazon
BOWERY HILL 5 Shelf Contemporary Glass Curio Cabinet with Black Ladder Frame

Prime

Check Latest Price on Amazon
Lighted Corner Curio Cabinet - Mahogany

Prime

Check Latest Price on Amazon
Solid Wood Tuscan Style Small Wall Curio Cabinet, Stand or Wall Mount, 19.75" W X 26" H X 7" D (Walnut)

Prime

Check Latest Price on Amazon
Pulaski Side Entry Curio Display Cabinet, 21.0" L x 11.0" W x 77.0" H, Cherry

Prime

Eligible

Check Latest Price on Amazon
BOWERY HILL Hexagonal 4 Shelf Glass Curio Cabinet Display Case in Black and Chrome

Prime

Check Latest Price on Amazon
Leick Home Hall Console, Weathered Gray

Prime

Eligible

Check Latest Price on Amazon
Black Corner Curio Cabinet
Slick and neutral, we love how this cabinet keeps within our favorite interior design trends: modernized style. Black is always in and there's space enough for both displaying possibilities and organizational needs.
Hide and tuck away extra blankets, the family's board games or even some magazines and books in the bottom section, and then use the top shelves for displaying parts of your flea market vase collection or other pretty pieces you have been needing an excuse to show off!
Display your favorite items and give them a place to stay with this Display Curio Cabinet. Its easy-to-open clear glass door showcases the 3 interior shelves, giving you space for storage or display of anything from an old family heirloom to that latest hardcover novel everyone is talking about. The metal handle gives it modern style while also being practical so opening doesn't require both hands!
Make the most of empty corners in any room with this Display Curio Cabinet which offers stylish storage and display behind its innovative design – featuring a functional yet decorative front panel made out of tempered safety glass; three (3) built-in ceramic shelf spaces perfect for showcasing pictures, bookshelves, electronics etc.; finished back panels; two sets (
Key Features
Perfect for use all over the home

Show off as well as protect your glassware

Comes with 3 shelves

Metal handle for added style
White Wood RiverRidge Corner Curio
This tall corner cabinet has three shelves for storage and two interior shelves that can be used to store anything. The RiverRidge Madison Collection Tall Corner Cabinet is also great in a kitchen, bathroom or living room as it fits conveniently into corners!
Key Features
Constructed of durable medium density fiberboard

Open shelves include one adjustable and one fixed shelf

Adjustable interior shelf

Flat, silver handles add a modern impression to cabinet doors along with the clean, horizontal grooves

Secure to the wall for added stability

Maximize storage space and complete the set with four other Madison items
Delia II Curio Cabinet
The Delia II Curio Cabinet is the perfect complement to your living room or bedroom—or any other space in need of a show-stopping, yet functional piece. Its wire brushed finish gives it an antiqued appearance that will add another dimension to your décor while its spacious interior offers ample storage for all those family heirlooms.
With the Pad-Lock metal shelf clips from Creative Solutions, your shelves will always be in place. Made of sturdy materials to last even with heavy use, these cushioned locks are adjustable for stability on uneven and carpeted floors. The best part is that they're made right here in America!
You'll have peace of mind knowing that all items placed on top won't fall off or slide out when you want them most thanks to padlocks by Creative Solutions. The personality and wild flavors of this cabinet will leave it as a fun focal point and a conversational piece for any room of the house. Pay attention to the details of the case, it's quite delicate and beautiful, don't you think?
Key Features
Aged Linen finish wire brushed for a natural reclaimed wood appearance

Lock your shelves in place with cushioned Pad-Lock metal shelf clips

Made in the USA

Founded in 1926 and still family-owned in its third generation, Howard Miller is the world's leading clock company and a respected brand name 
Delia II Curio Cabinet
A beautiful cabinet full of hardwood and veneers and wire brushed for a natural stunning finish.
Cherry Finish Corner Curio
This is another great example of a cozy, traditionally styled option. It fits perfectly in the corner with its deep, cherry-hued foundation and has beautiful accents for a delicate touch. We love the fact that you can not only organize and store items understand in a tucked away fashion, but you can also display your finer decor pieces in the upper half without having to worry about little ones grabbing them off the shelves.
Key Features
Touch opening magnetic hardware

Corner Cabinet

Expert construction
Howard Miller Glass And Wood Corner Curio
Another wood cabinet that fits in well with a variety of interior design themes and genres, it also has the perfect amount of space for showing off a variety of goodies. From classic China to souvenirs from around the world, the separate and sizeable compartments make for an interesting and functional option. The mirrored backing from inside also helps to create more space in and around the corner – which is always a plus.
Be the envy of everyone who comes to visit your house with this stylish Cherry Corner Curio Cabinet. Featuring a mix of old world charm and contemporary design, it is sure to become one any home's most elegant accent piece. This cabinet has four glass panel doors that open from above for easy access on top as well as two shelves at eye level underneath! Inside are three adjustable spots perfect for displaying books or other small pieces you want close by but out-of-sight in storage compartments below so nothing gets lost under piles like tchotkes only seen during seasonal cleaning sprees. With its black plinth base and curvy corner shape, anyone will be jealous when they see yours first!
Key Features
Crystal-cut grooved glass on the front door

A glass mirrored back enhances your treasures

Four glass shelves offer ample space for your collection

Front-opening door provides easy access to the shelves

Incandescent lighting illuminates your collection
Prices pulled from the Amazon Product Advertising API on:
Product prices and availability are accurate as of the date/time indicated and are subject to change. Any price and availability information displayed on [relevant Amazon Site(s), as applicable] at the time of purchase will apply to the purchase of this product.
Steel And Wood Corner Curio
This is another great example of a small but mighty piece of home decor. It's modern, it's fashion-forward and will intrigue many a visitor who walks through the door. Place it in the dining room table, living room or even in your home office for an easy ay to display, store, organize and create a room full of ahead-of-the-time thinking and trends. Again, the mirrored backing will help create the illusion of extra space and light, which is one of the best benefits of interior design and decorating.
Swivelling Corner Curio
Truly show off your unique antiques or beautiful collectibles with a translucent case. The black finish helps to create a slick and edgy modern curve and the rounded stand just amps up the personality and youthful measure. We would love to see this piece flying solo in a long and wide hallway or even in a bonus room meant for entertainment purposes.
Windsor Brushed Oak Corner Curio
How could you not love the skilled perfection and homey appeal of this wooden cabinet? Probably one of the most versatile pieces of the pack and can be used for so many organizational and decor needs. From breakfast nooks to guest rooms, there are literally a variety of ways to make this piece of handcrafted perfection work throughout your home. It can even easily be used as a personal bookshelf for your own choice book collection.
All Glass Corner Curio
Is this one not the absolute coolest? Its contemporary style and futuristic vibes give it a great spot to help enhance a chic studio apartment or suave bachelor pad. Create a wine bar or entertaining area in the corner this piece calls home, or just use it as an easy decor piece for an area that needs a bit of interesting transformation. The fact that you can organize and take care of your collectibles easily gives anyone great benefit.