Stunning Compact And Spiral Staircase Designs
Today is all about inspiration. Whether you are designing your own home or just looking for some ideas and imaginative thoughts for someone who is redecorating or refurbishing, these creations need to be seen.
Instead of the usual, carpeted staircases for your home, why not get a little more playful and stylish in that department? The glass staircase design would be something special in any modern home.
Let's take a really good look at amazing compact staircase designs that have personality, vision and fashion-forward spirit!
Office and Storage Staircase
This one doesn't even look like a staircase at first glance. Instead it provides a lot of functional progress in a small space. From a desk, to display and artistic accents, this design is an incredibly inventive way to utilize the nooks and crannies of your small house or apartment.
We also love the mixed material appeal, giving it a more youthful and interesting look.
Compact Metal Staircase Design
A tunnel with an inventive spirit, we are loving this idea! It, of course, works to get you from one floor to another, but it also provides this space with an artistic focal point just like a sculpture or large painting would.
Again, this is another mixed material staircase creation of metal and wood that gives the entire room a more fashion-forward and youthful appearance.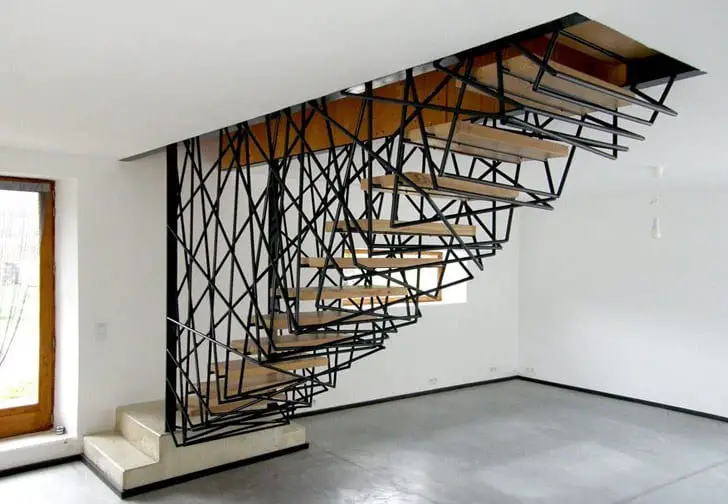 Elegant Glass Staircase Design
A really modern look for a super chic and contemporary home, this glass staircase design is filled with slick beauty and impressive styling. Although it's not the most family-friendly, or the most safe, it sure brings a lot of sass and elegance into an otherwise more bare space.
The glass stairs will have to be cleaned more than other materials, but they sure are pretty! Glass stairways are unusual. Take a look at these glass staircase designs for more ideas.
Compact Black Stairway
Beautiful and bold. Check out this black staircase design! A studio apartment or townhouse can be used for so much more, creatively, than you may think. This piece definitely has a unique and powerful presence, as it fills the room and fills the function of getting around to the next level.
It's quite a fun black staircase design. Imagine the colors this could come in for a more lively addition!
Spot The Bookcase Staircase
Can you even spot the stairs that can get you to the second-level bedroom? A staircase built right into the bookcase with an illusion that may have your eyes going crosses, these stairs are chic and provide a simple presence without too much bold looks or fuss.
We love how guests may not even notice the usability of the piece until it's time to go upstairs.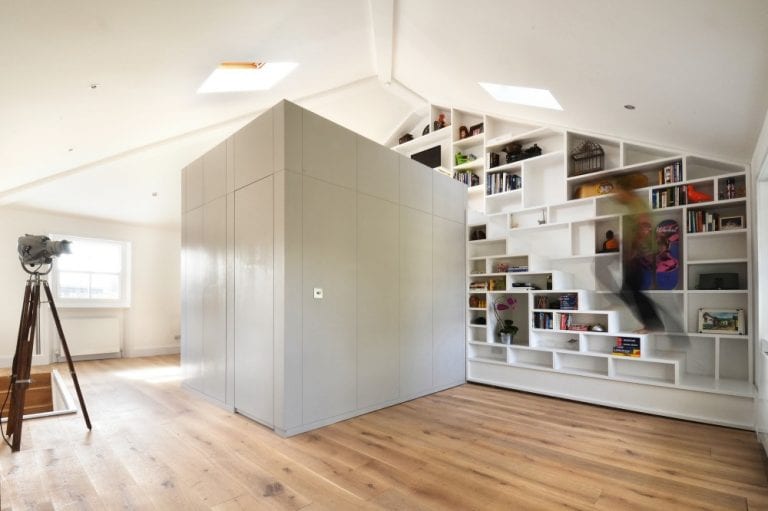 A Floating Staircase
Bet you haven't seen too many floating staircases! Again, we love how this can act not just as a way to get to the next level, but as a way to create interest and artistic appeal to the walls of the space they're in.
It's such a unique way to spruce up, even when you're using more simplistic lines and designs around the rest of the house.
A Vertical Compact Loft Stairway
They're cool, but looking at this compact design makes us nervous as it's more like a ladder finish than an actual staircase. Keep your balance but impress your guests with this industrial and masculine-styled set.
It's definitely a bold and fashion-forward choice, although we suggest you be careful if you go with something similar in your own home!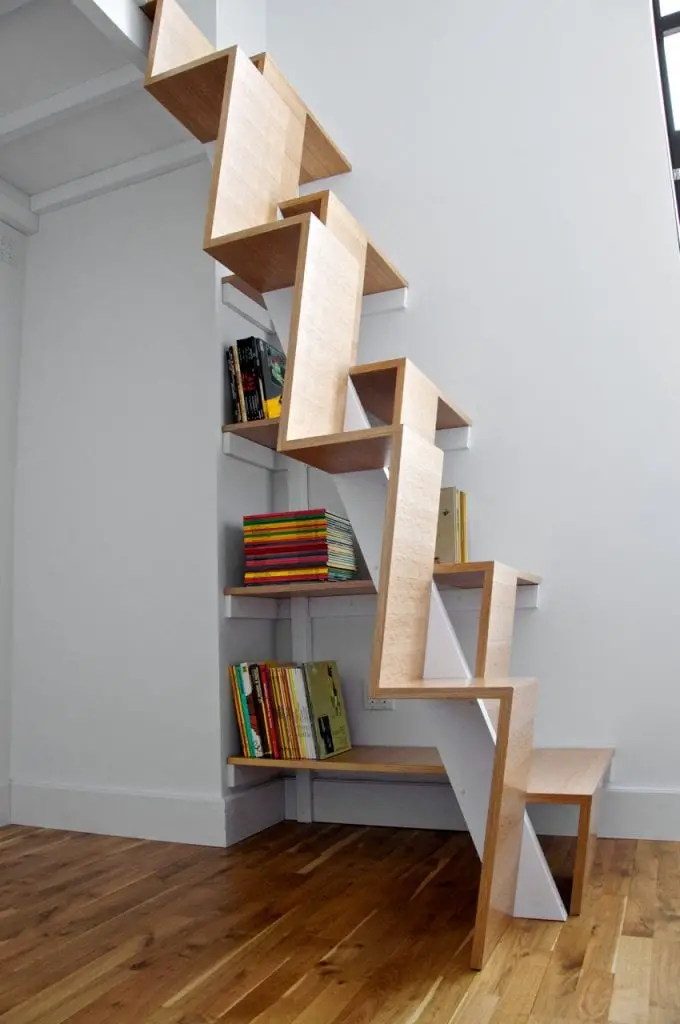 Stunning Spiral Staircase
It's okay to get inspiration from other types of spaces when creating a vision for your future home. Take this design for example, obviously this isn't from a family house, but you can take this idea and make it work for your own personal space. It's modern, fresh and wintery and whimsical.
The Bookshelf Staircase
Remember, these are more compact designs, so they will not be as wide as what we're used to in most homes.
Instead, they provide function and crisp style, like this wooden set that blends into the corner and a simple bookshelf with such an ease and sophisticated, smooth style.
Elegant White Outdoor Stairway
This free-flowing, geometrically styled look is fun, light and delicate. We love how it meshes within the space without being too bold or becoming an overbearing force in a simply decorating area.
We also love how to spirals into the next floor within a circular cut, how creative and unique, but still very quaint and cozy!
Beautiful Wooden Staircase
Descending in size as every step, this compact design has a great take on contemporary and fashion-forward design and function.
They're innovative but not overwhelming in this masculine and hipster-inspired apartment space. Again, you'll just have to be careful the farther up you get as the stairs get smaller as you rise.
The Artistic Stairway Design
This is another design that deserves a hat off and a simple, "Wow!" Yes, they work as stairs but the beauty of this piece is its artistic development.
There is a very delicate presence to the set and a modern flair that takes the folded and floating effect to the next level. This piece also spirals up through a circular cut, which is beautiful on its own!