The Prostoria Combine sofa collection is distinguished by its unique line, which extends along the entire length of the sofa and thus shapes its overall design. Combine is a unique sofa system, which can be configured from a 2 or 3-seater sofa to an L-sofa.
The Combine sofa collection is made from a wide combination of beautiful sofas for your modern home with elegant wood or steel legs that give your new sofa its own personal touch. The wooden legs can be chosen in many different colors to match the interior the sofa will be placed in. Depending on the choice of wooden or steel legs and optional cushions, the style and the application context of Combine sofa collection varies, enabling the user to define his or hers own preferred character of the sofa.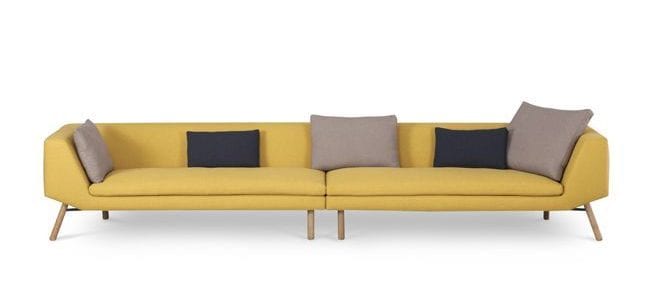 A sofa should not only be practical in the modern home but also look good. Combine sofas give you a good comfort, as well as aesthetics. All items that are part of the collection are designed to create a cosy area in a living room, a special space in which to chat and relax. Each combination of wood, metal, textiles and leather, with a passionate attention to detail, gives these extremely versatile items a particular charm.
 
Designed by Numen/For Use for the Croatian brand, Prostoria, reflect a very strong sense of design combined with an immense attention to details that almost become the center of attention. Each sofa can be upholstered in Prostoria's large range of high quality fabrics and leathers, allowing the customer to own a custom made product.
The eye-catching line that defines the Combine collection will also turn it into an appropriate choice to furnish either small city homes or imposing public spaces such as hotel lobbies and office areas. The contemporary silhouette is an appealing attraction welcoming the viewer to appreciate the comfortable seat.