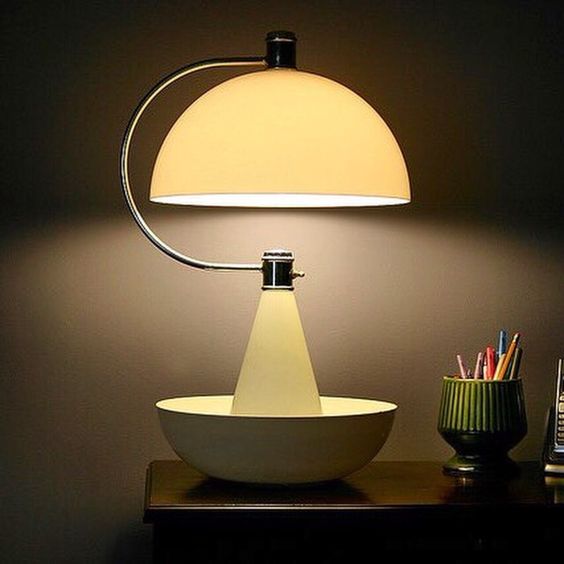 Why Choose Bauhaus Furniture
Let's face it, everyone has a totally different taste in interior design, and if minimalism and simplicity are more down your alley, then you are almost guaranteed to be drawn to the Bauhaus look.
The principles of Bauhaus are centered around just that. Simplicity, plainness, high-quality craft pieces using high-quality materials, modernism, and a sense of streamlined aesthetics. Its design encompasses functionality over beauty, but it still manages to draw in aesthetically pleasing features with the use of simple design elements.
The Bauhaus movement was born in Germany in the early 20th century, and literally translated means "building a house". It has evolved over the decades from a sole architectural style to incorporating furniture and other home elements in it. Today, not only are homes still built following these principles but modern interior decorating has kept bringing back these elements over the years and incorporating the Bauhaus furniture into the minimalist interior design.
Lately, it has had a very large influence in interior decorating and modern furniture design has the recognizable stamp of Bauhaus design on them. So, if you are looking for that simple, elegant look to add to your home, look no further. We put together the top pieces that you can add to your home and how to get the look just right in your home.
Choosing the Iconic Wassily Chair
One of the most iconic pieces of Bauhaus furniture that you simply have to have if you are an avid Bauhaus fan is the Wassily Chair. The essence of the chair is a club chair that has been reduced to its elemental concepts, lines, and planes.
Created by Marcel Breuer in the mid-'20s and named after the painter, Vasily, who was friends with Breuer at the time, the chair is an experimental play on forms. He experimented with tubular steel as a framework to almost suspending the canvas seat, back, and arms, and the result is a logical, mechanical concept that makes the chair look like it hangs in space.
Because this chair is so iconic, it is important to place it correctly in your home. It is no good shoving it in a dark corner where it won't be seen, so make sure you display it as an accent chair. You can pair it with a couch, or place it against a wall with a plant next to it, and a standing lamp to really highlight the chair.
Due to the fact that the chair is quite stark, you can choose to keep the highly minimal look flowing by adding similar stark furniture around it. Or you can add a bit of depth to the room by adding color around it and adding a larger, more substantial couch.
Bauhaus Furniture Vassily Chair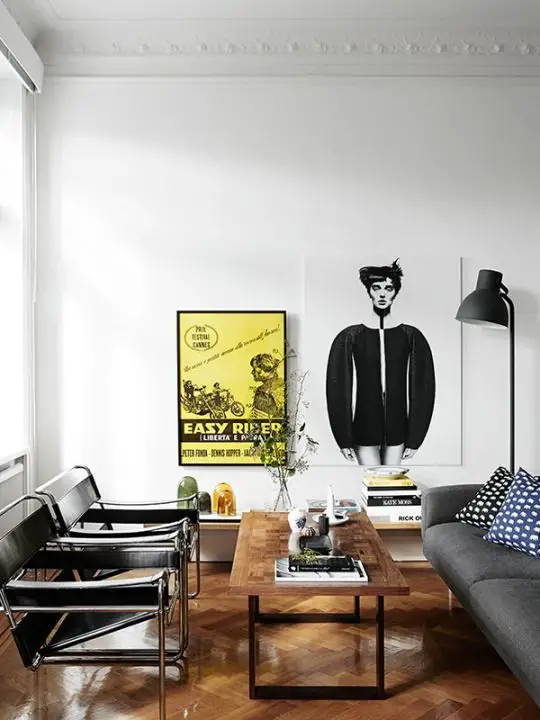 Having made it all the way from the early days of the modern furniture movement, the Wassily chair designed by Marcel Breuer in 1925 has surlily graced just about every setting possible.
Here is the mid-century classic. If you are going to decorate in timeless furniture the Wassily chair is a staple that apparently works well as outdoor patio furniture.  Two things that are sure to be popular in the future, alternate power sources and classic modern furniture.
Marcel Breuer Wassily Chair
Pairing Up with the Laccio Tables
Also designed by Breuer in the same time frame, these chairs follow a similar structure. Tubular steel in polished chrome finish acts as the framework of the table, while the top of the table is either satin finish, smooth plastic laminate or marble, depending on the choice of table.
The first table design was based on the frame of a bicycle, and in the decades since, has not been greatly altered. The laccio table is an ideal accompaniment for the Wassily chair, and you can pair both in your living spaces or bedroom. If you don't have a chair to accompany the table, you can place it next to a Barcelona chair to really break the starkness of the table, or center it in between a couch and two chairs.
Make sure you also put as little as possible on the table. It is meant to keep its ultra-minimalist look, so a simple book placement or even bowl will suffice. The tables mostly come in black and white and make for an eye-catching feature when paired with the stark steel finishes. You can pick out a table with a red or orange inset if you really want your table to stand out.
If your home is mostly white or even monotoned, it could be worth your while picking out a Laccio table with a bit of colour to make it pop in the room.
Bauhaus Furniture Laccio Tables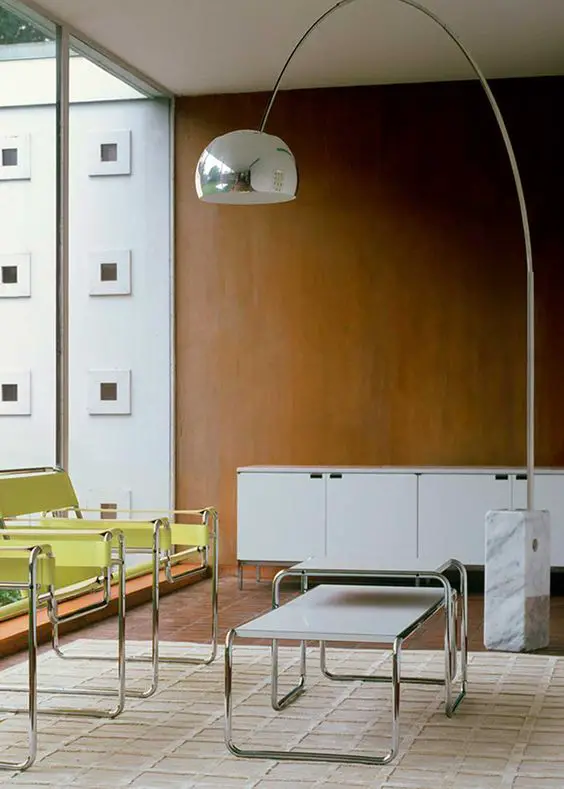 Adding Elegance with the Barcelona Chair
Designed by Mies van der Rohe in 1929, the chair is thought to be one of the most elegant chair designs ever conceptualized. It was literally designed with royalty in mind when he created it for the German Pavilion which hosted an inaugural ceremony attended by the Spanish King.
The chair is supported by two simple, polished flat steel bars. Crossing over each other, the front bar and the back bar form a gentle, elegant intersection, supporting the seats and back. They are traditionally made from leather and upholstered with 40 individual panels cut, hand-welted, and hand-tufted from a single hide. It fits perfectly with your living room's minimalist interior design.
You can either use these as accompaniments to your couch or choose to place them around a coffee table as the primary seats for the room. As with the Wassily chair, they do give off a minimal tone, so make sure you keep the surroundings as minimal as possible, with bursts of color in ornaments, throws, or cushions. The chairs are traditionally black or white, but you can get your hands on an ox-blood or tan to really make it pop in the room.
Bauhaus Furniture Barcelona Chair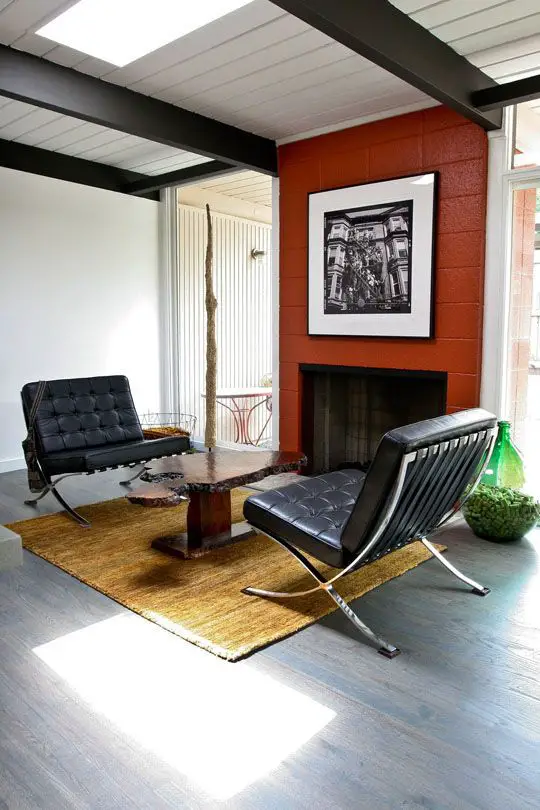 Not Forgetting the Must-Have Nesting Tables
The last must-have to add to your Bauhaus furniture is nesting tables. Designed by Josef Albers in 1926, these are one of the most iconic table sets of the whole concept. Ranging in different sizes, they fit into each other and can be tucked away or nested for storage.
Traditionally, they come in four different colors, one for each table. They are the ultimate combination of geometric shapes and colors, traditionally combining glass and wood for the table. These are the perfect solution for small spaces, as they can be carefully stored, and pulled out when needed. Their simple design means that they will complement a sleek and simple room, so you can choose to place them in any space you see fit.
Be selective of what you place on each table. Over-cluttering all of the tables will counter that minimalist interior design that you have been wanting to achieve. So, you can either leave one empty or reduce the ornament size or number as the table gets smaller. A book and a bowl, for example, will be a great addition to the first one, but a smaller bowl will suffice for the second.
Also, just keep in mind that if you have opted for the multi-colored nesting tables, you will need to keep the other furniture and wall colors incredibly mono-toned around them to not overdo it. You can offset each color with another addition in the room. For example, a red throw on the couch, a bright blue cushion, or an orange wall hanging. Don't forget the plants!
Bauhaus Furniture Nesting Tables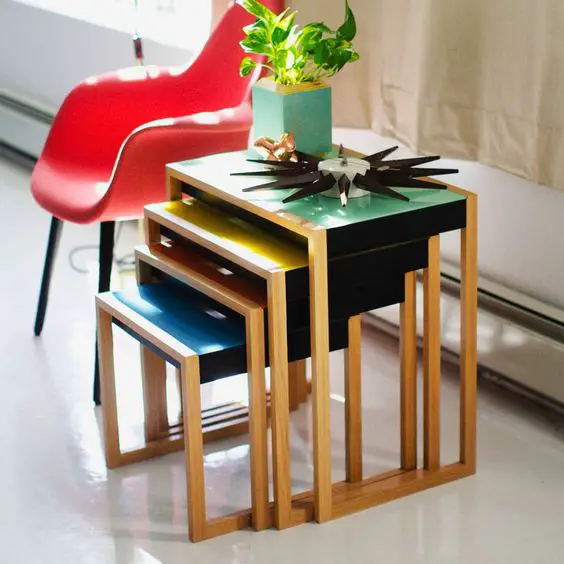 Adding the Finishing Touch with Bauhaus Lamps
Bauhaus lamps come in several different designs, each practical, minimalistic, and designed for function. The table lamp is perhaps one of the most recognized designs with its cylindrical shaft and spherical shade.
Created at the end of the 1920s it has stood its ground in design elements throughout the decades and can still be found placed on side tables, cabinets, and end tables all over the world. Another table lamp, the Kaiser Idell, created in 1931 by Christian Dell, adds a different element to a room. Its curved stand and asymmetrical, dome-shaped shade set it leagues ahead of its time.
In addition to that, this was the first lamp that he used the newly patented swivel joint on, and the lamp takes on a unique, elegant feel. It is an ideal addition to a side or end table, or even as a working lamp for a desk.
To complete your collection, consider adding the Kaiser Idell Scissor lamp to your home. Also sporting the patented swivel connection and the domed shade, the lamp allows you to pull it out and retract it as you need it. It is the perfect addition to your desk and library and has been designed practically for reading purposes, together with its elegant design.
Bauhaus Cream Colored Lamp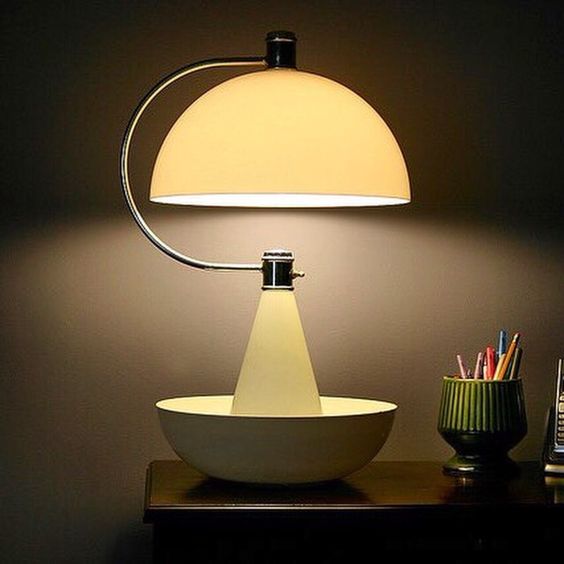 Wrapping Up With Final Thoughts
The Bauhaus movement has made a huge comeback over the last few years with people looking to streamline their living spaces and declutter their homes. It is reflected in both interior and exterior architecture as well as in the design elements in the home.
The original Bauhaus furniture can take a chunk out of your pocket, but due to its craftsmanship and functionality, is absolutely worth the investment. What you do need to keep in mind when picking out a piece is that you will need to pair it with the right elements.
Make sure that your other furniture reflects the charismatic simplicity of Bauhaus design, and avoid choosing overly heavy pieces to include in the same space. Ensuring that the room flows and is streamlined is your top priority when choosing your pieces.
An Alternative Selection Of Quality Furniture Pieces
Image
Title
Price
Prime
Buy

Top

Top

Pulaski Modern Industrial Metal and Leather Aviation Accent Arm Chair

Prime

Eligible

Take a Look

Top

Pulaski Handmade Aviation Accent Chest, Medium, Black

Prime

Eligible

Take a Look

Top

Butler Specialty Company Midway Aviator Living Room Coffee Cocktail Table - Silver/Gray

Prime

Take a Look

Top

ACME Brancaster Desk - 92190 - Aluminum

Prime

Take a Look

Top

Safavieh Safavieh Home Collection Aviator Desk, Silver

Prime

Eligible

Take a Look

Top

Best Choice Products Modern Faux Leather Convertible Futon Sofa Bed Recliner Couch w/Metal Legs, 2 Cup Holders - Brown

Prime

Take a Look

Top

Minka-Aire F844-DK Light Wave 52" Ceiling Fan with LED Light and Remote, Distressed Koa

Prime

Take a Look

Top

Hand-Hammered Aviator Aluminum Mid Century Modern Classic Arne Jacobsen Style Egg Replica Lounge Chair with Premium Vintage Wax Black PU Leather Fiberglass Inner Shell and Polished Aluminium Frame

Prime

Take a Look

Top

NauticalMart Aviator 3 Door Sideboard End Table

Prime

Take a Look

Top

NauticalMart Side Table - Metal Side Table - Metal End Table - Office Furniture - Metal - Airplane Metal - Side Table - End Table

Prime

Take a Look
Product prices and availability are accurate as of the date/time indicated and are subject to change. Any price and availability information displayed on [relevant Amazon Site(s), as applicable] at the time of purchase will apply to the purchase of this product.
Prices pulled from the Amazon Product Advertising API on: