Bubble Tents And Hotel
Are you always flying to your next destination and booking hotel after hotel? What if there was a different way to rest between flights such as a micro-hotel right inside an airport? The Bubbles micro-hotel in the images below can be your temporary home every now and then and it will surely let you rest and even work in between flights.
We've seen plenty of furniture designs for small apartments lately but the furniture concepts in these tiny homes, yet practical rooms definitely need to be commended. From the outside these Bubbles look like simple boxes but inside you'll find everything needed to ensure your comfort while you're waiting for your next/delayed flight.
These Bubbles boxes come in different shapes and sizes and will accommodate more than one person if needed. All we need now are some for airports around the world to start making them.
NOTE: The idea for these hotels came around in 2010. It does not seem to be here anymore even though the website still exists.
Bubble Hotel Room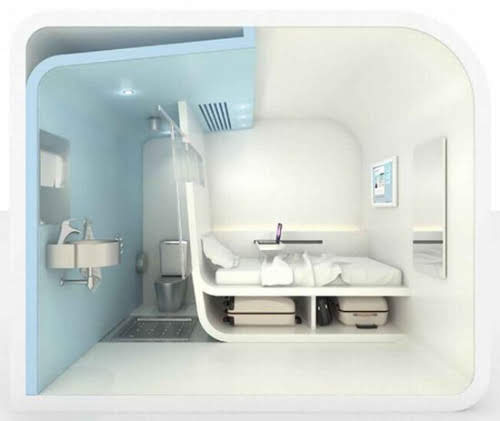 Bubble Hotel With Wash Room
Fancy A Bubble Tent
Bubble tents
are for those who want to enjoy an open view plus 360 of the places they love, even at night or in poor weather.
Perfect for those who want something a little different to what they would normally do on holiday.
[amalinkspro type="showcase" asin="B07DFJN6PW" apilink="https://www.amazon.com/dp/B07DFJN6PW?tag=furnitur11-20″ new-window="true" addtocart="false" nofollow="true" sc-id="4″ imgs="LargeImage" link-imgs="false" specs="Bubble tent will be inflated by a blower which needs to be continuously turned on.~~~To prevent the tent from collapsing, please pull on the zipper.~~~It takes about 10 minutes for the blower to fill the tent.~~~Bulb Tent Diameter:118.1 (3m)~~~Tunel Long:78.7 (2m)~~~" btn-color="#ff9900″ btn-text="View on Amazon" alignment="aligncenter" hide-prime="0″ hide-image="0″ hide-reviews="0″ hide-price="0″ hide-button="0″ width="750″ link_id="10096″]ZXMOTO Inflatable Bubble Camping Tent
Outdoor
Transparent Single Tunnel Family Camping Tent with Blower and Air Pump 110V[/amalinkspro]
A Selection of Bubble Tents
[amalinkspro_table id="94969″ aff-id="furnitur11-20″ new-window="on" nofollow="on" addtocart="off" /]