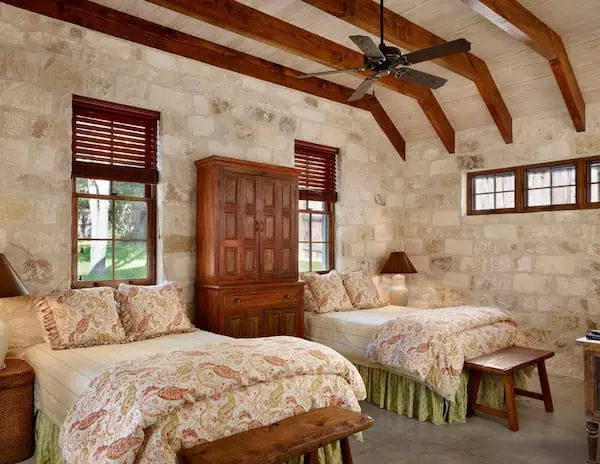 Have you ever thought about using some of the elements from nature as inspiration for the décor within your home?  Perhaps, like using one of the strongest elements known to man, such as rock for your interiors.  You can use it around the fireplace or along an accent wall to help bring in the rustic aesthetics to your home.  Many homes  meld the outdoors with the interiors with  a variety of rocks, flagstone, boulders and other rocks for a rustic appeal. However you decide here are some tips on how to incorporate rustic rock in your interiors.
How to Bring Rustic Rock into Your Interior
A distinguished style that rock adds to your home:
Even though rock is a truly natural element it can still be acquainted with the idea of a royal statement.  Throughout history, from historic castles to urban lofts, rock has been used in wealthy and higher end architecture.  Rock is known to be durable and long lasting.  Have some rock stand out in pieces of your home such as in custom kitchen settings like fume hoods or backsplashes or even for interior or exterior bearing walls. Show off that stately monarch for all to adore.
Create an outdoor appeal inside your home:
Play around with the schemes of combining some qualities of your exteriors with those for the interiors.  Rock is so versatile that it can both work for the interiors as well as the exteriors.  Think about log cabins for ski resorts or homes that are located in the mountains.  See how they include rock from the outside on the inside.  Also, try installing some rock in your entryways and as well as your fireplace too. Rock can be a calming source to use within your home.  Spas, upscale resorts, luxurious bathrooms have all taken advantage of having a tranquil smooth stone as décor.  The rock helps to remind the body of nature; water or streams helping to relax the body's senses.  Use smooth a natural smooth stone for your backsplashes, showers, vanity counters etc. for comforting ambience.
Strong and vibrant accents:
Maybe you would like to keep the strong element of rock and have it make a statement.  Then add some flagstone, river rocks or boulders to an accent wall within your home or to the exterior walls of your home.  This will help to give your home a more lively and rural visual appeal, that will give it an eye catching proclamation.  Now depending on how the application and finish details are for the rock it would set the tone for the atmosphere.
Rock is literally all around us.  Whoever could have thought as using it for accents for our interior décor?  With its rough or smooth, warm or cool attributes; it creates an adaptable presence that allows for it to be placed in so many places around the home and look magnificent.  So take the ideas above and discover more ways to bring in rock into your home.