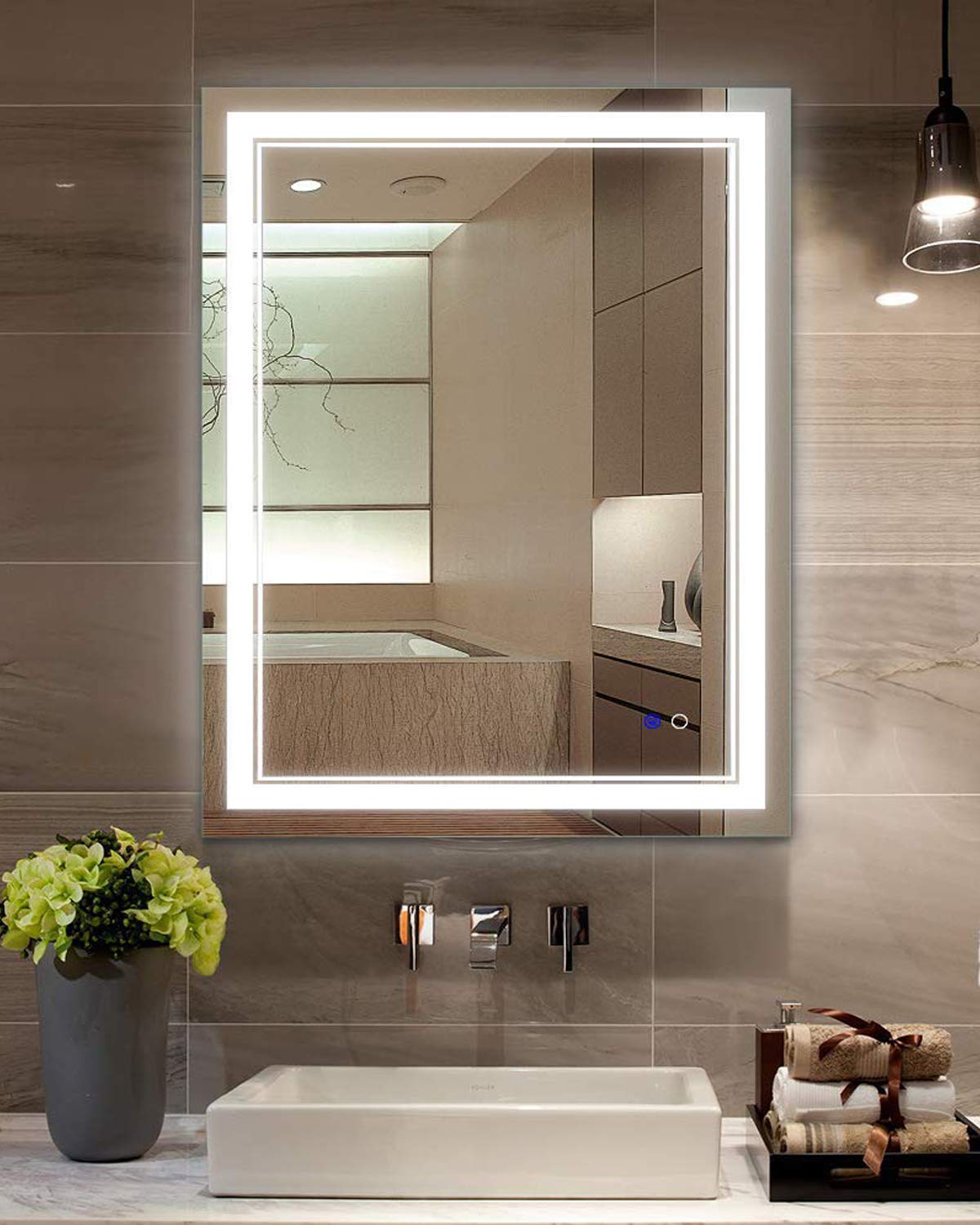 Choosing The Right Bathroom Vanity Cabinet
Bathrooms have historically been an area that's hidden away rather than highlighted. However, modern design trends are encouraging homeowners to create a luxe, spa-like experience in their bathroom, shifting the focus to this oft-overlooked area.
Choosing the right bathroom vanity cabinets is a must when doing a bathroom remodel. Here are some of the most important considerations when selecting the perfect types of bathroom vanity cabinets for your home.
Best Materials for Bathroom Vanity Cabinets
When choosing materials for the bathroom, choosing something moisture-resistant is a top priority. According to the experts at Ross Discount Home Center, the average bathroom lifespan is 18 years; the better the materials used, the longer it will last.
Here are the most commonly used materials and the pros and cons of each.
Solid Wood Cabinets
When it comes to quality, solid wood cabinets are built to stand the test of time. However, while their durability is ideal for kitchens, they aren't always the best option for bathrooms.
Solid wood will inevitably expand and contract as a result of changing temperatures and humidity levels. This fluctuation can cause the wood to warp over time or cause cracks in the paint. If you're set on using solid wood, prioritize humidity control in your bathroom and opt for a stained finish rather than paint.
Plywood Cabinets
Plywood is one of the best materials for a bathroom vanity cabinet. Plywood is formed by layering pieces of wood with an adhesive and putting a sealant overtop. Plywood is stable and steadfast and doesn't experience the same expansion and contraction as solid wood, making it a great moisture-resistant choice for the bathroom.
That being said, not all plywood is created equal. Look for a cabinet supplier who uses high-quality plywood that's sealed well and built for bathroom use. Many high-quality, ready-to-assemble cabinet makers use plywood in their construction for both bathroom vanities and kitchen cabinets.
Bamboo Cabinets
Bamboo is becoming increasingly popular in the home renovation world, thanks to its sustainability and versatility. Bamboo is a grass rather than a wood, so it grows faster than many material resources used in contracting and home design. Bamboo looks good in modern kitchens.
While bamboo is not waterproof, it is moisture-resistance and doesn't swell like traditional wood when exposed to moisture. According to the architecture and design team at Allplan, well-maintained bamboo can last 50-80 years.
That being said, bamboo can be higher maintenance than solid wood or plywood cabinets. Excess moisture, if left unchecked, can cause discoloration over time. Additionally, as bamboo is still a burgeoning trend, you can expect to pay more for this option.
MDF and Particleboard Cabinets
If possible, you should avoid MDF and particleboard cabinets in the bathroom, as both of these materials are susceptible to water damage. Particleboard also lacks the structure needed to support a heavier countertop or sink material.
MDF and particleboard tend to be the budget option for cabinets. However, it's not appropriate for long-term bathroom furniture.
Best Colors for Bathroom Vanity Cabinets
Choosing colors for your bathroom cabinet will be different than choosing something in a high-traffic area, like the kitchen. Your considerations will ultimately come down to your style and the materials used.
Natural Wood Stain
Natural wood stain is ideal for those who like a more traditional aesthetic. They hide scuffs and grime much better than paint, and are lower maintenance over time.
The downside to choosing a natural wood stain is that it has the potential to look dated over time. Those classic, once-timeless oak cabinets from the 1980s are now viewed as an eye-sore that must be covered. Keep in mind that if you choose a wood stain now, you might want to paint over it in a few years.
Painted Cabinets
Painted cabinets have a sleeker, more modern aesthetic. With the right finish, they can be easy to clean and maintain. Paint also adds an extra layer of water-resistance to protect the material underneath.
As with wood stain, the paint you choose now could become dated in a few years. Depending on the material underneath, the paint could be prone to cracking as a result of warping. According to Home Advisor, you can expect your painted cabinets to require an update within ten years.
Popular Styles for Bathroom Vanity Doors
Another key consideration when designing a bathroom cabinet is the style of the doors. The style pertains to the trim (or lack thereof) on the door panel, which is a subtle design feature that can set the room's tone. Choose a style that suits your tastes and maintenance capacity.
Shaker Style
Shaker style bathroom vanity cabinet doors have stood the test of time. This simple look is defined by a square frame surrounding a center panel. The simplicity of this design makes it versatile and adaptable to changing trends.
These cabinet doors are low-maintenance and easy to clean due to the lack of nooks and crannies. Some find this look boring, which doesn't fit with more luxury-oriented bathroom designs.
Flat-Panel Style
Flat-panel bathroom vanity cabinet drawers are a sleek, ultra-modern look that fits the Scandinavian-inspired design trend. Also known as slab or contemporary panels, cleaning these cabinet doors is effortless.
Many of these cabinets are made with a veneer, which is often viewed as low-brow in the kitchen but works in the bathroom.
Cathedral or Arch Style
Cathedral and arch style cabinets are a little more elegant and finely detailed. These style cabinets look great when painted a sleek white or dove grey in a luxury-style, spa-inspired bathroom.
Unfortunately, when paired with natural wood grain, these panels can quickly become dated and out of fashion. The elaborate details can also make cleaning a challenge.
Choosing Your Storage Options
The primary reason for investing in a bathroom vanity cabinet over a pedestal sink is storage. Most vanities have a bottom cabinet format, while others incorporate drawers. Here are a few pros and cons of each style to consider.
Drawer Storage
The main benefit of drawer storage is that it's easier to organize. Adding simple drawer dividers is a great way to keep things in order in your vanity, whether you're storing face cloths or makeup.
The challenge with drawer storage is that it has limitations. Larger items will require external storage.
Cabinet Storage
Deep cabinets allow for plenty of storage but lack the same organization as a drawer. While it may be easier to hide a child's bath toys or extra bottles of shampoo, smaller toiletries can easily fall into disarray.
Open Shelving
Open shelving in bathroom vanity cabinets is a relatively new trend that fits with the Scandinavian look and Hygge movement. The benefit of open shelving is that it creates the illusion of more space in a small bathroom by removing barriers.
The main challenge is that everything is out in the open. For those who like privacy in their storage or struggle to keep things tidy, this look may not be ideal.
Bathroom Vanity Cabinet Structure Considerations
Another consideration when choosing a bathroom vanity cabinet is whether you want a wall-mounted or floor-mounted piece of furniture. This decision primarily relies on your plumbing and budget.
Free-Standing or Floor-Mounted
A floor-mounted vanity is flush with the floor, creating a more stable, solid piece of furniture. This is the ideal approach if your plumbing comes out of the floor rather than the wall. A floor-mounted or free-standing vanity tends to be more budget and DIY friendly, as the installation is straightforward and fewer materials are required.
Some modern floor-mounted units have legs rather than the full panel. This approach creates the illusion of a floating piece but can be challenging to keep clean as the clearance beneath is limited.
Wall Mounted or Floating
Wall-mounted or floating cabinets create a better space and flow within the room, making it easier to access the floor underneath for cleaning. If your plumbing is low on the wall or comes from the floor, wall-mounted cabinets aren't ideal.
These tend to be more costly as they require specialized installation, as well as flooring and paint in the exposed area.
Choosing the Best Sink Style
Choosing the right sink style for your vanity will ultimately determine the look and functionality of this piece of furniture. When choosing the sink style, consider the storage implications underneath and how you plan to use the space. For example, is the surface's main purpose of holding the sink, or will you need space for applying makeup? Usage matters when choosing the right sink for your cabinet style.
Vessel Sinks
Vessel sinks are still a hot trend in interior design. The main benefit of this style is the visual appeal. Reminiscent of an old water basin, the vessel sink somehow looks both modern and antique.
Vessel sinks are also easy to install and don't require cutting and fitting during installation. This is an important consideration for those choosing a specialty countertop material, like granite.
Unfortunately, vessel sinks present a lot of challenges for homeowners. According to Kingston Kitchen and Bath, vessel sinks are prone to breakage due to their exposed edges and less-stable adherence than drop-in sinks. The angles can make it difficult to clean, and easy for mold and gunk to build up at the base. Finally, due to the way vessel sinks are built, they lack an overflow drain.
Self-Rimming Sinks
Self-rimming sinks are affordable and easy to install. These drop-in sinks are recognizable by the lip or rim that extends over the edge of the countertop, rolling outward from the sink. They're easy to clean with a seamless configuration that prevents the build-up of soap scum and mold.
Undermount Sinks
Undermount sinks look a higher-end and more luxurious than self-rimming sinks, but that experience comes at a price. An undermount sink is ideal for the kitchen, where food and crumbs can be easily swept in for disposal without getting caught on a lip. However, other than aesthetics, it serves no functional purpose in a bathroom.
Undermount sinks are also more challenging to install and tend to cost more as a result. Another concern when choosing an undermount sink is the countertop material used, as the edge will be exposed. This sink style will also require a load-bearing countertop material, and doesn't tend to work well with laminate. Fortunately, your bathroom sink will likely be holding water rather than being filled with dishes, making your options significantly more versatile.
The Best Countertop for Bathroom Vanity Cabinets
Finally, the last design consideration when choosing the perfect bathroom vanity cabinet for your home will be the countertop. Countertops come in a wide range of materials, each with considerable pros and cons.
Here are the top considerations for bathroom countertops, and notable points about each.
Laminate Countertop
Laminate is the most affordable option for a bathroom countertop. These counters are generally constructed of MDF with layers of plastic and sealant overtop. These counters are versatile, coming in an endless range of colors and patterns. Unlike MDF cabinets, which lack the coating of laminate countertops, they're built to last and can withstand moisture and damage.
While laminate has evolved tremendously over the past few decades, it's still viewed as a low-budget material. For those who want a more luxurious feel in their bathroom, laminate might not fit the design.
Tile Countertop
Tile countertops are a step up from laminate while still being budget-friendly. Tiles hold their value, viewed as an affordable premium option. They're easy to install and offer a versatile approach that fits with changing decor trends.
Tile countertops require maintenance over time. Depending on the material, they can chip and break if something is dropped on them. Grout can get stained or start to chip and may require touch-ups. However, this maintenance rarely requires a specialized approach and is easy to handle as a DIY project.
Granite Countertop
Granite is a common variant of natural stone used for countertops in kitchens and bathrooms. As a luxury material, granite's main downfall is that it will drastically increase your remodel budget. Granite, like marble, is unique and custom, with no two pieces looking alike. This natural stone piece adds value to any home and will be a notable benefit when selling.
Granite isn't DIY-friendly, requiring custom cutting in a one-piece slab. It also requires sealing and maintenance over time, and can't be spot-treated if damage occurs. If you choose granite, consider using it only in bathrooms that don't see regular traffic, like the master ensuite.
Other natural stone alternatives to granite include soapstone and slate. Both of these options are lower maintenance and lower cost than marble and granite but offer the same, luxurious design qualities.
Quartz Countertop
Quartz is an accessible alternative to granite and is often confused for natural stone. While these slabs do contain quartz stone, they're actually a composite of various materials. Quartz is a more durable alternative to granite and has more variability and customization options as a result.
While quartz was once viewed as a budget-friendly alternative to granite and marble, the popularity and durability have driven up the demand for this premium product. Fortunately, quartz is less susceptible to chipping and requires less maintenance than natural stone. Quartz also lacks heat resistance, which is concerning for kitchens but is an ideal material for bathrooms.
Concrete Countertops
Concrete is having a moment in interior design. This durable, affordable, and versatile material is popping up in both flooring and countertops. Rather than the concrete you see on a garage floor, this approach is sealed with a high-gloss resin and looks comparable to marble.
Concrete countertops are practically indestructible and hold their value over time. They're resistant to the elements and won't get cracked or damaged by humidity or dropped items. While the material itself is affordable, there are no DIY options for creating concrete countertops. You'll require a specialist who can customize the countertop to your needs, which drives up the cost. While concrete is more durable than natural stone, a full replacement is required when damage occurs.
Cabinet Sizing Considerations
When choosing the perfect bathroom vanity for your home, there are a few finer details to keep in mind when it comes to sizing. First and foremost, consider the purpose and functionality. As mentioned before, how you use the vanity will determine how much space you need. If this is meant to be a functional space for getting ready in the morning, you'll require more counter space and storage.
It's also important to consider the room size and shape. When choosing drawers versus cabinets, for example, consider how the doors open and if they'll meet any obstacles. Many homeowners discover that their vanity drawer impedes the opening and closing of the bathroom door— a feature that's hard to change once the vanity cabinet is installed.
Choosing the Right Vanity for Your Bathroom
When choosing the right vanity for your bathroom, it will ultimately come down to your budget, the usage of the space, and your personal preferences. Be strategic and give yourself time to decide before making a purchase.
Image
Title
Price
Prime
Buy

Top

HOMECHO Bathroom Floor Cabinet Wooden Storage Organizer Side Cabinet with 2 Drawer 2 Doors Adjustable Open Shelf Free Standing Kitchen Cupboard for Home Office, Ivory White, HMC-MD-016

Prime

Take a Look
AOJEZOR Small Bathroom Storage Corner Floor Cabinet with Doors and Shelves, Thin Toilet Vanity Cabinet, Narrow Bath Sink Organizer, Towel Storage Shelf for Paper Holder, White

Prime

Eligible

Take a Look
TANGKULA Wall Mount Bathroom Cabinet Wooden Medicine Cabinet Storage Organizer with 2-Doors and 1- Shelf Cottage Collection Wall Cabinet White

Prime

Take a Look
VASAGLE Bathroom Storage Cabinet, Floor Cabinet Cupboard, with Large Storage Capacity, Printed Marble-Like Pattern, Open Shelf, and Adjustable Closed Shelf, 23.6 x 11.8 x 31.5 Inches, White UBBC68WT

Prime

Eligible

Take a Look
Elegant Home Fashions Adriana Linen Tower, White

Prime

Eligible

Take a Look
Spirich Home Slim Bathroom Storage Cabinet, Free Standing Toilet Paper Holder, Bathroom Cabinet Slide Out Drawer Storage,White

Prime

Eligible

Take a Look
Zenna Home Drop Door Over The Toilet Bathroom Spacesaver, Bath Storage Shelves, White

Prime

Eligible

Take a Look
VASAGLE Bathroom Floor Storage Cabinet with Double Door Adjustable Shelf, 23.6 x 11.8 x 31.5 Inches White UBCB60W

Prime

Take a Look
VASAGLE Bathroom Storage Cabinet, Floor Cabinet Cupboard, with Large Storage Capacity, Printed Marble-Like Pattern, Open Shelf, and Adjustable Closed Shelf, 23.6 x 11.8 x 31.5 Inches, White UBBC68WT

Prime

Eligible

Take a Look
VASAGLE Bathroom Storage Floor Cabinet Free Standing with Double Shutter Door and Adjustable Shelf White

Prime

Eligible

Take a Look
Product prices and availability are accurate as of the date/time indicated and are subject to change. Any price and availability information displayed on [relevant Amazon Site(s), as applicable] at the time of purchase will apply to the purchase of this product.
Prices pulled from the Amazon Product Advertising API on: