Here is a space-saving solution that truly breaks the mold.  The 365 Sofa Bed by Campeggi looks more like an artistic installation than a spacious guest bed.  By day, a low-profile sofa anchors what appears to be a bold piece of wall art.  Common, everyday home items like teakettles and lamps are "drawn" with strong black strokes and spots of bright color.  The design continues to spill onto the sofa itself, so the whole piece looks like art coming right off the wall and into your living room.
We're an affiliate
We hope you like our recommendations! Just so you know, we may collect a share of sales or other compensation from the links on this page. Thank you for using our links, it is much appreciated.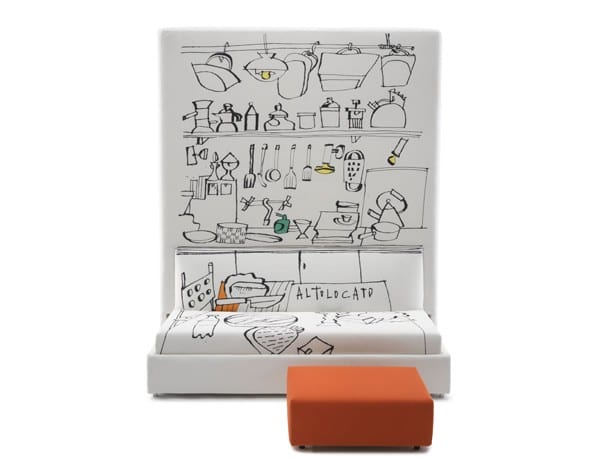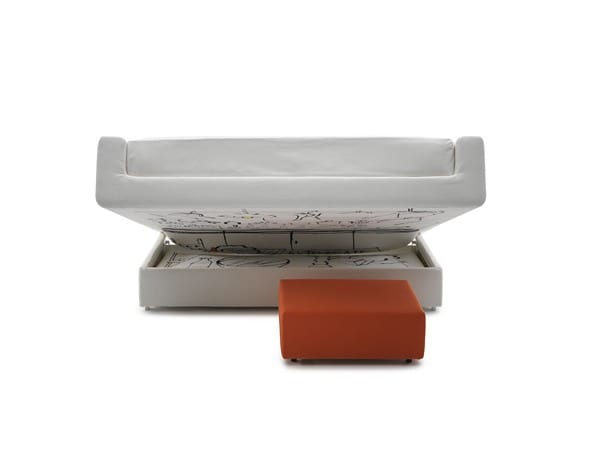 This art has the casual and whimsical feel that make it friendly and accessible as a work of art for your own home instead of a cold museum wall.  The orange ottoman adds colorful contrast and completes the comfort of the chic seating area. Designer Giulo Manzoni could have stopped there, after creating a work of art and a contemporary sofa.  However, his creativity involved innovative engineering as well.  With two simple moves, you can transform the seating and artwork of the 365 sofa bed by Campeggi into a complete king-size bed.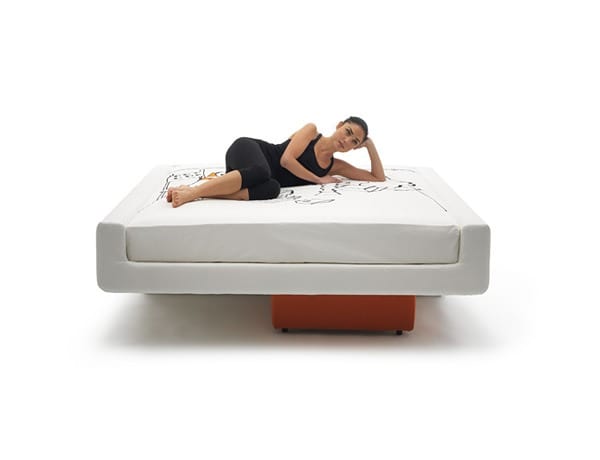 The wall panel folds down over the sofa and ottoman to reveal a mattress concealed behind the cool design.  In the blink of an eye, a trendy sofa becomes a huge king-size bed.  Whether you love the multi-purpose use for a small apartment or just need a place for guests in a spare room, the 365 sofa bed is the comfortable solution that you can't even see.  Which do you like more: the stylish art or the roomy mattress?