Furnishing an apartment can be a challenge, especially when you have a particular vision in mind or style you'd like to accomplish. And the biggest challenge is because of the lack of space. Unless you've got a massive studio or penthouse suite, you will have drawbacks in the size department.
Apartment Size Sofa Ideas
That means shopping for the right furniture can be a challenge, but that's where we come in with the right kind of inspiration. Let's take a moment and sift through some beautiful apartment sized sofa ideas and designs to get your brainstorming starts.
We're an affiliate
We hope you like our recommendations! Just so you know, we may collect a share of sales or other compensation from the links on this page. Thank you for using our links, it is much appreciated.
These sofas are chic, elegant and modern in style. We love that you have the option to choose between a bright white or midnight black, both neutrals that can create a solid foundation. And this particular sofa can be used both indoors and outdoors, so when you eventually go to a house, this beauty can be transferred to the patio with ease.
If you're looking for a more traditional look with a sophistication and simple, masculine charm, the Eva sofa may be right for you and your place. The cushions are reversible and the design is still slightly contemporary as to not bore the rest of your decor. We love how it's dressed in a neutral tone, but has a bit of a clay finish to keep things interesting.
This beautiful sofa has a delicate, feminine charm. It fits into a vintage or cottage style theme with ease and can be paired with a variety of different shades, prints and color duos. It's also the right size to jazz up any wall or corner you decide to place it – which is great when it comes to figuring out your room layout.
Ideal for sitting, lounging and sleeping … otherwise known as "college life," this futon sofa is perfect for a dorm room or housing a graduate student. It's casual, welcoming and seemingly cozy, but it's still got a unique enough shape to bring about a sense of style even in the most laid-back and simple of spaces.
The epitome of cool, this retro, modern sofa has so much style in its smaller frame that the entire space will transform just by its presence in one room. Covered in chenille fabric with a higher than average back, it's got comfort and design-envy all rolled into one. We love this piece mixed with eclectic and youthful accents or elegant and posh decor.
If you're looking to create a bold statement and stunning first impression, try out this Wellington Sofa. Although it's not an extra-large size, it's still got a very powerful aura with its silver sheen.  The texture of the cushions just raise the bar and make it even more of an interior designer's dream as it combines style, interest and functional all in one beautiful piece.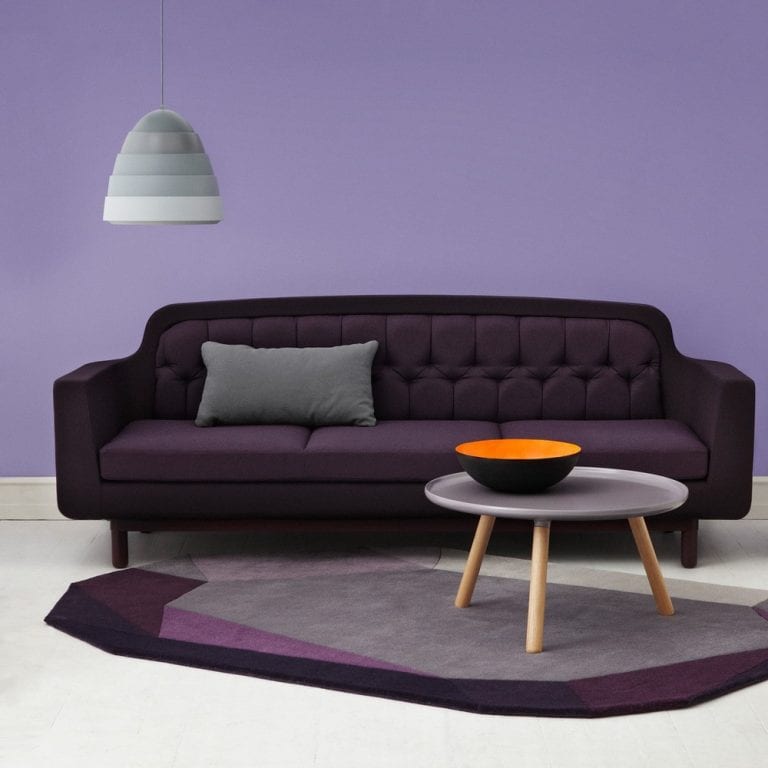 Combining the curves and bones of a 1950's-styled sofa and the refinement of Nordic design, this sofa is a showstopper, don't you think? With its plum finish and more lush appeal, it may take up a bit more room than some of its list-mates but will make even more of a personalized style statement. We feel a mustard throw pillow or hazy gray throw would make it pop even more.
This is another great choice if you're looking for a piece with more of a clean palette. With a sofa like this, you can easily create a room around it that compliments instead of melds. It's got great bones and a chic structure with a unique, masculine charm that can be versatile enough to fit into an any place with contemporary flavors or even a more hipster, eclectic vision.
The diamond detailing on this Thatcher Sofa is beautiful, elegant and the texture makes the entire room that much more interesting and appealing to the eye. The black tone gives it the perfect foundation for decorating and accessorizing with ease, and although it has sharp lines the unique pattern creates a softer, more delicate charm.
Funky and youthful, this may be our favorite sofa pick of the bunch. Named, the Comic, it's a great addition for a more modern or trendy space. And we're totally swooning over those throw pillows, which go great with its heather gray exterior. Which brings us to the point that heather grays make one of the best neutral foundations because of its incredibly diverse versatility.
Of course, you can always think completely outside-the-box and go with a sofa like this. Circular and robust, this round beauty would certainly make a statement inside your apartment. It's smaller, yes, but it's also got the comfort you need to create a welcoming living room. The shape itself makes a much more stylish space as well.