Choosing a Sofa Design For Your Apartment
Furnishing an apartment can be a challenge, especially when you have a particular vision in mind or style you'd like to accomplish. And the biggest challenge is because of the lack of space. Unless you've got a massive studio or penthouse suite, you will have drawbacks in the size department.
Apartment Sofa Ideas
How Do You Choose a Sofa for An Apartment
Sofa shopping is a lot like dating. You have to find the right person. And when you do, you have to make sure that you keep them. It takes time to figure out which sofa suits you best. But once you've found the perfect match, you'll want to keep it forever.
You'll want to love it, cherish it, and protect it. Because after all, it's the most important piece of furniture in your home.
But there's more to choosing a sofa than just finding the perfect fit. There are also practical considerations to consider. Like whether or not it fits in your space. Or whether or not it matches your decor. Or even whether or not it's affordable.
The key is to really think about what you want on a sofa. What kind of style do you prefer? Do you want a traditional look or a modern feel? Do you want a sofa that complements your existing décor, or a sofa that stands out from the crowd? What about a sleeper sofa or a futon sofa bed, or even a sectional sleeper sofa for the times when you have overnight guests staying?
Once you've figured out exactly what you want, it's time to shop. Start by browsing online stores. Look for reviews and ratings to help narrow down your choices. Next, start visiting local retailers. This way, you can test-drive the various options in person. You can also ask store employees for advice.
Finally, once you've narrowed down your list, it's time to sit down and compare prices. Make sure you know what you're paying for before you buy. Remember, you don't have to settle for the cheapest option. If you're looking for a good deal, you might want to wait until the holidays. That's when retailers often slash prices on popular items.
Small Apartment Size Ideas
That means shopping for the right furniture can be a challenge, but that's where we come in with the right kind of inspiration. Let's take a moment and sift through some beautiful apartment-sized sofa ideas and designs to get your brainstorming started.
1. Multifunction For Indoors and Outdoors
This type of sofa is handy if you have a large apartment with a balcony and do not have the funds to have a sofa inside and outside. You could use this in either place. Thinking out of the box how you could move it may be a little tricky but it could work out.
These are chic, elegant, and modern in style. We love that you have the option to choose between a bright white or midnight black, both neutrals that can create a solid foundation. And this particular sofa can be used both indoors and outdoors, so when you eventually go to a house, this beauty can be transferred to the patio with ease.
outdoor version. Yet another Foersom Hiort-Lorenzen that hits the mark spot-on.
2. A Modern Looking 3 Seater
A solid option is a leather sofa with a high back. This comes into fashion every other year so should be good for years to come. Due to it being fairly small it can fit many different positions in a flat and is easy to move around. Being a 3 seater you can also normally have space to lie down when needed.
cushions in the fabric are reversible.
If you're looking for a more traditional look with sophistication and simple, masculine charm, the Eva sofa may be right for you and your place. The cushions are reversible and the design is still slightly contemporary so as to not bore the rest of your decor. We love how it's dressed in a neutral tone, but has a bit of a clay finish to keep things interesting.
3. White or Cream Sofa Built For Comfort
This beautiful sofa has a delicate, feminine charm. It fits into a vintage or cottage-style theme with ease and can be paired with a variety of different shades, prints, and color duos. It's also the right size to jazz up any wall or corner you decide to place it – which is great when it comes to figuring out your room layout.
Many sofas like this in this type of light color are handy if they have fully removable covers so that you can wash them when required. 
4. Student Style Sofa Futon
Ideal for sitting, lounging, and sleeping … otherwise known as "college life," this futon sofa is perfect for a dorm room or housing a graduate student. It's casual, welcoming, and seemingly cozy, but it's still got a unique enough shape to bring about a sense of style even in the most laid-back and simple of spaces.
5. Small Frame Futon
The epitome of cool, this retro, modern futon has so much style in its smaller frame that the entire space will transform just by its presence in one room. Covered in chenille fabric with a higher-than-average back, it's got comfort and design-envy all rolled into one. We love this piece mixed with eclectic and youthful accents or elegant and posh decor.
6. The Wellington Relaxing Sofa
If you're looking to create a bold statement and stunning first impression, try out this Wellington Sofa. Although it's not an extra-large size, it's still got a very powerful aura with its silver sheen. The texture of the cushions just raises the bar and makes it even more of an interior designer's dream as it combines style, interest, and functionality all in one beautiful piece.
7. The Onkel Sofa
Combining the curves and bones of a 1950's-styled sofa and the refinement of Nordic design, this is a showstopper, don't you think? With its plum finish and more lush appeal, it may take up a bit more room than some of its list-mates but will make even more of a personalized style statement. We feel a mustard throw pillow or hazy gray throw would make it pop even more.
Onkel (Danish for "uncle") Sofa combines the ornate and curvaceous upholstered sofas of the 1950s with the refinement of contemporary Nordic design.
8. A Completely Different Style of Sofa
This is another great choice if you're looking for a piece with more of a clean palette. With a sofa like this, you can easily create a room around it that compliments instead of melds. It's got great bones and a chic structure with a unique, masculine charm that can be versatile enough to fit into any place with contemporary flavors or even a more hipster, eclectic vision.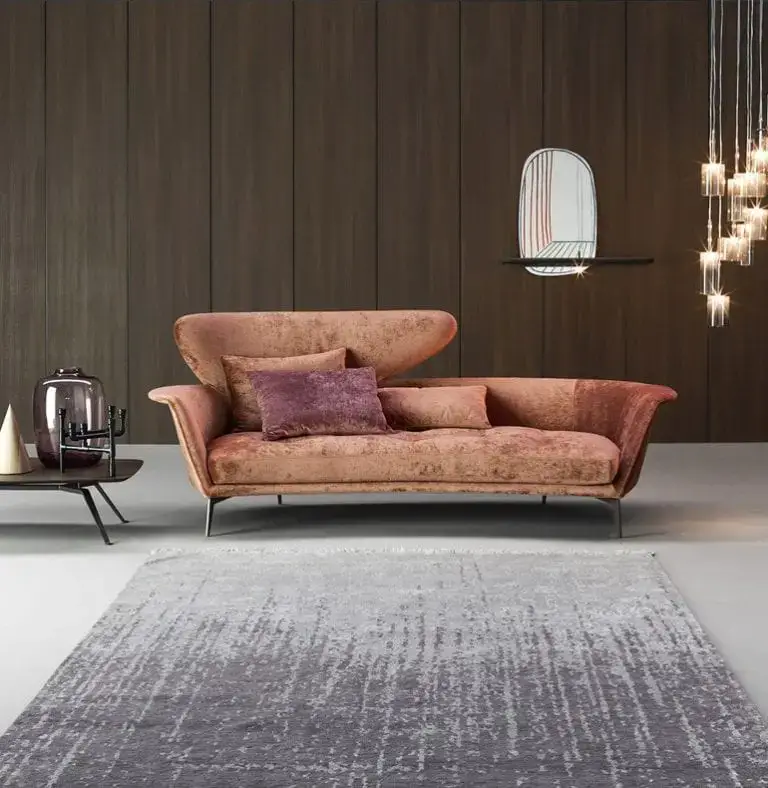 9. The Thatcher Sofa Design
The diamond detailing on this Thatcher Sofa is beautiful, and elegant and the texture makes the entire room that much more interesting and appealing to the eye. The black tone gives it the perfect foundation for decorating and accessorizing with ease, and although it has sharp lines the unique pattern creates a softer, more delicate charm.
10. The Conic Sofa
Funky and youthful, this may be our favorite sofa pick of the bunch. Named, the Comic, it's a great addition to a more modern or trendy space. And we're totally swooning over those throw pillows, which go great with their heather gray exterior. This brings us to the point that heather grays make one of the best neutral foundations because of their incredibly diverse versatility.
11. The Circular Sofa
Of course, you can always think completely outside the box and go with a sofa like this. Circular and robust, this round beauty would certainly make a statement inside your apartment. It's smaller, yes, but it's also got the comfort you need to create a welcoming living room. The shape itself makes a much more stylish space as well.
Which Sofa Is Best for A Small Apartment
The sofa is an important piece of furniture in any home, and there are many options when choosing the right one for you. There are various sizes, shapes, colors, and styles, so finding the perfect one for your space can be difficult. But once you find the right one, you'll love how it looks in your home.
There are two main types, traditional and contemporary. Traditional tends to be more classic and timeless, while contemporary often features modern designs and sleek lines. Both types can fit almost any decor style, but each type has its own advantages.
Traditional is usually made out of leather or fabric, and they typically have a higher price tag. These are also very durable, making them great for families with young children. However, they may not look as attractive after a few years because of wear and tear.
Contemporary are usually much cheaper than traditional, and they are generally made out of plastic or wood. This means that they are easier to clean and maintain, but they won't last as long as traditional ones. If you prefer a more modern design, consider purchasing a contemporary instead of a traditional one.
What Is Considered Apartment Size?
That would all depend on the size of your apartment. The term "apartment" refers to a room or space used for living purposes. A sofa is usually larger than a chair and smaller than a couch. It is often found in front of a fireplace in a living room.
It is usually made from wood, leather, fabric, plastic, foam rubber, etc., and can be upholstered or unupholstered. They come in many different styles, such as club chairs, armchairs, chaise longues, day beds, divans, loveseats, lounge chairs, sectionals, sleepers, theater seats, tufted, velvet etc.
In addition to these common types, there are also some unique types, including the chaise lounge (also called a lounger), which is a reclining seat attached to a frame; the ottoman, which is a low stool that serves as a support for feet when sitting; and the rocker, which is a rocking chair similar to a rocking horse. Some people use the word "couch" interchangeably with "sofa", although technically they refer to two separate pieces of furniture.
An apartment is a type of building where multiple families live together. In most cases, apartments consist of several rooms, sometimes with shared walls. They typically include kitchen facilities, bathrooms, storage areas, and sleeping quarters. Apartment sizes vary widely depending on location and local regulations. For example, in New York City, apartments must be at least 400 square feet, while in San Francisco, California, apartments are required to be at least 800 square feet.
Apartment-size sofas are large, soft cushioned couches that are perfect for relaxing after a hard day's work. This style was originally developed to help people relax after working out in gyms. Nowadays, however, this style is available in any color you want, and you can even choose your own material.
Take a look at the below video for a few ideas on decorating a small apartment.
Questions & Answers
What is the difference between a loveseat and an apartment sofa?
The main difference between loveseats and sofas is their size. Sofas are usually larger than loveseats, which makes them suitable for living rooms where space is limited. They are often used in homes because they provide additional seating options.
Which sofa is best for a small living room?
Sofas are designed to provide comfort and relaxation to people sitting on them. Sofas come in different styles, shapes, sizes, and colors. The main goal of choosing a sofa is to make your home look beautiful and cozy.
Conclusion
Choosing a sofa for a small apartment is no simple matter. Size obviously counts in this case, and bigger is not always better. Choose your new sofa wisely as it will make or break your apartment style.
Related Articles: