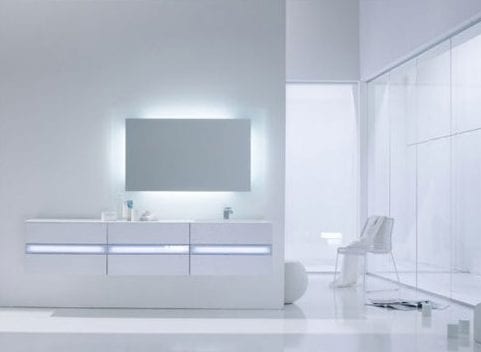 For many of us the bathroom can be a way to escape the daily drudgery as it is our own very private inner sanctum. No screaming kids, no nagging spouses and no evil bosses breathing down our neck. Nothing spells relaxation than drawing a hot bath and sinking into it with your favorite literary author and a glass of wine (or whatever is you poison). So if you are game for some decadence and dream of an ablution haven that is contemporary and is a stunning articulation of creativity, then check out our pick of the sexiest modern bathroom interiors.
The Roca Active & Relax is ideal for those who have space issues (don't mean this metaphorically). Designed by Michal Mitek the design is a take on modern living since it moonlights as a bedroom too! It lacks windows but the 3 floor-to-ceiling LCD ensures you don't become claustrophobic.
Stemik Living's Onyx Collection is a blend of sleek silhouettes, contemporary styling and fine materials. The entire collection optimizes warmth and elegance.
The Modulated System by Stefano Casanova reeks of contemporary chutzpah and adds a whole new dimension to the interior design culture. Most of the tiles in this set up have unique functions so there hook for a towel and even a blackboard.
The Symetrics Modern Concept by Dornbracht emphasizes not only on the body but also the soul. Relax there is no kooky new-age stuff as the concept entails a wellness approach that has been inspired from the "the spirit of water" thought process.
"Oneself" by Pavel is actually a social commentary on modern culture since single living is rampant. If you are commitment phobic then you will love this concept, as there are no walls and is one big huge space.
The Dazzling Daydream is the design for the rich and the famous as it has been designed by Swarovski and Kludi. The stunning design includes Swarovski crystals, wood, limestone, ceramics, glass and chrome.
At first glance the Noah Project from Cerasa can actually be mistaken for a lounge area and here lies its beauty. The project boasts of a theatrical construction that is seldom seen in the design scene.
From Russia with love. No I am not talking about the James Bond movie but the project that has been designed by Yar Rassadin. Yar lists the USSR spaceship Vostok as his source of inspiration.
S-Designs is an Indian based architecture and design firm and we love their renditions of this outstanding modern styling. Take for instance the picture below, which combines the goodness of ancient wellness with the functionality of modern technology.
Look Ma, the Aliens have landed! Relax, we jest but there is no denying that the Sci-Fi geeks will heart the Sci-Fi from Spiritual Mode. The bathtub looks like a spacecraft and the futuristic further enhance the UFO theme.
The "Peaceful Clarity" takes a harmonious design approach and also incorporates the wisdom of feng shui. This look is my idea of paradise as you also get an illusion of being in touch with nature. In case you are wondering, that big black cylinder is actually a fireplace!
The "U" is one the few designs that is targeted to mere mortals like us. Since it is all about cutting-cost without sacrificing on the aesthetics, the U-(you) sports a CNC surface finish and was molded thermally.
Sensamare by Hoesch adds a contemporary rhythm to the quintessential by combining glass, modern technology and stunning lighting. It is hard not to fall for the idiosyncratic decadence that it promises.
To enjoy stunning views while in the lap of luxury you don't necessary have to check in a Burj Al Arab. Instead just invest in a set up like the Wavflow. A concept by Wei Chung Lee, this concept emphasizes heavily on elegance.
Light by Arlexitalia is nothing short of a multi-sensory experience thanks to its stunning design and airy transparency. The entire collection boasts of pristine whites that provide respite from the usual bright tinctures.
If Light was all about openness and purity of the color white then the Total Black Interior Inspiration from GSG Ceramic is all about moodiness and sexiness. There is a latent sexuality to the all black room, which we find extremely hard to resist.
Who needs a visit to the neighborhood spa when you can rejuvenate your mind and body at the privacy of your home. It is hard not to be enamored by the harmonious surrealism of the Overflow bathtub series by KÄSCH. Nature has a beauty that always exceeds our imagination and this series tries to incorporate this though in its design.
All the above designs are completely committed to moving interior design and its creative culture forward and also highlight the interplay of nature and technology and how they can work together beautifully. The designers behind these concepts straddle divergent artistic trends and also stay true to the primordial properties of a functional bathroom.