We're an affiliate
We hope you like our recommendations! Just so you know, we may collect a share of sales or other compensation from the links on this page. Thank you for using our links, it is much appreciated.
Table of Contents
Stylish & Chic Kitchen Island Designs
If you're lucky enough to have a roomy kitchen with the space for an island, then use that to your utmost advantage. Make sure it's stylish, chic and super functional. It's the perfect way to prep for dinner, decorate Christmas cookies, and even use as a place for entertaining.
But it's sometimes a challenge to find kitchen islands that not only fits the functional check mark but the stylish ones too. Have no fear, we've found five that will definitely do the trick!
A Beautiful Unique Kitchen Island Design
Futuristic in style and feel, this white kitchen islands are unlike any other on the market. Use this piece as inspiration for your own custom design! It not only has storage but room for decorating and entertaining as well!
Image
Title
Price
Prime
Buy
Casual Home Kitchen Island with Solid American Hardwood Top, White

Prime

Eligible

Take a Look

Top

Liberty White Kitchen Cart with Stainless Steel Top by Home Styles

Prime

Eligible

Take a Look
Americana Oak Kitchen Island by Home Styles

Prime

Eligible

Take a Look
Kitchen Island Assembly

Prime

Take a Look
Hillsdale Furniture Brigham Kitchen Island With Granite Top, Gray

Prime

Take a Look
Clevr Rolling Bamboo Wood Kitchen Island Cart Trolley, Cabinet w/Towel Rack Drawer Shelves

Prime

Take a Look
Winsome Suzanne Kitchen, Square, Teak

Prime

Eligible

Take a Look
Orleans Kitchen Island with Marble Top by Home Styles

Prime

Eligible

Take a Look
Dorel Living Kitchen Island, White

Prime

Take a Look
Signature Design By Ashley - Withurst Kitchen Cart with Cabinet - Casual Style - White/Brown

Prime

Take a Look
The Orleans Kitchen Island by Home Styles

Prime

Eligible

Take a Look
Prices pulled from the Amazon Product Advertising API on:
Kitchen Island Design With Cupboards
This one has an ease about it unlike other islands that are full of nooks, crannies, cracks and cabinets. Instead it's chic, smooth and super fashion-forward. But, it's also a quaint and beautiful place to grab breakfast, make breakfast and serve breakfast!
Breakfast kitchen Island Design
We love how this island combines modern edges, smooth lines and an edgy, rustic appeal. It has a bit of a hipster spirit and you will have tone of fun dressing up the spot just the way you like it. We even love the extra bit of storage in the front, where the family favorite cookbooks could find a home in!
Classy Kitchen Island Design
We feel like this beautiful, glistening kitchen island combines all of the best accents. It's stylish, it's chic, it's full of storage options and homey vibes. I'm not sure the mix of versatility and fashion could get any better than with this piece. We even love the stools that set off that comfortable, yet slick style.
Marble and wood never looked better when paired together! Again, this is a great mix of styles on two ends of the spectrum, which makes a new and freshly modern  space. The contrast colors and texture make for a luxurious kitchen that you've been dreaming of.
all photos via Houzz
Stylish Papillon Kitchen Island By Brummel
With the stunning Papillon kitchen, Italian design house Brummel proves that classical styles don't always translate into boring or stuffy. This stunning piece of kitchen island is a testament to the craftsmanship skills of the artisans of Bassano Del Grappa, Italy and has been designed keeping in mind modern needs and traditional styles.
Don't be fooled by the classic facade of the Papillon kitchen, since underneath the surface lies a fully functional modern kitchen. The kitchen includes a sink,features,built-in appliances and a number of cabinets. The glossy white finish and the silver-leaf treatment further give the
kitchen island
an aura of sophistication.
How To Pick A Kitchen Island
When choosing a kitchen island, you must keep functionality in mind over any other design aspect. Why do you want an island? What will you be using it for the most? Whether it's baking and decorating, serving and socializing or needing it to help prep for big holiday dinners with the family, if you're lucky enough to have the space for a kitchen island, then it's vital that you know how to pick the right one. Allow us to guide you and lead you on your way to finding the perfect fit and perfect match!
Use and Functionality
How to pick a kitchen island is an important decision.  This is a permanent decision that you will likely live with for many years to come unless you change living spaces. Ask yourself, what do you need a kitchen island for? If you're big on entertaining, then having an island is a great way to help serve the appetizers and cocktails.
It's a great place to store the wine with a built in rack and it allows for extra prep space for all those big meals. Or, maybe you love to bake goodies and sweets for the family. This extra, open space gives you the room to experiment and make all of those baked goods look pretty.
Maybe you have kids and that extra counter top is where breakfast, homework and school projects take the lead. Keep all these in mind when you're looking at built-in or mobile islands, whether you need drawer space for storage or hooks underneath for your pots and pans to stay.
Space Savers and Utilizers
If you don't have a super open, large kitchen area, then you may just need a smaller island that serves different purposes. You may need one that acts as both island, table and extra storage. Don't worry, if you're in need of something with lots of versatility, functionality and space saving capabilities, there are plenty of ways to make this stylish and fashion-forward.
Whether it's a studio apartment or small condo near the beach, it seems like we all need the extra counter tops to get the work done in the kitchen.
Hodedah Kitchen Island with Spice Rack
Convenient and accessible way to display your microwave, toaster and other small appliances. Drawer to store kitchen utensils. Cabinet space to store small appliance, pots and pans and much more.
Wheels for easy mobility. Great for home and office kitchen.Cabinet Construction:Framed.
Overall dimensions (in inches) – 35.2 H x 35.5-44.9 W x 15.5
Mobility and Movers
That same island on wheels you use to maneuver around the kitchen could be that same island you wheel out to the dining room to use as a buffet table. As we've mentioned previously, it's imperative that you write down and think about the needs and uses you'll get out of having a kitchen island before you go shopping. If you need something that has mobility, one that's centered and bolted to the floor of the kitchen won't be very helpful. You may even need to take it to the patio for prepping poolside cocktails in the summer!
Modern and Edge
Lastly, you have to think about the design. We're all about modern, cutting edge designs at Furniture Fashion but we realize not everyone has the home that fits the style. If your kitchen is clothed in country cabinets and distressed accents, then a sharp, stainless steel island will look completely silly and out of place.
There are so many ways to mix and match modern, edgy and traditional styles so we urge you to do lots of shopping and inspiring before you make your final decision.
Let's revise. What four questions should you ask yourself  on how to pick a kitchen island?
What will I use this for?
How much space do I have?
Do I need it to be mobile?
What style does it need to fit into?
Kitchen Islands come in many shapes and forms and are ideal for those who have a very large kitchen space and need more central work surfaces for those extra jobs that need doing. There are so many designs and shapes that it is nice to be able to look at what is on offer and see if it would fit into your home design ideas.
As many of us know, the kitchen seems to be the gathering spot at parties and social events and a nicely stocked and refreshment covered Island is always in fashion. The 42 inch bar height serving areas that were so common in years past are giving way to the reduced height of the countertop level 36 inch surfaces you will see in most new construction.
If you are planning on entertaining a lot, you will want to incorporate all the necessities like a state-of-the-art cook top with vent hood, LED over head lighting and the latest sink / faucet combination to round out the setup. And then there is the seating.
Make sure you find something comfortable for long term sitting and allow 12 full inches from the countertop to the seat. There are a great selection of height adjustable bar stools out there which will allow you to transition from a bar to islands heights.
Here we have gathered several designs in a vast mix of styles, finishes, sizes and tops hoping to inspire your kitchen plans. Once again we have rounded up a wide variety of styles, sizes and configurations that offer options for small spaces and large wide open great rooms alike.
I am especially impressed with the way appliances, lighting and seating are included for maximum enjoyment while cooking and entertaining.
One or Two Kitchen Islands
was doing some reading today and a post caught my eye.  The story was about double kitchen islands.  It got me thinking about whether I would want one or two kitchen islands in my next home.  I like how the designs use islands in varying angles and spaces to create different geometric shapes in the kitchen.
That offers more possibilities to create a unique space that has a personal touch.  Also, having as much counter space as possible is a blessing for cooking and entertaining.
The Munsinger Kernstein Stone Block Kitchen Islands
Natural Stone​​ with its special features and possibilities are Georg Hauser's passion. The Munsinger Kernstein Stone Block kitchen islands collection are one of the latest designs of the German family owned business, Hauser Naturstein.
Since 1999, the stonemason has transformed kitchen and bathroom furniture into an work of art using natural big block stone into his creations, and managed to gain European recognition for his works. The solidity and naturalness of the material plays the central role here and determine the basic optics and feel of these extraordinary final results.
These durable, heat-resistant, luxurious pieces of furniture are a beautiful and practical addition to any home. Natural stone countertops are sleek looking and have a touch of finesse about them.
The stone block kitchen island draws its name from the Munsinger Kernstein type of stone from the German region, Franconia. A stone that is about 250 million years old and was created by the deposition and consolidation of mussels, snail shells and plant relics. So, other then having a state of the art kitchen when owning one of these islands you are also the owner of a piece of Earth's history.
Each countertop is carved with technologically advanced tools, finished entirely by hand using local craft techniques and placed on top of a durable sideboard with drawers made of steel and wood insertions. Hauser Naturstein is using this way three of the most common materials in the world in a design that offers both aesthetics and functionality. Other then the design, the kitchen islands are specially equipped after professional requirements, combining premium quality with the passion for cooking.
The goal of the Munsinger Kernstein stone block kitchen islands collection series is to bring the high quality and aesthetics of premium materials in the contemporary kitchen design. Natural stone blocks with their wild, rough structures and gentle hand-crafted finishes create exciting, visible and tangible experiences.
The Round Kitchen Island by Sheer
The stainless steel "Spherical Kitchen" from Sheer offers all the features you need to cook and clean like a double sink, four burner cook top, and a pullout table in a compact 148cm diameter making it perfect for small space and loft environments.
Today's high end interior consumer demands quality in construction as well creative styles and the remote controlled carbon fiber Spherical Kitchen that also doubles as a soft intimate light when closed definitely qualifies. Also included are three wine/champagne coolers that have aluminum covers when its time to entertain. This super cool round kitchen island also features over head lighting and hood vent.
The Wonder Island Kitchen Concept
The Wonder Island kitchen concept is a great piece of furniture for your small apartment. It has everything you need to get your cooking started. In fact, besides the obvious cooker and the washbasin that will let you quickly cook your favorite foods and do the dishes at the same time.
The Wonder Island also offers you some storage space for your kitchen utensils not to mention an actual table, or at least a miniature table that will be just enough for letting you enjoy your meals while at home. All we need now is to see this all-in-one kitchen furniture item in stores before we get too excited about its hidden powers.
Two Tiered Kitchen Island Ideas
Who out there dreams of a spacious kitchen, loads of storage and a giant kitchen right in the center of the space for all your cooking, entertaining and cake decorating needs? I know I sure do. And if you're lucky enough to have a kitchen that can fit an island, then it's time to start shopping for the right one. Today, we're showing off stylish and modern two tiered kitchen island ideas that are not only design-worthy but functional too.
All the wooden accents combined with the neutral and pure white create a soft, clean and contemporary space. The marble top of this two-tiered beauty adds an extra bit of modern edge and the top bar instantly becomes the perfect breakfast location for the entire family.
Rustic Kitchen Island Design
Traditional Kitchen Island Design
At first glance, this looks like a simple, traditional kitchen. But, with the smooth, black covering the two-tiered island, the room instantly gets a facelift. And don't you love how this island has room for all your cookbooks and even a built-in wine rack? It's a great space saver and adds a pop of trendy vibes throughout the room.
Industrial Kitchen Island Design
The industrial-inspired lighting, paired with this uber slick and sophisticated two-tiered island make this kitchen one to envy. This large piece no only makes cooking that much easier, but also organizing with all that extra storage underneath the sink! And again, the top tier is the perfect spot for a morning cup of coffee, homework time for the kids or even laying out the appetizers at your next dinner party.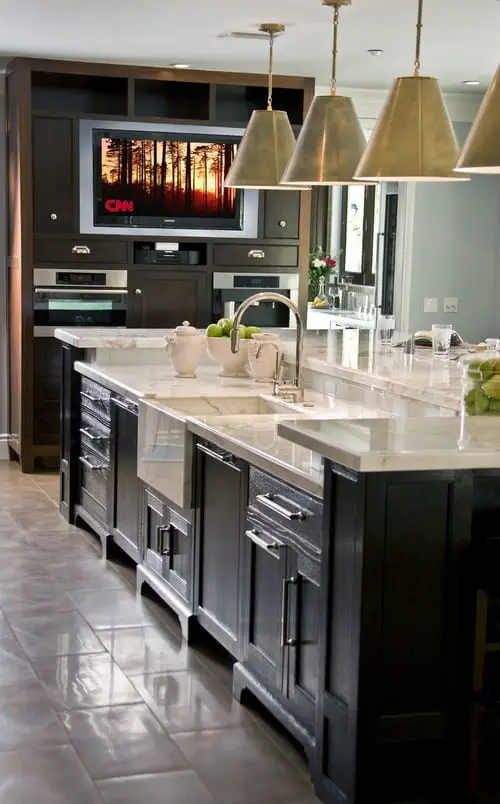 Shabby Meets Modern
We love how the creamy white cabinets with a shabby-chic appeal, set the black granite and red top tier off in a wonderfully, fashionable way. This piece is artistic, it's funky and it's incredibly contemporary and chic when put in a kitchen with a lot of clean lines. This is the instant focal point of a room that's have a neutral and slick foundation.
Masculine Meets Modern
This kitchen has a lot of masculine energy, but we mean that in the most complimentary of ways. The thick, yet clean lines and the neutral, relaxing palette make a nice place to gather and relax. But the two-tiered island is functional and workable all the while having a place for the perfect, casual dinner for two!
Marecucina from ALNO The Kitchen Island that Looks Like a Boat
The Marecucina kitchen island design from ALNO looks more like something you would take to an island than something you would expect to see in a kitchen. ALNO has specialized in cutting edge kitchen design since 1927 and it shows here with the contrasting wood over stark white cabinetry accented by stainless steel hardware.
Also included are large storage drawers, overhead lighting, and ample counter space. See more of the awesome kitchen designs from ALNO.
Cool Kitchen Island Designs From Bulthaup
I am often amazed by the fine examples of architecture I see in kitchens today. Here is a grand design from Bulthaup featuring an island as its centerpiece. You can never have enough storage for dishes, pots, pans and other accessories. This piece attempts to reduce counter clutter by offering six large drawers for storage.
The bar is a pleasant change from your regular dining room and invites other people to sit and converse while a meal is prepared. The spacing is great in this example, with ample room between the sink and the kitchen island. I always like the fact that you can approach the island from any side giving you easy access. Another attractive feature with Bulthaup is their willingness to create designs in any living space.