What Is a Japanese Table Lamp?
A Japanese table lamp is an illuminated fixture originating from Japan.
It typically consists of a wooden or paper lantern-like structure, adorned with intricate designs or calligraphy. These lamps, known as "washi" or "Andon," have a rich cultural significance in Japan and are often crafted by skilled artisans. The soft glow emitted by the lamp creates a warm and tranquil ambiance in any space. Whether placed on a tatami mat or a modern coffee table, a Japanese table lamp adds a touch of elegance and serenity to the surroundings.
It encapsulates the essence of traditional Japanese aesthetics while seamlessly blending with contemporary interior designs. The artistry and craftsmanship behind these lamps make them not only functional sources of light but also beautiful works of art that reflect the deep-rooted traditions of Japan.
The Zen home decorating look is recognizable as its influence follows a regimented sense of colors, shapes, style, and flair. A nice Japanese table lamp can complement other home furnishings in that decorating arena. The frame, base, and finial are constructed of iron rubbed with a bronze finish. The centerpiece is hand-painted opaque glass, making each table lamp unique.
The lamp can accommodate up to a 150-watt bulb and has a three-way switch making it as practical as a reading lamp. Measurements: 7 ½" x 15″ x 32″. Price: $129.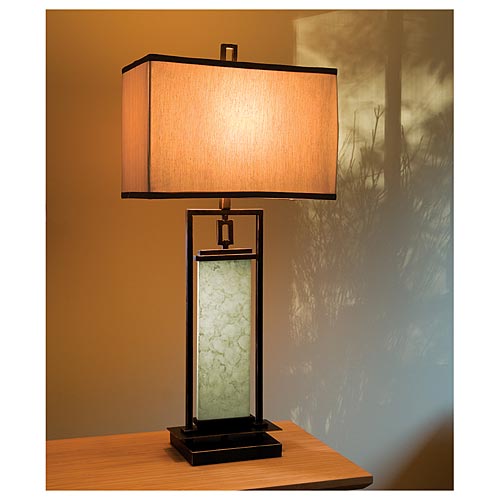 Related Articles: