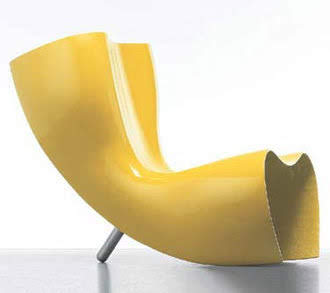 Yellow Occasional Chairs that Bring Color to a Home
Your neighbors may not agree, but yellow occasional chairs can be fun and fashionable. This color if often overlooked in favor of patterned upholstery, soft greens or a bold red. There are many homes I visited that are just too neutral.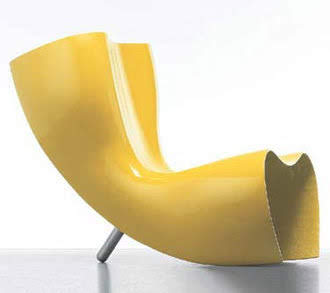 The colors are whites and beige and nothing really stands out to the human eye. It takes risk to step away from the norm and go for something bold, but if you do so, it can be very rewarding. Not long ago we talked about accent walls and how the color introduced into the home makes an overwhelming difference. 
This same concept applies to furniture as well. Focusing on a single chair provides enough color to make a statement and not introduce too much of it. For example most homes would not fare well with a yellow sectional unless it was laid out perfectly.  So we know we don't want to do too much, but just enough. 
These twelve examples should get you thinking about what ideas are out there and hopefully allay some fears of making a bad design statement.
✖

September 16, 2023 04:30
This is a great example to start off the list featuring traditional decorating technique.  You can see how the darker upholstered furniture is lightened up by having the other chair and ottoman in the room.  Some pillows on the sectional would tie everything back together.
---
✖

September 8, 2023 08:58
This chair is a wonderful addation to any rooms such as living room,bedroom and so on. Perfectly match with your furniture, which brings a sense of modern to your home decor
---
Accent Recliner with Ottoman
This scene is much more contemporary with the yellow occasional chair making the biggest statement.  Notice how the white furniture is nearly muted out without some sort of color being introduced to the room. The throw blanket was a nice touch.  This furnishing style may be too much for many readers, but keep in mind there are other more traditional models on the market.
---
✖

September 16, 2023 04:30
What a great desk chair and then the egg shaped seat up against the wall.  It's great to see it in this location and not in the main flow of the living area as many of our readers could integrate the same concept into their house.
---
✖

September 16, 2023 04:30
Here is a modern classic in what looks to be a room for kids or just a fun living space.  The rug is a big leap that this person took, but not all of you need add an accessory like that.
---
✖

September 8, 2023 08:58
Bar Stools are a great way to work in a bold look.  Kitchens are often more updated and light colored making this a perfect idea.
---
✖

September 16, 2023 04:30
This model was very interesting and for that reason we wanted to share.  I call this a "love-hate" piece as people tend to feel one way or the other about it.
---
✖

September 16, 2023 04:30
Here is another contemporary classic on wheels that can be moved anywhere.  Think about watching TV in this baby and relaxing.
---
✖

September 16, 2023 04:30
Mid century was mentioned earlier and here it appears above. This piece with the tiny legs is versatile in that it can work in a bedroom or sitting space as well.  It's small enough that it can be moved around and by not looking too bulky, provides options as to its placement.
---
✖

September 16, 2023 04:30
These cool accent chairs would be fun on a covered patio if protected from the weather.  Here is it is pictured on nice hard wood floors creating a great contrast between natural wood and color.
---
✖

September 16, 2023 04:30
Reclining mechanism allows you adjust your position effortlessly from upright sitting to a full-extension recline, just push on arms and lean against the back of the recliner, without needing to use your hands to find the lever.
We close with whimsical and fun. The seat cushion is very cute and clever here creating the appearance of a tongue.