With the introduction of the Air Lounge Hammock, Tuuci reinvents the Mayan way of relaxation. Hammocks, for who doesn't know yet, are not some modern pieces of furniture made especially for your patio or pool area. They were developed by the indigenous Maya Civilization over 1000 years ago.
This amazing hammock doesn't need trees or ropes because is safely attached to a well-built frame. With Tuuci's Air Lounge Hammock anyone can have a comfortable hang-out in their garden or on their balcony, creating a perfect rest spot where they can enjoy moments of relaxation away from everything.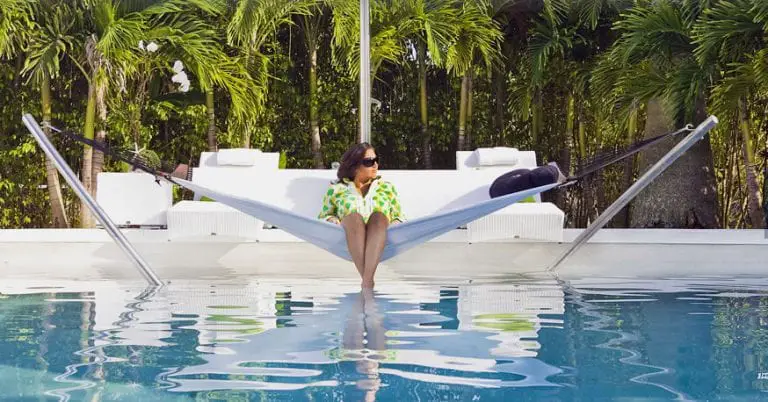 When you slide into the Air Lounge hammock, you feel secluded and at rest almost instantly. Its unique beauty is matched only by its soft, flexible, breathable and durable construction of Ultra Dry-Core Comfort Mesh. Tuuci also used marine grade components and durable hardwood stretcher bars to offer strength and safety throughout very long lifetime. Presented as a modular furniture piece by the manufacturers, the hammock has easily replaceable parts and accessories are always available…just in case! This will allow you years of enjoyment in the most difficult environments.

Tuuci's Air Lounge has a distinctive design and is specially built to gently contract and expand for a smooth ride and is big enough for two and created to support big weights. You both can get comfortable allowing both to experience the relaxation and tranquility a hammock has to offer.
Currently retailing at only 299$ for the bed alone, the Air Lounge is a piece of outdoor furniture that combines functionality with beauty and elegance. Everyone who see it, seem immediately to want to own one.
For over two decades years, Tuuci has been creating the most innovative, unique and stylish outdoor furniture and accessories in the industry. Founded with passion by Dougan Clarke, Tuuci's parasols, pavilions, and lounges are your ultimate shade experience.