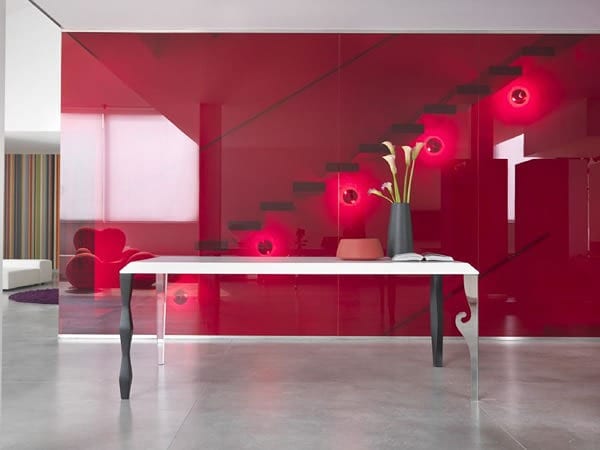 From Klab, here is a dining table that knows when to be subtle and when to show off a touch of the whimsical.  The Azzardo Table, designed by Roberto Rovetta, strikes the perfect balance between understated and interesting.  A thick, slab tabletop gives the Azzardo a strong presence.  Its smooth surface and wide beveled edge are simple, contemporary touches to set it apart.  From a distance, the tabletop draws the eye and the Azzardo looks fairly traditional: at the first glance.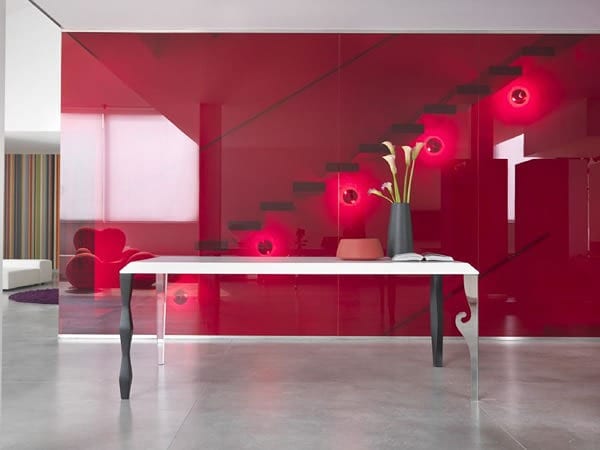 Take a few steps closer and you will discover the real personality of the Azzardo Table by Klab.  Each of its four legs is individual, different from the others in material and form.  Wood, metal, and clear methacrylate make up the legs in freeform shapes.  With a second glance you'll see the unique legs and their spirals, waves, sharp edges, and loose curves.
The concept of four asymmetrical legs on one table may seem odd, but the Azzardo carries the design beautifully, a testament to the talent of the designer.  Rovetta maintains the overall equilibrium of the design with the unifying tabletop and harmony of the elements: the legs may seem random but they are in fact carefully created to balance each other flawlessly.  The Azzardo is suited for a modern dining room where its presence will add interest and creativity without dominating the room.  Think of the conversations the Azzardo Table will inspire during a meal: after all, how often do you encounter a table with four completely different legs that still looks so elegant?