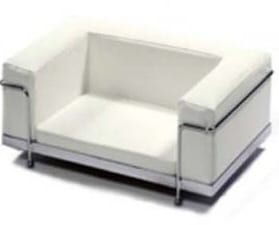 Here is your chance to show your "best friend" how much you love them and get rid of their old sleeping quarters and replace it with the DogBar Mid Century dog bed at the same time. The Le Corbusier / Bauhaus inspired dog bed makes a stylish statement with a timeless mid-century design that is cherished by furniture lovers and collectors worldwide.
This beauty is available in black, white, or tobacco & grey to match most home interiors, and the removable cover is both waterproof and washable for easy going maintenance. Also available in vinyl or genuine leather over a chrome or black powder coated steel frame.
If you are looking for a less formal dog-bed or other pet furniture and accessories DogBar has "everything you would love if you were a dog".