Funky Shelves In 3D by Monika Juhasz
Although bookshelves are, sadly, becoming something of a nostalgia piece in the increasingly digital world in which we live, among furniture enthusiasts, they'll always be as much a vehicle for artistic expression as a furnishing with a particular function.  
We've featured some outlandish shelving concepts over the years, so we're even more delighted when we run across a design that somehow blends subtlety with outrageousness in equal measure.  
When images of funky 3D shelves like these designed by Monika Juhasz run across our desks, we can't help but note the restrained creativity of their colors and form — bright but tempered, uneven yet symmetrical.  
The "qubicle," as it's called, is a concept piece of funky shelves with angular wall-mounted modular shelving that are interchangeable yet cohesive in their brash but still contained appearance.  
Presented in a duo of contrasting color families, qubicles are created, theoretically, in sets of three and can be combined to make a larger modular rectangle or square.  
Hung from a simple bracket system, each cube (qube?) measures 10″ x 10″ x 6″ on its exterior, with an 8″ x 8″ x 6″ interior space to fill with books, tchotchkes and more.  
Satisfying both the left and right sides of our brains, we appreciate the marriage of two opposites: the wild and undefined with the regimented and reliable.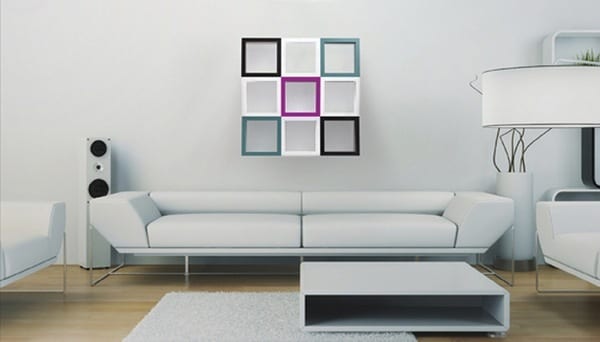 Photo credits: Quirky.com