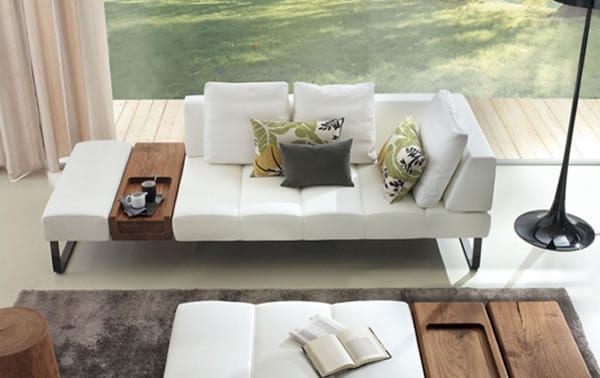 We all need a comfortable sofa to sit and relax on – whether we're chatting with our family and friends, reading a book, or watching TV. If you love the beauty and elegance of leather sofas, get the Patmos sofa by Riva 1920 and give your home a complete makeover. Characterized by a unique yet delicate combination of soft, full-grain leather and solid wood, you'll love this piece from the moment you lay your eyes on it. The couch comes with a pouf in a similar design. Its wooded components are inserted in the middle and also placed on the sides of the pouf.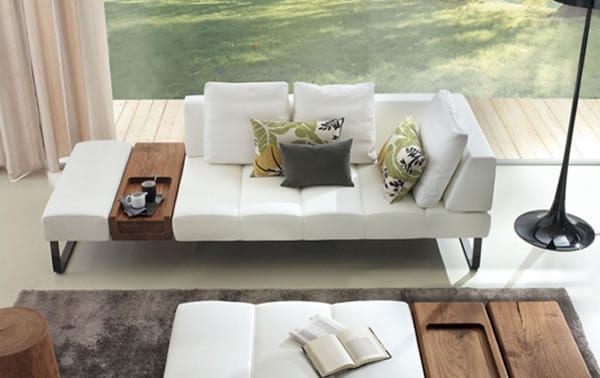 The Patmos Sofa has wooded blocks combine function with fashion providing useful and convenient surfaces where you can place frequently used items such as coffee cups and newspapers. The sofa and pouf are upholstered in white and cream leather forming a lovely contrast with the wood panels. Both have bases made of natural iron but you can also get the bases in a sleek chrome finish. Patmos by Riva 1920 is available in different dimensions and configurations so finding the perfect sofa for your home will be simple. You can also have the sofa made to your specifications.
Patmos is the creation of Terry Dwan. It will impress everyone who comes to your home with its sheer simplicity, practicality, and style. Nothing feels as good as relaxing in a cozy sofa after a long hard day and Patmos will ensure you get all the relaxation you need.
What room can the Patmos transform in your abode?