Nothing makes your home stand out like beautiful furniture. When your interior starts to look dull and needs some brightening up, it's time to get the Cocoon sectional from Arflex. Designed by Mauro Lipparini, the Cocoon sofa has a warm and inviting look thanks to its contemporary design with a touch from the past. Its unique style makes it a perfect match for contemporary living rooms. This sectional has a steel frame encircled with polyurethane foam in different densities. It has a back cushion and armrest which lie in soft swells around its body.
A sliding bar holds the back cushion enabling it to be moved to either side of the seat. You can move the backrest any way you want to create comfortable, flexible seating as you interact with the chair. The Cocoon also boasts fully removable covers allowing you to change them to suit a room's style or theme. Use vibrant covers to transform your living room's décor and create a bold color statement or use neutral covers for a bright, colorful living room. Simple yet elegant, this sectional from Arflex will bring individuality to your interior.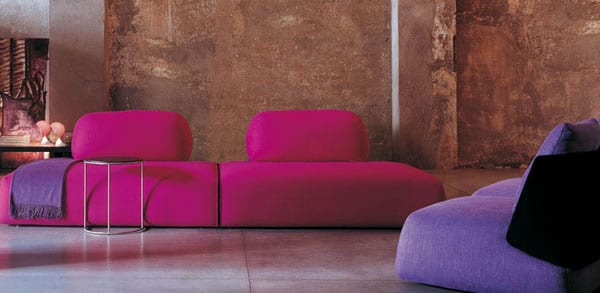 If you have a large family, a spacious living room, or like to entertain, this sectional from Arflex offers a great seating solution. You can break up the multiple pieces to create different looks in your living room, or push them together to create a single unit. The Cocoon's clean curves reinforce its strong form and make it a timeless masterpiece.
With all of these creative configurations, how would you love these for entertaining?